In a world increasingly driven by connectivity, sensors play a key role in monitoring the status of temperature, pressure, force, and host of other parameters, whether it be on the factory floor, under the hood of a vehicle, or in a portable health monitor. Moreover, sensors are finding a niche in fledgling technologies such as virtual reality and AI (artificial intelligence). At the Sensors Expo and Conference at the McEnery Convention Center in San Jose, California, June 26-28, sensors of all shapes and sizes will be on display in more than 300 exhibits and discussed in numerous technical sessions.
New sensor introductions, as always, will be eagerly coveted by attendees seeking the latest parts for their product designs. Micronor (booth #636) will introduce what is reportedly the first Size 11 fiber-optic position sensor, aimed at the smallest robotic or actuator mechanisms. Based on plastic fiber-optic technology, the MR430 sensor (Figure 1) offers 25-bit resolution with an update rate of 850 µs. It can operate interference-free over distances up to 30 meters (100 ft).
According to Micronor, the use of inexpensive plastic optical fiber cabling optics achieves a price point less than prior glass fiber-based absolute encoders. The sensor's non-metallic construction offers both magnetic immunity and transparency for MRI applications, as well as superior corrosion resistance for harsh industrial environments.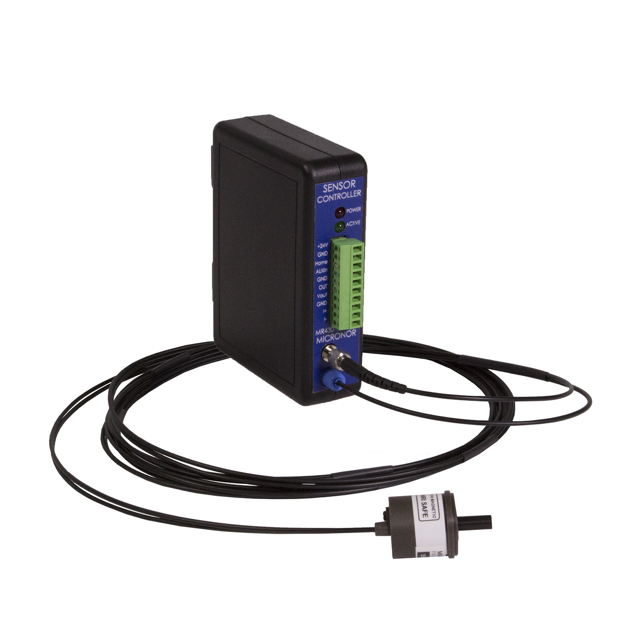 Parker Hannifin Corporation (booth #1109) will show its SensoNODE Vibration Sensors, the latest addition to the SensoNODE family. These sensors combine remote monitoring and high-fidelity machine analysis with low cost and simple installation. They attach easily to machinery to monitor vibration, even in hard-to-reach locations. The sensors wirelessly transmit RMS and peak vibration data to a local server or cloud via a receiver/gateway, thus allowing for the immediate and accurate assessment of machine health.
TDK Corporation (booth #416) is expanding its portfolio of TMR angle sensors with the TAD2140 type (Figure 2) in a TO-6 package for automotive and industrial applications. The sensor provides a system-in-package solution for PCB-less applications. It includes two full TMR bridges, a dedicated ASIC for signal conditioning and integrated passive components. The sensor achieves an angle accuracy of ±0.2°, and is capable of contactless sensing from 0 to 360° over a temperature range of -40°C to +150°C.
The sensor's fast response, high angular accuracy, and advanced compensation algorithms suit it for the optimization of motor control applications, such as BLDC motor commutation. Moreover, because of its small package size, the sensor can operate in applications with limited space, such as steering motor commutation.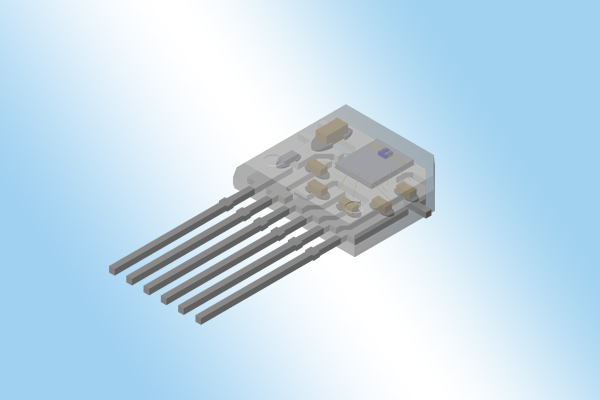 Sensors in health applications
In the expanding health and wellness sector, Maxim Integrated Products (booth #1035) will be showing the MAX-HEALTH-BAND evaluation and development platform (Figure 3), which is also a heart-rate and activity monitor. The platform features the MAX86140 optimized optical pulse-oximeter/heart-rate sensor, the MAX20303 wearable power-management solution, and Maxim's motion-compensated algorithms.
To monitor clinical-grade electrocardiograph (ECG) and heart rate, Maxim is introducing the MAX-ECG-MONITOR evaluation and development platform that features the MAX30003 ultra-low-power, clinical-grade analog front end (AFE) for monitoring ECG and heart-rate signals. It comes in two form factors—a wet electrode patch for clinical applications and a chest strap for fitness applications.
Parker Hannifin will also display enhancements made to its FlexSense Stretchable Sensors. The wireless sensors are designed to precisely measure body motion that is customizable for wearable applications in athletics, health, and wellness. The sensors' physical form and function suits them for wearable textiles, including shoes, compression socks, insoles, and clothing.
Technical sessions
The other key component of Sensors Expo is its comprehensive technical session program, which looks not only sensor technology, but also related implementation issues such as concerns over transmitting and protecting the integrity of sensor data growth.
Some advanced sensor applications lie in areas such mixed and augmented reality. In Wednesday's keynote session, Marc Pollefeys, director of science for Microsoft, will discuss how sensors are being exploited in mixed and augmented reality applications, including 3D modeling, image and video analysis, gesture recognition, scene understanding, and power-efficient embedded computing. Pollefeys will discuss the use of these technologies in the development of Microsoft's HoloLens and shares his vision on the future of information access and machine-enabled human interaction.
The myriad issues involved with collecting and storing data generated by cutting-edge sensors will also be explored in one of Thursday's keynote sessions. Jason Shepherd, IoT CTO for Dell Technologies, will discuss network architecture approaches to accommodate the sheer volume of data generated by billions of networked sensors. Shepherd will explain how various network schemes provide flexibility in how collected data is integrated, analyzed, and monetized as part of the broader IoT ecosystem, as well as the concept of extending cloud-native principles to the network edge.
With the interest in wearable sensors, flexible substrates that can readily conform to body contours are undergoing rapid development. On Thursday, sensor industry expert and market researcher Roger Grace will moderate a session providing an overview of printed, flexible, stretchable, functional fabric sensors and accompanying electronics and the applications that they are currently enabling, as well as their future application opportunities. According to Grace, the fabrication of these sensors on flexible plastic or paper substrates as well as on/in fabrics offer advantages such as mechanical flexibility, shape conformity, lightweight and low profile. These substrates enable low-cost and high-speed device manufacturing over large areas using printing technologies in a roll-to-roll production line.
The automotive industry has long been a major user of sensors, with much of the attention the past few years on deploying sensors in vehicle guidance and other systems for autonomous vehicles. In one Wednesday session titled, "Why Solid-State Sensors Are The Future Of Lidar." Louay Eldada, CEO and co-founder of Quanergy, will discuss how Lidar sensors can potentially give autonomous machines of all types the power of sight. Lidar is poised to disrupt a wide variety of industries, keying sensor design for mapping, security, industrial automation, and other applications.