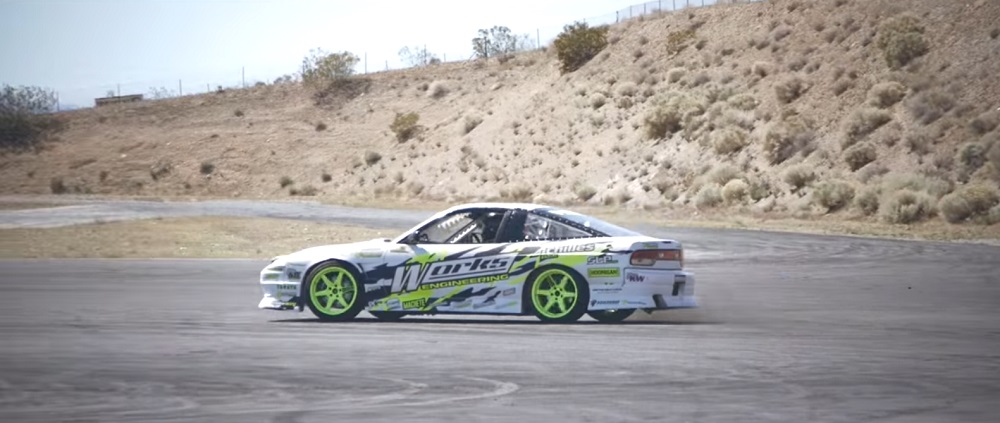 "The car to drive is literally a handful, but with some seat time it's very controllable and fun to drive. The V8 screams like the heartbeat of America…"
When Rob Parsons, co-founder of The Chairslayer Foundation, lost the use of his legs in an auto accident, he wanted to make sure he could get back on the track.
"When I was sitting in the hospital I knew what I needed do to change my life," said Parsons, a car enthusiast who could often be found road drifting and riding BMX or motorcross bikes. He would build a car with hand controls that he could use on his own. "I had no real issues with doubt the way so many other people did. When I started building this car, I built it for myself but I quickly knew that it was going to be able to be used for a bigger purpose. That's when I started the Chairslayer Foundation to help others like myself to see that they can take on any other challenge they want, still."
He and Eliza Coleman founded the Chairslayer Foundation in 2011, determined to allow other people with disabilities to either experience automotive thrills like drifting for the first time or to continue competitive driving careers that might otherwise have been cut short. In order to do that, Parsons first needed to turn a vehicle designed to be operated with four limbs into one that could perform all the precision moves and high speeds he needed with two sticks.
Enter the 650 wheel horsepower drifter, built with a Nissan 180SX chassis, a 5.7L Chevy LS1 engine and including fabrication by Parsons himself using a Runnit CNC machine. Parsons controls it with an electronic steering and clutch system designed specifically to be operated with one hand – in his case, the right.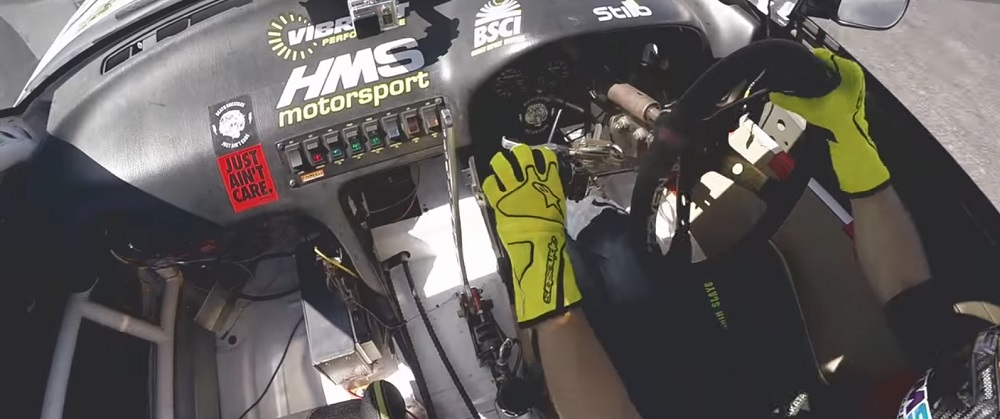 With this, he can slam on the accelerator by rocking the right hand, and push the hand brake forward with his left. A momentary up down switch on the hand control connects to the gear box, and a potentiometer trigger serves as the clutch control. Another momentary switch signals the computer to disengage the clutch when he grabs the hand brake, then re-engage when he lets go.
Next, The Chairslayer Foundation is working on building more accessible cars. Four V8 hand controlled drift cars on S13 chassis will be used to teach disabled students how to burn rubber and feel confident behind the wheel. The students will get to help build the cars too, a project which will be overseen by The Chairslayer Foundation and fellow drivers who use wheelchairs.
In the summer of 2012, the project started with the Nissan chassis. Parsons worked on it until the summer of 2013, but he's been tinkering ever since, improving the control system and other elements.
"I couldn't wait to get out of the hospital an actually start working on it," Parsons said. "That was definitely what kept me going, the possibility to make when I got out."
The result is a 2,500 pound beast powered by C12 VP Racing fuel.
"The car to drive is literally a handful, but with some seat time it's very controllable and fun to drive. The V8 screams like the heartbeat of America…" (Parsons has some wry humor about his own creation. In the email in which he waxes poetic about the car, this sentence ends with "lol".)
Parsons built the car from the ground up, but the hand control system was not something that had been taken into account by any of the original parts suppliers. That he had to incorporate himself. The key was making something that could replicate all the functionality of the acceleration and brake foot pedals, while also allowing quick shifting and use of the hand brake.
"The system that I made was completely stand-alone from the car's mechanical functions itself," he said. "The biggest challenge in incorporating it was making something comfortable for me to use, basically replacing the functions that would be controlled by four limbs and having it controlled by two hands. Clutching, shifting, handbrake, steering, gas are all controlled by two hands instead of four limbs. I went back and forth with how the controls should work, but in the end I came up with a really good comfortable system that is ergonomic to use for drifting and racing."
He could base some of the hand controls on a hand control he already had for his everyday truck, so was able to replicate those. However, the clutch, gear shifting, and buttons had to be changed.
"I went through about four different iterations for the clutch handle to make that work … I went from very prototype concepts to something that was more comfortable to something that was easy to manufacture to something that was smaller and more affordable with better electronics."
"The very first one I did with the clutch system went through a lot of iterations mechanically, but once I made it the proof of concept one stayed in the car for two years and worked really well the first time until I decided to make some crazy changes. Then I've been changing it. Just last week I made some contacts in the computer programming world and we wrote about 100 lines of code that changes the whole clutch shift to a semiautomatic clutch system. I will be trying it this weekend. It all works on the bench, so we're putting that in. So I'm starting to understand more of the programming side, which is all about asking someone who knows more about it than I do."
In this case, that person is Karl Castleton, professor of computer science at Colorado Mesa University. Together, they decided to use the programming language MicroBasic.
While the throttle is an electronic drive-by-wire setup straight from the factor, Parsons worked on his own motion control systems on the shifting and clutch boxes to actuate the clutch and shift gears more quickly.
They used a roboteq Brushed DC motor controller with simple analog inputs for position reference. The code they wrote includes potentiometers and momentary switches in the clutch.
The rest of the car is built ground-up, too. Among the components Parsons worked with are the TREMEC T56 Magnum transmission, Wilwood Disk Brakes on Konig wheels and GT Radial tires, and a Vortech supercharger.
In 2016 he used Solidworks to model and order prototypes for a new version of the clutch system.
"I've been using Solidworks for quite some time before this. It just made sense to use Solidworks to visualize everything when I made it with respect to 3D printing, the functions of how it would actually work, and looking at the model. Before I actually have it in my hands I can model it all and then order the parts, instead of ordering the parts and then modeling, which saves time. I was Solidworks certified before the accident, so that helped out a ton."
Making the clutch required relatively little prototyping, but a lot of changes once he got it in the car.
The roll cage was another element that he built mostly on his own, using Solidworks CAD to scan the interior of the car. It wasn't easy for him to climb in and out of the body, and 3D scanning the interior was much easier. He could tweak the design in the data file instead of having to physically build elements to test.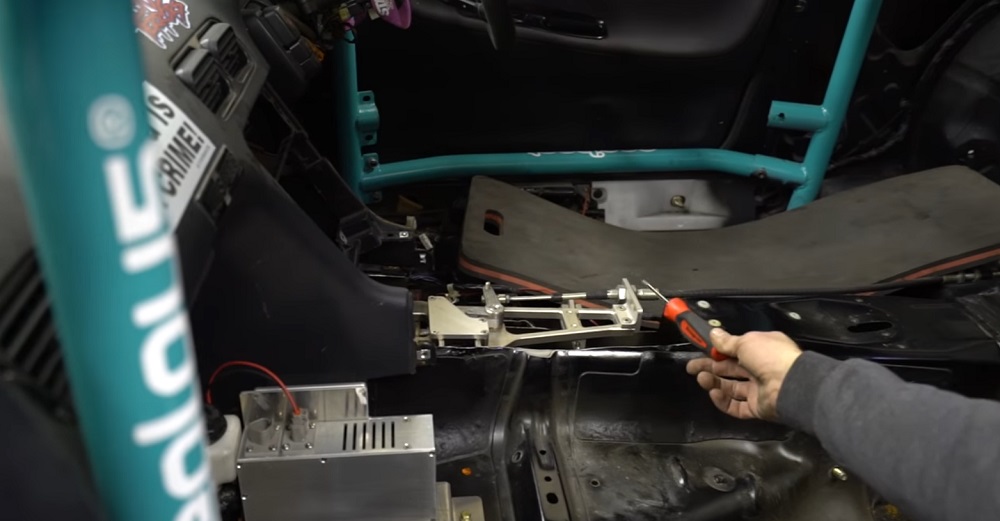 "Due to my issue that I've always had creating that stuff, I've been lucky enough to have a 3D scanner at our shop. We've been able to capture a lot of data from a lot of cars relatively quickly. So I don't have to do the testing, but I have the data and can make changes whenever I want instead of having to build a roll cage and iterate on it."
One thing he doesn't want to do is to make "half-assed bars that get placed into cars for no reason." As usual, before producing anything he will adjust the elements for strength, weight, and the location of the bars in order to find what he wants. And part of that effort is aesthetic – it has to look like a racer. "We can play around with stuff that looks cool but functions really cool too," Parsons said.
At his shop he offers customization services like this. "To do custom work I have to acquire the car, scan it, strip the interior, and then we can go into the 3D design. We need to be able to CNC model and CNC bend it."
So far, this job has been a success. The shop has been growing a lot in the past year, and Parsons said it's stressful to be managing the shop as a business and learning more skills to apply to his own cars at the same time, especially because money is always an issue. But Parsons has been working on cars since he was 18, and some challenges in his business don't seem set up to stop him.
"Cars drove me into fabrication. Actually, cars shaped me into what I am today. If I didn't play with a race car I wouldn't do anything I do today. Cars were the things that broke my back but cars also saved my life. They helped me recover after something so tragic."