Everyone, it seems, has an opinion on Comcast's $45 billion takeover attempt of Time Warner Cable. While it's going to take some time to let the proverbial dust settle, and for the various regulatory bodies to make their decisions, here are a few more points to consider.
• There's no breakup fee for either Time Warner Cable or Comcast. If regulators shoot down the deal, both Time Warner Cable and Comcast can walk away unscathed by large break up fees, which protects both parties going forward.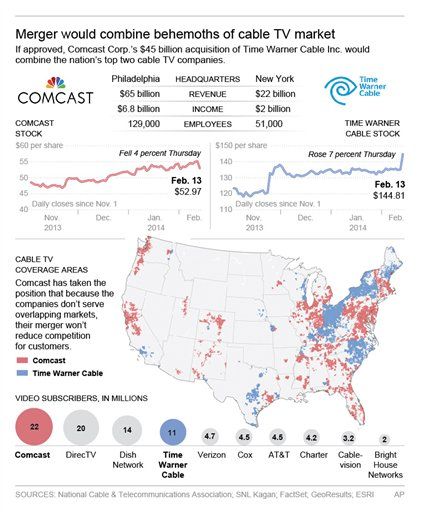 • Charter didn't want to raise its bid of $132.50 and instead chose to engage Time Warner Cable in a proxy fight, which would have sucked resources out of both companies and was obviously risky with Comcast looming in the background. Charter didn't think Time Warner Cable was worth the $160 per share figure that Time Warner Cable executives said they would take. Comcast came in at $158.82 per share, which was over what Time Warner Cable has been trading at.
• John Malone, who apparently has some ill will towards the Roberts family dating back to the TCI/AT&T days, was schooled this time around, according to one industry insider.
"The late move by Comcast is, I think, a brilliant maneuver using a page out of Malone's own playbook: 1. Don't show your hand; 2. All stock-tax free deal [classic Malone]; 3. Increase stock buy-back to cash out those that want to later, and on and on," he said.
Malone and Charter are left to possibly pick up the pieces of the 3 million subscribers that Comcast plans on shedding as part of the Time Warner Cable deal. This was Malone's best chance at returning as the king of cable in North America. Family owned Cox isn't selling, Cablevision is entrenched in its battle against Verizon and it would take a lot of small and mid-sized cable operators to top Comcast's 30 million subscribers if the deal goes through.
"I genuinely believe that Charter and Malone were surprised by the move," the cable insider said. "It effectively keeps Malone from becoming a serious rival to Comcast in North America any time soon and locks down the most important cities in the U.S."
• To add insult to injury for Malone, the 30 million subscribers from a combined Time Warner Cable and Comcast would top Malone-backed Liberty Global's 24.5 subscribers, making the new company the largest cable operator in the world. Last year Liberty Global took over the top spot after it bought Virgin Media. In the U.S., DirecTV has 20 million subscribers and Dish 14 million while AT&T and Verizon each have 5 million.
• Comcast has more resources to throw at upgrading Time Warner Cable's network than a debt-leveraged Charter would have had it won.
• On the vendor front, Arris is poised to make the most out of the Comcast/Time Warner Cable deal, according to analysts. Comcast has used Arris gear in homes and in its network for some time while Time Warner Cable has traditionally relied more on Cisco. Time Warner Cable plans on using six-tuner DVRs from Arris as part of a planned operational upgrade while Comcast has deployed DVRs from Arris for its X1 platform.
• Time Warner Cable is continuing its hub-by hub-upgrades in its New York City and Los Angeles systems that were announced during its fourth quarter and year-end earnings call last month.
"We're continuing with our network upgrades in both LA and NYC, and we remain on schedule," a Time Warner Cable spokesman said. "First hubs serving portions of Staten Island, New York and West Hollywood, Calif. are well on their way to being complete soon."
In order to speed up the roll out of its all-digital conversion project, along with replacing older equipment, Time Warner Cable said during the conference call that it would increase its capital expenditures to $3.7 billion-$3.8 billion over the next three years.
• While a combined Time Warner Cable and Comcast would give the new company leverage in retransmission negotiations, NBCUniversal is the elephant in the room. NBCUniversal has vowed to raise its retransmission fees, which won't set well with other video providers.
• The merged entity could also move the ball forward on TV Everywhere services and rights. To date, Comcast has been willing to spend a little more to garner the digital rights to video content, but both Time Warner Cable and Comcast have been at the forefront of TVE services and apps. Comcast's Sochi Olympics coverage has exemplified the power of multi-sceen services.
• Merging the networks to a common infrastructure will take some time. Time Warner Cable was an early proponent of switched digital video and is just now getting on the all-digital conversion bandwagon. Comcast was an early proponent of all digital conversions using digital-terminal adapters, and has completed the conversions across its footprint.
Comcast's VIPER platform, which was designed to aid in the delivery of multi-screen videos and as Comcast's pathway to all IP, was developed in-house. Time Warner Cable has its own IP delivery pipeline for its multi-screen services. Time Warner Cable has had its Start Over and Look Back services, and the associated rights, in place for years now, but what does Comcast have to do network-wise to offer them?
• Time Warner Cable has been working on a cloud-based guide for several years now and it's deployed on about 3 million gateways in Los Angeles, New York, Charlotte and other markets, but with Comcast's X1 guide and platform, it will probably be a short lifespan for the TWC user interface.
• What's next for Bright House Networks? The nation's sixth-largest cable operator has been joined at the hip with Time Warner Cable for years in regards to programming rights and technology development. The Wall Street Journal reported last month that Bright House Networks had hired UBS to advise it on programming, but Bright House hasn't said how it will go forward on technology initiatives if Time Warner Cable is merged with Comcast.