The electronics industry is in a state of disruptive change, in almost every aspect of every application space. On the logic front, artificial intelligence (AI) is promising to revolutionize computing, green energy is already changing the grid, and vehicle electrification is both a migration to the future and a debate on the nature of mobility.
Each of these, and other applications, impact areas beyond their intended application spaces. Each core technology involved, both requires and leverages other core technologies, moving the state-of-the-art forward. One disruptive core technology is wide-bandgap (WBG) semiconductors, comprising of gallium nitride (GaN) or silicon carbide (SiC).
Transistors and diodes incorporating these technologies are revolutionizing the electronics industry by reducing form factors, increasing efficiency, and reducing thermal issues. One primary advantage of WBG is high-frequency operation, which enables higher thermal efficiency and reduces component size. To maximize the benefits of WBG, passive and magnetic components required in the circuits should be able to keep up with performance required by the semiconductors.
Wide-Bandgap Devices
One example of the wide-bandgap devices available is the TDG650E60 650 V GaN FET device from Teledyne e2v HiRel Electronics. The 650 V/60 A enhancement-mode power transistor is based on GaN Systems' GaNPX™ package, delivering very low inductance and thermal resistance in an 11 x 9 mm footprint.
On the SiC side, Wolfspeed, a Cree Company, recently released their E-Series™, a family of robust SiC semiconductor devices for the electric vehicle (EV) and renewable energy markets. These devices enable power densities close to theoretical maximums, while being durable enough for on-board automotive power conversion systems, off-board charging, or solar inverters. SiC is not only a WBG material, it is also incredibly robust and thermally stable.
Capable Capacitors
These advanced semiconductors are demanding the most out of the supporting passives and magnetics on the board, the system efficiency, reliability, and functionality is only as good as the entire circuit. Thanks to their low parasitic effects, CeraLink capacitors from TDK are ideal for fast-switching power topologies based on GaN or SiC. In addition, voltage overshoots when switching are significantly lower than with conventional capacitor technologies.
The CeraLink FA has a space-saving design that connects multiple identical capacitors in parallel over the same terminals, available in voltages up to 900 VDC and rated capacitance values to 10 µF, and can operate to 150°C. One advantage of parallel switching is low ESR values significantly below 10 mΩ at high frequencies to 1 MHz, and an ESL value of 3 nH. Voltage overshoots when switching are substantially lower than with conventional capacitor technologies.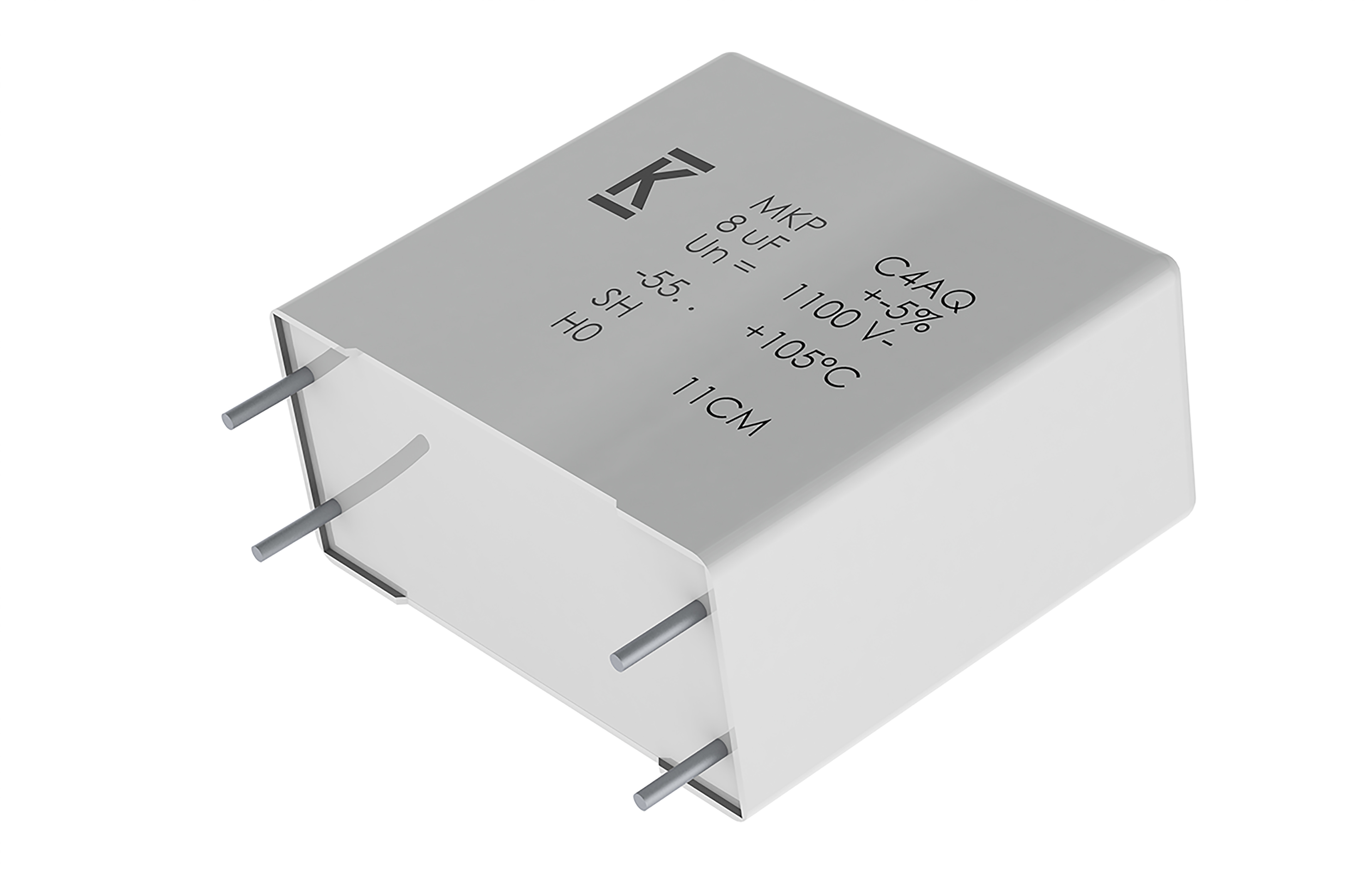 An example of a passive component designed to work in an SiC-based rugged power system can be found in Vishay Intertechnology's ENYCAP™ electrical double-layer energy storage capacitors. Designed for energy harvesting and power backup applications in harsh environments, the 230 EDLC-HV ENYCAP capacitors are among the first with a useful life of over 2,000 hr at more than 85°C at a maximum rated voltage of 3.0 V. Available in eight small case sizes ranging from 16 x 20 mm to 18 x 40 mm, 230 EDLC-HV ENYCAP capacitors offer high power density to 4.1 Wh/kg and capacitance values from 20 F to 60 F.
Moreover, AEC-Q200 rated, Kemet's C4AF series of polypropylene metallized film capacitors target power supply designs for DC link, DC filtering, and energy storage applications, which are specifically designed for harsh environments. Available in capacitance values up to 62 µF with voltage ratings up to 400 VAC, these power film capacitors are well-suited for WBG-driven high-frequency applications, offering high ripple current values, capacitance density, and contact reliability.
Power Forward
The migration of power electronics to advanced high-frequency power systems is still under way, and is far from mature. But the latest capacitors on the market are doing their part to help make that effort achievable. Every component on the board is responsible for the system's performance, even the non-IC parts like the capacitor.