Recent evolutions in the core enabling technologies for Internet of Things (IoT)-connected smart devices now make it possible to broadly deploy intelligent, "context-aware" environments in residential and business settings. Key technical issues regarding processing power, transmission range, energy draw, data security, and device interoperability have been addressed, opening a roadmap for ongoing evolution in smart products and services. New platforms have been designed specifically for these context-aware environments and to overcome the limitations inherent to previous smart environments.
Utilizing the cloud as the primary intelligence mechanism for smart homes and buildings has been a useful but imperfect paradigm, entailing unwanted latencies and data security risk. By providing enough processing power for edge computing in the sensors and devices themselves, smart deployments become markedly more intelligent and immediately reactive. Further, by minimizing physical size and adding novel energy management techniques where devices can operate for many years on a single coin battery, enables sensors to be profitably embedded into objects and structures that were never before contemplated for smart capabilities. These new sensors move the smart home from a device-forward paradigm toward a fully ambient environment, where adaptive intelligence is expected, invisible, and pervasive.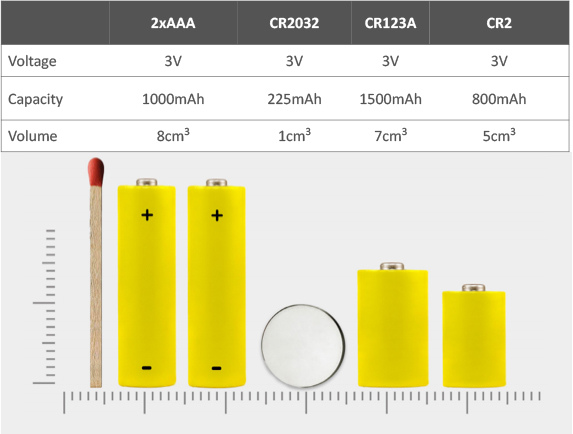 Conceptual frameworks for context-aware environments have been presented in academic and research settings for decades. The underlying technologies that could enable such environments, however, have been largely unattainable outside of these specialized facilities. The connected IoT devices that power conventional smart homes and buildings have been designed for commercial purposes and end users. In that realm, the state-of-the-art has been determined by factors other than pure technological capability, such as BOM cost.
Due to the relatively simple capabilities and expectations of the many smart devices on today's market, much of the functional intelligence is not actually resident on the devices. In a typical legacy deployment, the sensors observe the variables, such as motion, light, and moisture, report them to a gateway device and wait for further commands.
Commonly, the gateway connects to a remote cloud environment, which analyzes status and issues relevant instructions. While this architecture has proven its commercial viability in the marketplace, it lacks the immediacy and flexibility necessary for context-aware applications.
Artificial intelligence (AI) pioneer Marvin Minsky theorized a distributed framework for AI called the "society of mind." In Minsky's view, the decisions attributed to the brain and described as thought are actually an aggregation of data from independent inputs contributed by many different specialized sub-systems throughout the body. Minsky called these sub-systems "agents."
A smart environment can be characterized in the same way. Smart thermostats, locks, lighting controls, and motion sensors all act as individual agents. However, in the present smart home landscape, these devices generally don't act independently of the smart home's "brain," namely the gateway and/or cloud. If each of these agents were endowed with enough power and memory to not only observe data, but "understand" it via machine learning, the devices could execute relevant actions directly without calls to the gateway or cloud. The environment then becomes genuinely context-aware.
Prior to these advancements, the operation of a smart environment was a matter of active user participation, either locally or remotely. Data and/or instructions were invoked by the user through a controller or automated by rule sets programmed into the system. AI and edge computing now allow each individual sensor to make decisions on their own, based on dynamic variables such as climate, occupancies, illumination, and activity. The decisions made by these contextually aware devices can result in a direct action, such as light turning on from a daylight sensor, or can be conveyed as a message to another device. Examples include a thermostat that changes temperature because the light sensor saw twilight, or a sprinkler system that activates because the day was measurably dry and sunny.
Devices that are intelligent enough to act independently at the edges of a smart environment are still in their early market stages. However, as they reach critical market mass, they are expected to radically impact a broad variety of industries. Key examples among them include:
Insurance
The cornerstones of the insurance industry are assessment of risk and appraisal of value in the event of a loss. Until now, the industry has worked on a reactive model: when a loss or accident occurred, a claim was issued. Through the use of sensors embedded inside homes and property, insurance is evolving to a preventive model. As an example, water damage is widely reported to be the leading cause of home insurance claims. Smart plumbing can raise alerts before an event occurs, and if a pipe breaks when no one is home, a smart valve can shut off the water to minimize damage. In a similar vein, sensors embedded in walls or roofing will proactively report structural integrity and risk, and therefore affect policy cost.
Energy Management
New smart devices will monitor energy usage throughout the home to optimize efficiency, minimize cost, and interact with ongoing smart grid applications. While simple devices for these tasks already exist on the market, the combination of AI and mesh networking will make the concept transparent to the end user. Smart AC outlets and power strips will learn device usage patterns throughout the home, turning off energy to unused appliances, alerting of overuse, and mitigating wasted supply. Homes and businesses will be supervised by intelligent "demand response" systems invoked by the home itself, rather than by manual oversight or by the energy supplier.
MDU Maintenance
As the range and capabilities of IoT sensors become more extensive, smart control becomes practical for larger structures other than just residential homes. Multi-dwelling units (MDUs) such as condominiums, townhomes, and dormitories are fertile new areas for smart sensing applications. Intelligence for these buildings must operate at both a macro- and micro-level, tracking the global structure and its immediate environs, as well as the individual systems in each of the residencies. Effective smart building management for these settings has traditionally been difficult to achieve, due to the inherent dynamic nature of multiple occupants and activities. Sensors with extended range and battery life make it possible to monitor both indoor and outdoor nodes with no gaps in coverage. AI applications for these markets will optimize energy costs, increase resident security, and allow simplified oversight of these important new living options.
At this inflection point in the market, the smart home will begin its full evolution into the context-aware home. A decade ago, few could imagine cameras inside their residence. Less than five years ago, few could imagine a voice-controller that would understand language with accuracy and connect to services, entertainment, and even life-saving assistance. Analysts estimate that 75 million smart speaker assistants were sold in 2018 alone. The adoption of these devices will spur demand for additional smart objects and sensors, most of them calling for AI in one form or another.
There is no predicting where the next such breakthrough will come from, and from which business or research channel. What is easier to predict is that smart environments will continue to become smarter, thanks to ubiquitous sensors powered by AI.