The rumors are true – wireless tower company Crown Castle is adding to its fiber hoard in a big way. The company this week confirmed it is shelling out some $7.1 billion to acquire dark fiber company Lightower.
The play will net Crown Castle some 32,000 route miles of fiber Lightower either owns outright or has rights to – doubling Crown Castle's fiber footprint to around 60,000 route miles of fiber. Lightower's network primarily covers major markets in the Northeast, including New York, Boston, and Philadelphia, as well as smaller metro areas like Hartford and New Haven, Conn. Following the transaction, Crown Castle said its assets will cover 23 of the top 25 most populous U.S. markets.
"We are excited about the addition of Lightower given its attractive fiber footprint and the value we believe it will create for our shareholders," Crown Castle CEO Jay Brown commented. "Lightower's dense fiber footprint is well-located in top metro markets in the Northeast and is well-positioned to facilitate small cell deployments by our customers."
Crown Castle said it currently has around 40,000 towers across the country, as well as 50,000 small cell nodes either already on the air or in deployment.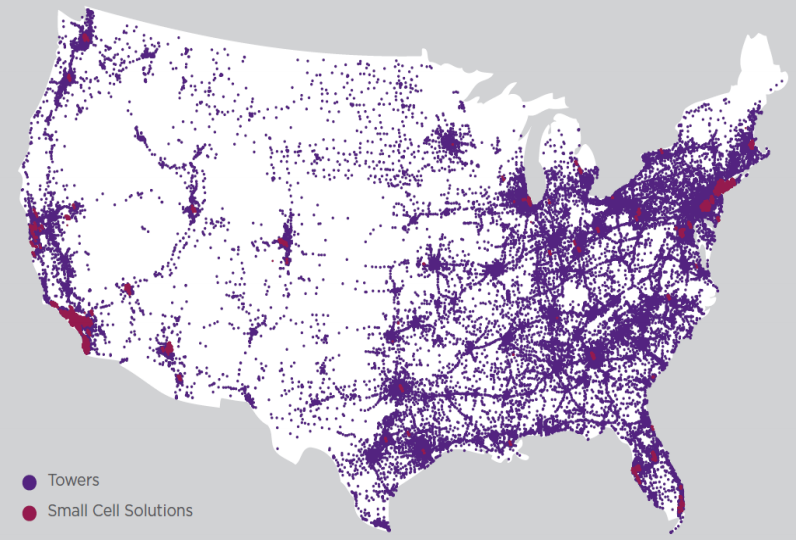 The company indicated the acquisition is also expected to boost its long-term growth rate, increasing its long-term annual dividend growth range up a percentage point from 6-7 percent to 7-8 percent.
The announcement came alongside Crown Castle's second quarter earnings report, in which it posted a 64 percent year-over-year increase in site rental revenues to $869 million and a 26 percent increase in net income to $112 million. Wells Fargo Senior Analyst Jennifer Fritzsche reported the company's revenue mix is 52 percent enterprise and 48 percent carrier. Earnings per share of 31 cents beat analyst estimates by 3 cents.
But the market wasn't initially thrilled with the news.
Crown Castle share prices dropped below $94 on Wednesday morning, before recovering to $97.66 the same afternoon.
Part of that reaction could be because the deal could give Crown Castle competitor Zayo a boost.
Fritzsche explained in a Wednesday morning note.
"We expect the acquisition to be a net positive for ZAYO, who has 3x the geographic scale of Lightower, and trades at a +4x discount (2018E EV/EBITDA) to what CCI paid," she said. "With one less competitor in the market, our sense is the importance of ZAYO's larger dense urban footprint will continue to be coveted, and deserves a higher multiple."
Crown Castle said it expects the Lightower deal to close by the end of this year.