Pyroelectric or passive infrared (PIR) sensors are very efficient for detecting various infrared emissions from a heat source, which allow them to be used for motion detection.
Today's buildings are adding building intelligence for energy and system efficiency through wireless sensor nodes. These sensor nodes must maintain a long battery life (up to 10 years) while constantly monitoring key parameters like temperature, humidity, and occupancy. In building automation, PIR motion detectors are incorporated in overall echo system, including comfort control to airflow control in heating, ventilation, and air conditioning (HVAC) systems as well as lighting, safety, and security. PIR motion detectors require just a PIR sensor and a few components around the sensor to make them work.
Each pyroelectric element of a PIR sensor (there are at least two) receives a variation of infrared radiation when a heat source moves in the sensor's area of detection. As the heat source moves, two elements will receive different amounts of radiation. The change in received amount of the radiation will produce the sensor's output analog signal. Fresnel lenses shape the detection area and focus the beams on the sensor. The PIR sensor produces an AC signal with very low amplitude (1 to 3 mV typically). This signal needs one- or two-stage amplification. Finally, passing this signal to a window comparator facilitates binary detection of the motion.
In the age of connected things, new challenges arise. Having a motion detector connected wirelessly and ensuring long battery life is the ultimate challenge for designers. PIR motion detectors that have a sub-1 GHz connection and a single coin-cell battery with a life span of more than 10 years will need to operate with an average current consumption of less than 2.1 µA. This consumption can be divided as 0.6 µA for communication and 1.5 µA for the analog signal chain.
Motion detectors containing one PIR sensor, a Fresnel lens with a cone-type beam, and a binary output are very efficient for detecting any type of motion, including human or pet motion. Imagine a customer application based on this type of motion detector that sends a notification and switches on a light when any motion is detected. The amount and type of notifications received could be annoying, like when your dog is moving around in your house while you are outside.
How to Avoid False Triggering and Detect Only Human Motion
One low-cost solution uses a Fresnel lens with a narrow vertical-detection area that detects tall moving objects (humans). Unfortunately, this solution will have a blind area that can be exploited.
Another more customizable solution consists of two PIR sensors with different Fresnel lenses (as shown in Figure 1). One lens with a middle beam detects tall moving objects like humans, while another with a lower beam detects short moving objects like pets. With this configuration, it is possible to differentiate between a human and pet, but detect either or both. Unfortunately, humans rolling on the floor can avoid middle beam detection and only be picked up by lower beam as pets.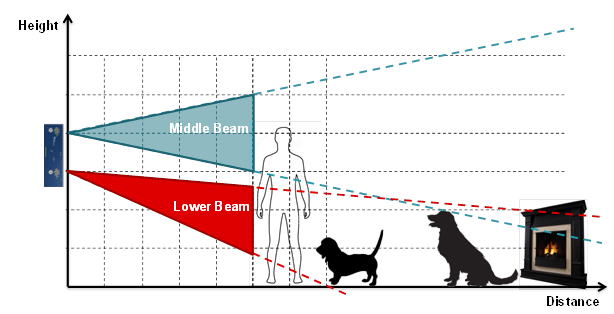 Preventing False Triggering and Detecting More
The frequency spectrum of a human or pet moving or someone who's rolling on the floor will vary in frequency content (typically between 0 to 5 Hz). A Fourier transform of each signal from the two PIR sensors and a frequency analysis can resolve the problem of false detection. Figure 2 shows a time and frequency spectrum of two PIR sensors detecting a walking human. Low-cost circuit based on ADC and embedded electronics enables prevention of false detection.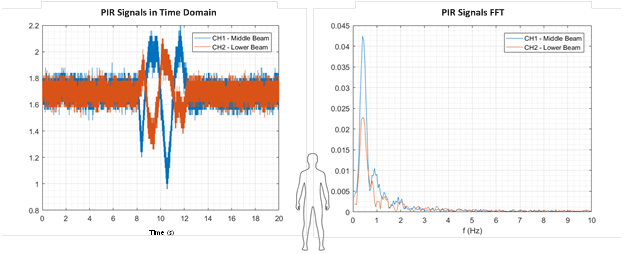 With the same circuit, time-frequency domain analysis – thanks to a wavelet transform – gives more information about the signal. It is possible to have a "signature" for different kinds of motion.
You can see the result of the wavelet transform in a scalogram view. The shape of the spectrum in the time-frequency domain varies depending on the type of motion. Figure 3 offers three examples: human motion (a), pet motion (b), and human rolling on the floor (c).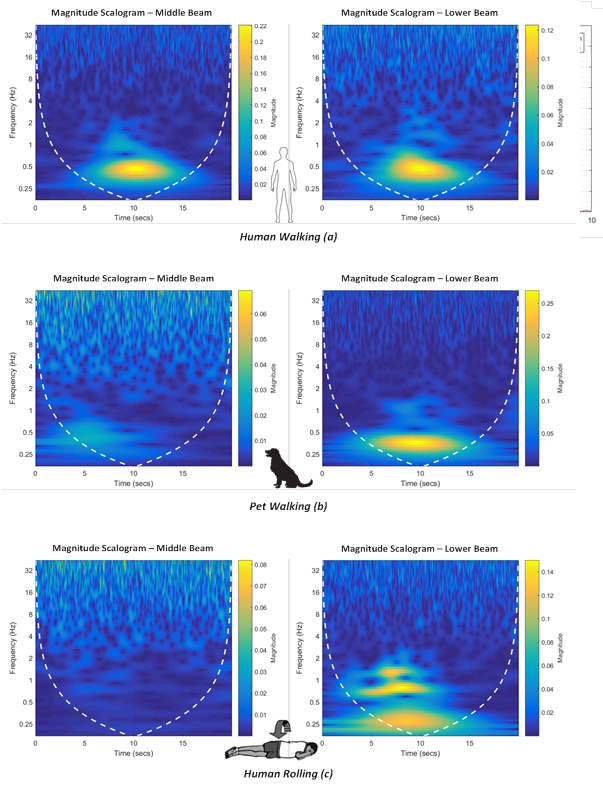 Visually, it is easy to see one or many clusters in the scalogram, depending on the type of motion. From wavelet transform data, you can easily apply a classification algorithm and detect different kinds of movement very efficiently.
You can use the same wavelet transform-based circuit for other types of detection such as:
Human adult walking.
Human child walking.
Pet moving.
Falling person.
Person moving/rolling on the floor.
Background fire.
External sunlight changes.
Properly applied machine learning or artificial intelligence will open the door for new types of intelligent motion detectors. These motion detectors will be able to adapt to different environments and detect more than just human motion. Using two PIR sensors and a wavelet transform based on embedded and low-cost electronics has many applications and can solve many customer problems.