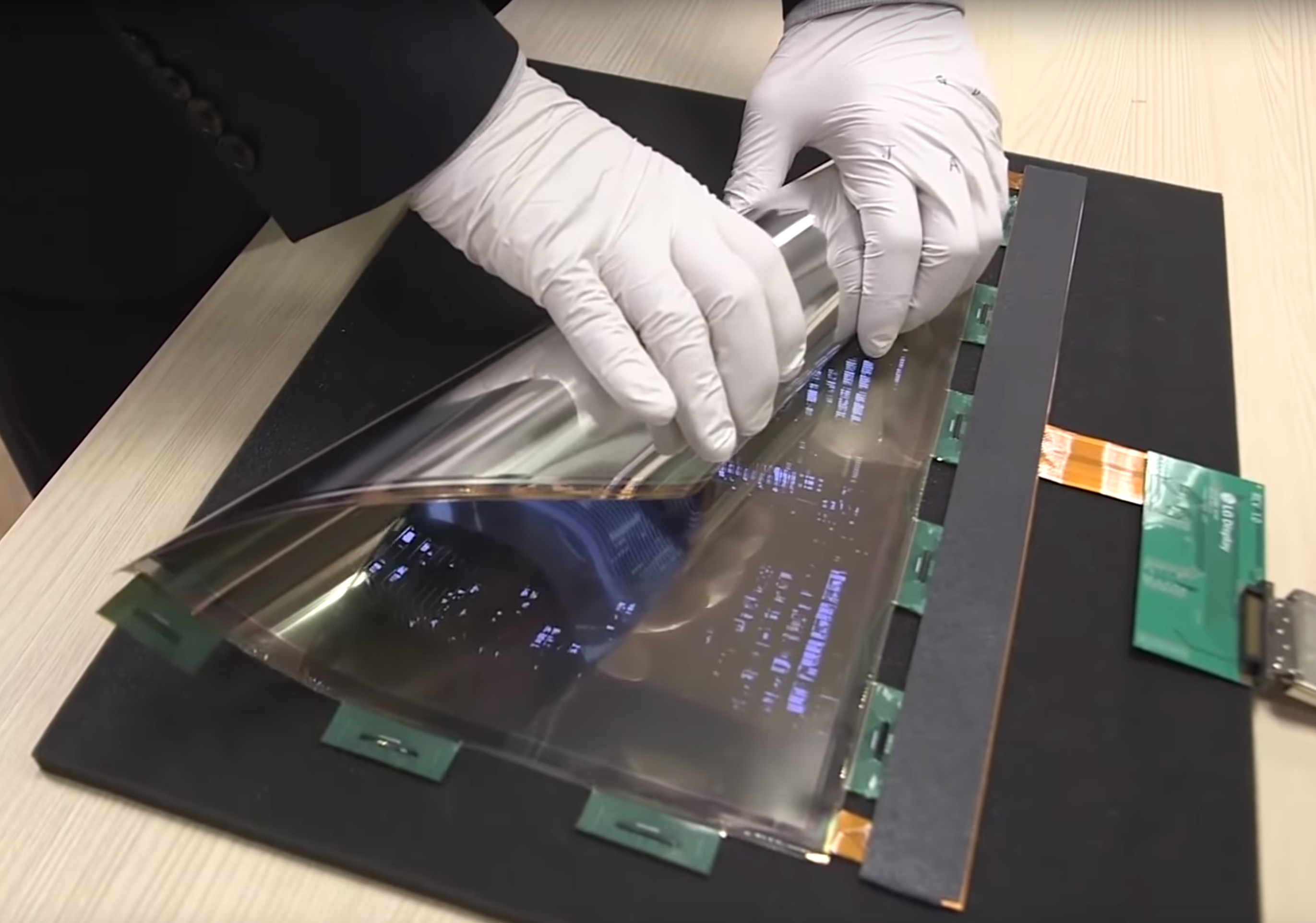 Although there are plenty of whipper snappers who stand in line for hours to get their hands on the latest consumer gadget, your columnist is not one of them, as evidenced by my 55-inch 3D-capable TV—you know, the subject of such pieces as "Shambling corpse of 3D TV finally falls down dead."
Sure, it's an LED TV, but this year, all the cool kids are grabbing TVs with OLED displays. Although organic light-emitting diode (OLED) technology has been around longer than several of my children—the first practical device dates back to 1987—OLED displays didn't appear in smartphones until Nokia's N85 in 2008. In the last couple of years, OLED has been expanding into new markets as screen size and resolutions continue to increase. In particular, OLED TVs are beginning to replace LCD TVs, starting with high-end applications.
OLED displays are attractive to consumer-product designers, not least because they can be made flexible (Figure 1). At this year's Consumer Electronics Show (CES) in Las Vegas, Nevada, LG Display showed a 65-inch OLED TV that has 4K resolution and rolls away into its base when not in use. In the immortal words of Meghan Trainor: it's all about that base (Sorry).
The first foldable OLED-equipped smartphones are forecast to appear in 2019. There have also been some interesting demonstrations of fabrics with integrated OLED screens.
OLEDs can also be transparent; although a mass-market transparent display hasn't appeared yet, there are obvious lighting applications such as OLED lighting panels embedded in windows.
OLED Basics
As shown in Figure 2, a current-technology OLED consists of two layers of organic molecules—a conductive and an emissive layer—sandwiched between a positive anode and a negative cathode; all four layers are deposited on a substrate. When a voltage is applied between the anode and cathode, the OLED emits visible radiation with a frequency that depends on the band gap of the material, in this case the difference in energy between the highest and lowest molecular orbitals (HOMO and LUMO) of the organic materials. Molecular orbitals are analogous to the valence and conduction bands of a standard semiconductor.

An OLED's electrical characteristics are similar to those of a LED. Like the LED, the OLED's brightness depends on the current flowing through.
Although a passive matrix OLED (PMOLED) is popular for simple applications such as alphanumeric displays, the active matrix OLED (AMOLED) is used in high-resolution displays. Each AMOLED pixel typically requires a control circuit with two transistors: one to turn the OLED on and off, and the other acting as a constant-current source to control the brightness. The control circuits are arranged into matrix or grid attached to the substrate forming a thin film transistor (TFT) layer. For color applications, each pixel consists of red, blue, and green sub-pixels with separate control circuits.
Like an LED, the OLED is an emissive technology; an OLED display can achieve true black because each pixel can be turned completely off: an LCD display can never completely eliminate the effects of the LED backlight.
The picture quality of an OLED display exceeds that of the best LCD, but OLEDs are not without problems. LCD screens are still brighter; the OLED red, green, and blue sub-pixels degrade at different rates, causing a change in the color balance over time; and image burn-in is a concern.
In addition, current OLED production techniques use vacuum evaporation with a shadow mask to place the material on the surface. This method is simple but slow, and wastes a lot of material; the superfluous material can contaminate the panel surface and cause defects.
As a result, there's a lot of development time being devoted to adapting inkjet printing techniques to large-screen OLED displays. Inkjet printers are much faster and produce virtually no waste. One issue is that inkjet printing requires the red, green, and blue emissive materials to be soluble, and to date, their performance isn't quite up to the level of their evaporative counterparts.
OLED Power Supply Design: Not For the Faint of Heart
What of the electronics behind the scenes? The digital portion is trivial—you know, just ones and zeros—but as a recovering analog guy, I pity the poor OLED power-supply designer. For starters, an AMOLED power supply requires a boost converter for Vdd and buck-boost or inverter for the negative voltage rail, Vss.
In addition, the power consumption of an OLED display varies with the image it's displaying: for example, displaying black text on a white background consumes much more power than white text on a black background, since all RGB sub-pixels are required to be on for white.
The power supply to the OLED must also tightly control the value of the positive voltage rail Vdd since any change will directly affect the display brightness. A voltage ripple on Vdd of as little as 20 mV, for example, can interfere with the frame update frequency and cause visible horizontal bars on the image; their appearance depends on the ripple's amplitude and frequency.
With a clean laboratory power supply, the circuit problem may not be evident, but a smartphone, for example, has blocks that draw regular pulses of current, such as an audio amplifier or transmitter. These switched loads can lead to a voltage ripple on the power supply. To avoid this, the AMOLED power supply needs to have fast line transient response and a very high power supply rejection ratio (PSRR).
In a portable or wearable application, the design must also have a tiny footprint and minimum height. ST claims to be the leading supplier of AMOLED power-supply chips with a 70 percent market share. Their newest device, the STOD32A, integrates one inverting and two boost converters to drive displays up to six inches. Available as a flip-chip or in a QFN16 3 x 3 mm package, it also doesn't take up much room inside an increasingly crowded smartphone. The chip offers high immunity to cellphone-communication noise to minimize display flicker.
Contemplating my aging TV, I've come to realize that I need to get with the technological times. Therefore, next month I will end-of-life my trusty TRS-80 Color Computer. I'm thinking of upgrading to an IBM AT running DOS 3.0.