OmniVision Technologies, Inc. announced the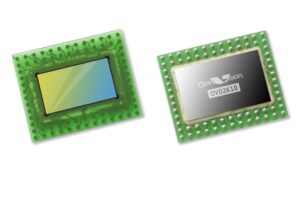 , a new video-centric, 2.9-micron 1080p image sensor designed for smartphones. Built on OmniVision's PureCel Plus pixel technology, the OV02K allows the secondary camera in multi-camera configurations to capture high-quality videos, even in very low ambient light conditions.
According to TSR, the number of smartphones with two or three rear cameras will grow from just 8% of the market in 2017, to over 20% by 2022, when the estimated total market size will be 5.5 billion phones. Furthermore, the attachment rate for CMOS image sensors will be at 99.9%. Separately, Yole Developpement predicts that, on average, there will be three cameras per smartphone by 2022.
This large 2.9 micron pixel size imparts the OV02K with greater sensitivity and very low noise, resulting in an SNR10 of less than 10 lux. The OV02K, which comes in a 1/2.8" optical format, features 1080p resolution at up to 120 frames per second (fps), suitable for either standard or slow-motion video capture. The sensor also supports up to three exposures of staggered timing to enable high dynamic range (HDR), and supports frame-to-frame dual conversion gain (DCG).