Energid Technologies announced a partnership with Perceptron, Inc. to utilize Energid's Actin software in Perceptron's new in-line and near-line robotic inspection systems for the automotive industry. The Actin software development kit (SDK) offers significant advantages to companies looking to improve their time to market for robotics solutions in time-sensitive and competitive markets.
Perceptron is a global provider of 3D automated metrology solutions and coordinate measuring machines. Energid develops industry robotics control and simulation software that are known for stability, high performance and portability for industrial deployments.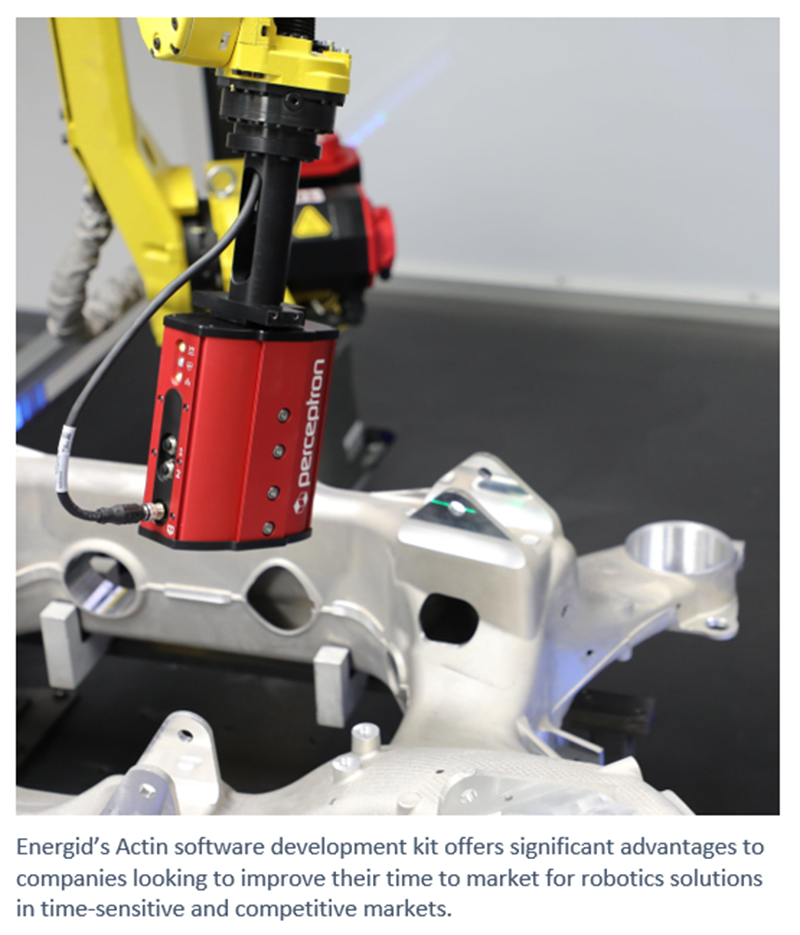 "Companies around the world rely on Perceptron's metrology solutions to improve quality, shorten product launch times and reduce costs in complex manufacturing processes," said Neil Tardella, Energid CEO. "Our development partnership with Perceptron is a perfect example of how Actin's SDK can help system developers in a wide range of markets and applications develop products quicker and with greater functionality."
Robotic system developers can gain significant competitive advantages by integrating Actin directly into their proprietary solutions. The flexibility of the Actin SDK allows customers to create their own proprietary products.
"Developers are facing significant new challenges as their customers demand more complex and precise robotic applications," Tardella said. "These design challenges are impacting their ability to quickly bring new products to market. We're especially seeing this in the very fast-growing market of vision-guided robotics applications, such as bin-picking, where Actin can provide significant time-to-market, cost and feature advantages for robotic system manufacturers."