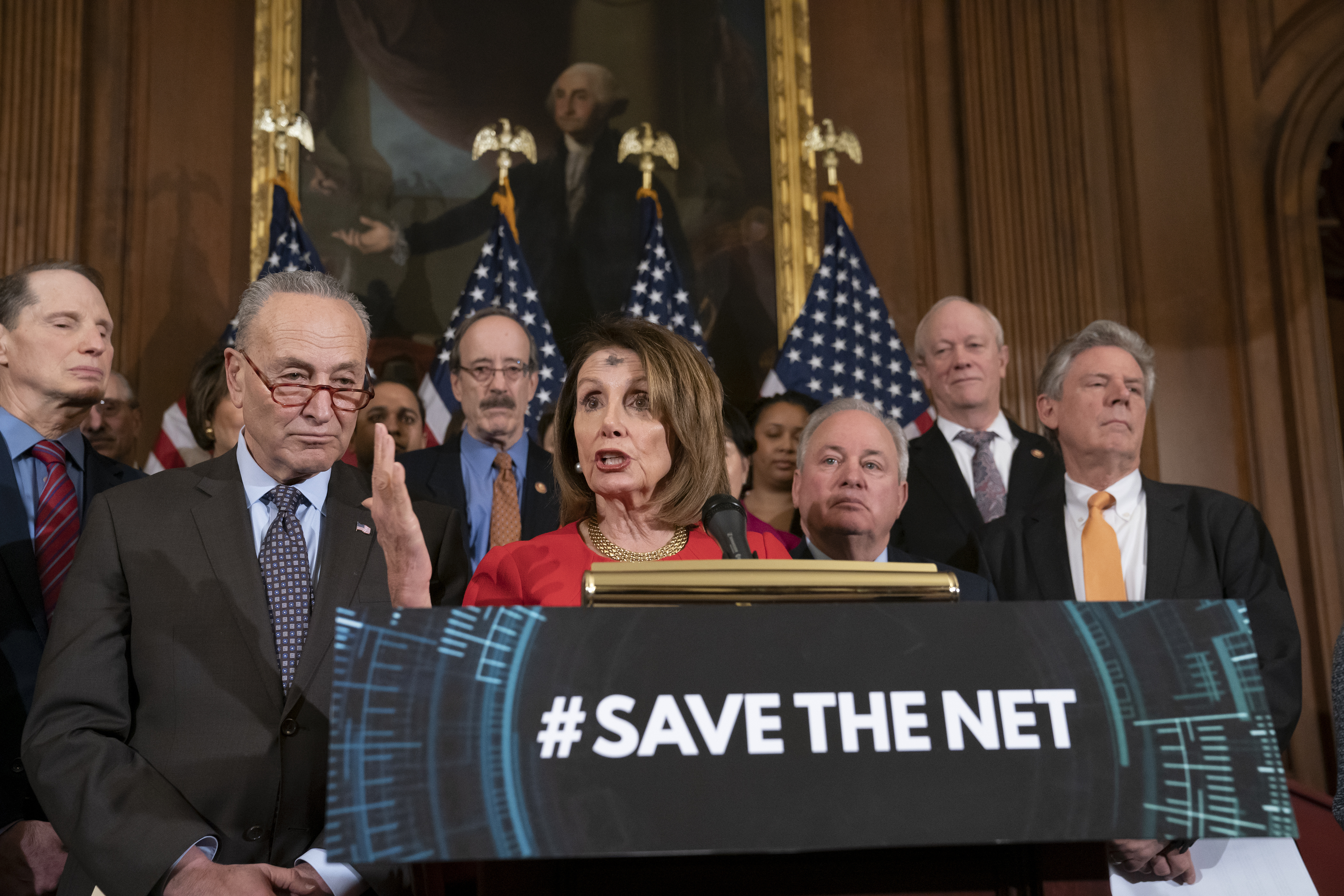 Democratic Congressional leaders on Wednesday announced a bill to reinstate net neutrality regulations aimed at internet service providers that were put in place in 2015 and later repealed in 2017 by the FCC.
Under the FCC's 2017 Restoring Internet Freedom Order, ISPs like AT&T, Verizon, and Comcast were reclassified as non-common carriers and no longer subject to Title II-based regulations or prohibited against practices of blocking, throttling, and paid prioritization.
With the repeal, broadband providers are allowed to engage in traffic controls like slowing down websites or charging services like Netflix for faster delivery, but are required to disclose the practice.
Speaker of the House Nancy Pelosi said the Save the Internet Act, aimed at reversing the repeal, should be up for a vote in the House in a "matter of weeks," according to the Associated Press.
Immediately after introduction industry groups released statements, mostly agreeing that legislation is needed but saying the bill will hurt investment and a urging a light-touch approach.
The Internet Innovation Alliance said: "IIA strongly supports the adoption of legislation that will assure core principles of net neutrality: no blocking, no throttling, no paid prioritization. But we strongly disagree with the 'back-to-the-future' legislation announced by some members of Congress this morning, that common carrier rules first adopted for the era of monopoly telephones should be applied to the Internet. With light-touch regulation now restored, network operators are deploying new and faster technologies at an accelerated rate. We can have both strong net neutrality principles and reasonable light touch, pro-investment regulation that will enable America to meet the challenge of newer technologies and lead the world in the deployment of 5G."
Claude Aiken, president of The Wireless Internet Service Providers Association (WISPA), released a statement saying: "WISPs serve nearly four million, largely rural customers in places that the very largest providers have chosen to ignore. Our members are bridging the digital divide. Now. While we believe a comprehensive piece of Net Neutrality legislation is needed, it would work better with a 'light touch' framework to incentivize broadband growth and uptake. In doing so, Congress might also focus on releasing more spectrum for use by small rural companies such as our WISPs. This act alone could quickly and cost-effectively bring high-speed broadband to millions of Americans, making a significant dent in the fact that 24 million people in the U.S. lack adequate broadband access."
American Cable Association President and CEO Matthew M. Polka said in a statement: "All of these fundamental open Internet protections can be established without Congress turning broadband providers into common carriers or otherwise subjecting them to outdated regulation, which would deter providers, especially smaller providers, from investing in their broadband networks."
CTIA President and CEO, Meredith Attwell Baker said: "CTIA and our members support an Open Internet. We need permanent bipartisan rules to protect Americans online, while maintaining the opportunity for innovation that allowed the Internet to flourish. Today's announcement unfortunately does not get us closer to a permanent solution to end the debate and protect consumers."
Tech companies including Mozilla and Vimeo, along with nearly two dozen states, are also in the midst of an ongoing lawsuit in a federal appeals court, fighting to overturn the 2017 FCC repeal.