ITL Group, a specialist in the global design, development and manufacture of hi-tech medical and diagnostic devices, has increased its in-house 3D printing capabilities and continues to strengthen the scope of its research and development department.
International medical device specialist, ITL Group has enhanced its research and development department through further investment in state-of-the-art 3D printing technology.
Last year, ITL invested in two 3D printers that not only reduced design costs and timescales, but even contributed to better designs by enabling adaptations on the fly with multiple iterations in a matter of hours; 3D printing has made a significant contribution to ITL's design and development process.
With the demand for 3D printing creeping up, investment in new technologies has become crucial, resulting in the recent purchase of the FlashForge Creator Pro – a new 3D printer that improves component quality and design flexibility.
This investment included upgrading to a FlexionHT dual-head extruder, which provides more freedom to experiment with different techniques and printing materials such as PETG filament, which is stronger, tougher and can withstand higher temperatures. The use of flexible materials such as TPU opens up the potential to produce previously unachievable features such as living hinges and flexible parts.
3D printing can also be used for designing inexpensive jigs and fixtures for manufacturing alongside the ability for development of moulds for casting plastic and rubber parts in-house.
The 3D printer features a versatile chamber to keep out dust or foreign particles but also eliminates temperature interference, meaning better thermal performance and ultimately more successful and accurate prints with ABS.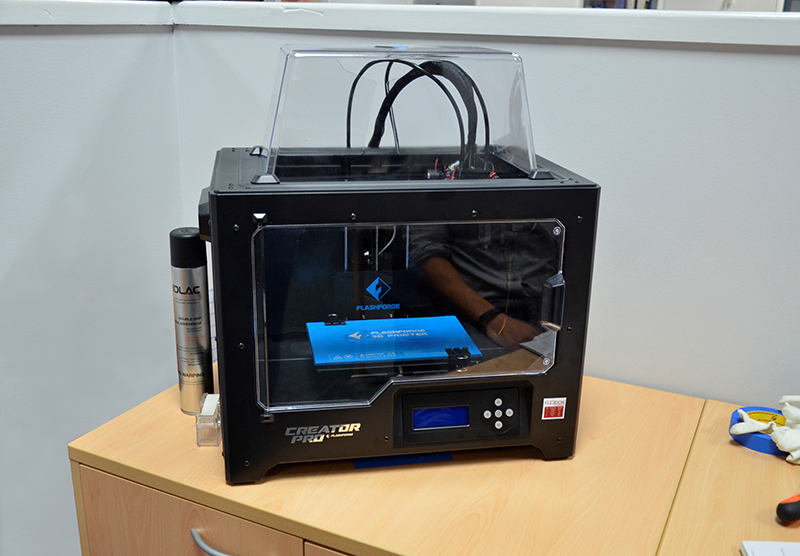 Tom Haydon, Mechanical Systems Engineer at ITL, describes the positive impact 3D printing has had on the research and development department: "3D printing continues to be an invaluable resource in R&D, allowing us to rapidly develop, prototype and advance designs at a speed and cost not achievable with traditional manufacture methods."
Ollie Aylett, Mechanical Systems Engineer at ITL, explains how 3D printing is used across the whole department: "3D printing gives an extra level of versatility to the R&D department and is a real asset to the mechanical design and development process. From prototype design variations in an instance to end use fixtures and fittings it has transformed the way we bring products to life."