As consumer desire for large traditional TV packages and the accompanying high bill continues to wane, U.S. households subscribing to skinnier so-called virtual MVPDs will jump by more than 10 million over the next five years, according to the latest report from Kagan.
By the end of 2022 the number of virtual multichannel service households will hit 15.3 million, representing an increase of 10.6 million, the S&P Global Market Intelligence media research group forecasts.
Major players in the market include Dish's Sling TV (2.3 million subs), and AT&T's DirecTV Now (1.46 million subs), as well as Sony's PlayStation Vue and YouTube TV, though neither of those services have reported subscriber milestones. Hulu's live TV service announced at the beginning of June that it had amassed more than 800,000 subscribers. That's not to mention dozens of smaller vMVPDs like Philo and fuboTV, the latter of which passed the 100,000 subscriber mark last year.
AT&T's WatchTV was unveiled yesterday and is the latest skinny vMVPD player to enter the market. Free for certain AT&T wireless subscribers and starting at $15 per month on a standalone basis, it is the least expensive option on the market. WatchTV features more than 30 live channels, but eschews news and sports programming.
Cord cutting is expected to keep continued pressure on traditional pay TV packages, but the increasing popularity of virtual pay TV options will at least help stem the decrease in households subscribing to multichannel TV services overall, according to Kagan.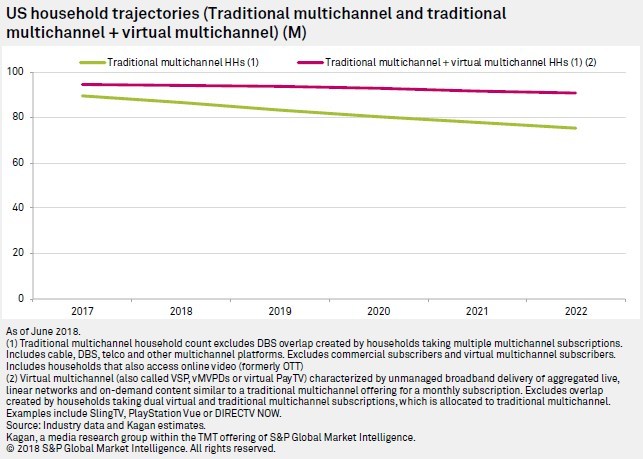 Alone, traditional residential multichannel households are projected to decrease by 14.3 million to 75.4 million, but when combined with vMVPD households the decrease lessens to 3.7 million for a combined take rate of 90.4 million, Kagan predicts. Together, traditional and virtual MVPDs subscriptions will still account for 70% of households through 2022.
Kagan estimates that households opting for online video only will rise by 6 million to 18.2 million during that time, and OTA households (excluding antenna-equipped multichannel subscribers) will increase 3.1 million to 19.1 million.
"While skinny bundles from so-called virtual multichannel platforms are tapping into the demand to downsize the traditional 'cable' bill, growth in self-aggregating, online-only households, as well as homes that rely on antennas for over-the-air (OTA) reception, are expected to pressure take rates [of classic cable, telco or satellite video offerings]," the research firm group wrote.