Automated test equipment (ATE) systems are used to test the functionality and performance of electronic components, subassemblies, or complete functional systems at the time of production and/or during the life of the product to ensure operability. The requirements for testing the device, board, subassembly, or system will vary from simple to complex, and the approach to designing a test system may be based on custom or proprietary hardware and software, or on commercial off-the-shelf (COTS) technology.
Commercial ATE systems first made their appearance in the marketplace in the late 1960s. These ATE systems were based on proprietary digital, analog, and switching architectures and were deployed by a wide range of customers for the functional test and verification of high value, mission-critical products such as:
Board and box level avionics.
Test and repair of armament and avionics electronics.
Communications and satellite subsystems.
All of these test systems have now been out of production for more than 10 years with maintenance and repair support by the OEM often unavailable. However, in many cases, the products (and their derivatives) originally tested with these proprietary systems are still in use and need to be maintained.
Over the last 10 to 15 years, many companies have transitioned from proprietary ATE hardware to industry standard COTS-based hardware to support their functional test needs. With the advent of advanced, high performance, card modular platforms such as PXI (PCI eXtensions for Instrumentation), end users and test system integrators have been able to leverage the advanced capabilities of COTS instrumentation and systems—replacing proprietary test platforms with cost-effective and compact footprint solutions.
COTS instrumentation products and systems offer multiple advantages over proprietary/custom test systems in addition to the replacement of an obsolete and unsupported system with a current and supportable system (often referred to as "legacy replacement"):
Flexibility: The test system can be configured to fit the test application exactly.
Affordability: COTS-based systems typically cost less to develop, own, and operate than custom/proprietary systems.
Scalability: COTS-based systems can be large or small, from portable or benchtop systems to large, rack-based systems for complex test applications.
Upgradeability: Additional test capability can be added by incorporating one or more modular instruments as test needs change.
Supportability: With many suppliers producing modular test products in conformance with industry standard platforms, users are able to select from a range of compatible products to ensure the long-term viability of their test systems.
Continuous Development: New and updated test products are being released every year. With ongoing investment in the technology, the ability to upgrade is enhanced and the risk of obsolescence is reduced.
A typical ATE system for any test application (either new design or legacy replacement) may consist of any or all of the following capabilities, in whatever types, quantities, and configurations are required in order to meet specific test needs:
A high performance digital subsystem that can support both legacy and advanced digital test capabilities.
Analog and digital test capability on each tester I/O pin, allowing each pin to support analog or digital test capability. This feature provides test system flexibility and facilitates re-use of existing test fixtures (if required).
A performance analog switching matrix and associated software for managing end-to-end routing of signals, allowing multiple analog test resources to be routed to any of the tester's I/O pins (i.e., any resource to any pin).
Pin multiplexing capability, which is integrated with the analog switching matrix, allowing the test system to support high I/O count boards or multiple ITA (Interface Test Adapter) configurations.
Software tools to facilitate Test Program Set (TPS) conversion, and, specifically, digital test language and digital vector conversion.
All of these capabilities are available today via COTS products, and are based on the PXI, card modular architecture. Current applications that are benefiting from the trend toward COTS modular instrumentation include:
Semiconductor Test
The PXI platform delivers robust capabilities in a small footprint for semiconductor test applications such as design, development, prototyping, and characterization of new devices as well as for focused production (low volume, high-mix) and incoming inspection. Systems for engineering or low volume production can be quickly developed and easily scaled from a small footprint, benchtop system to larger, rackmount configurations as production quantities increase.
PXI-based semiconductor test systems deliver powerful performance in a cost-effective package. So-called "legacy" semiconductor testers originally deployed decades ago are still in use by many semiconductor manufacturers, but these legacy test systems often lack the resources to test today's devices. Technology insertion by means of integrating a PXI chassis and instruments into a legacy semiconductor tester can breathe new life into these otherwise obsolete systems for a reasonable investment (Figure 1).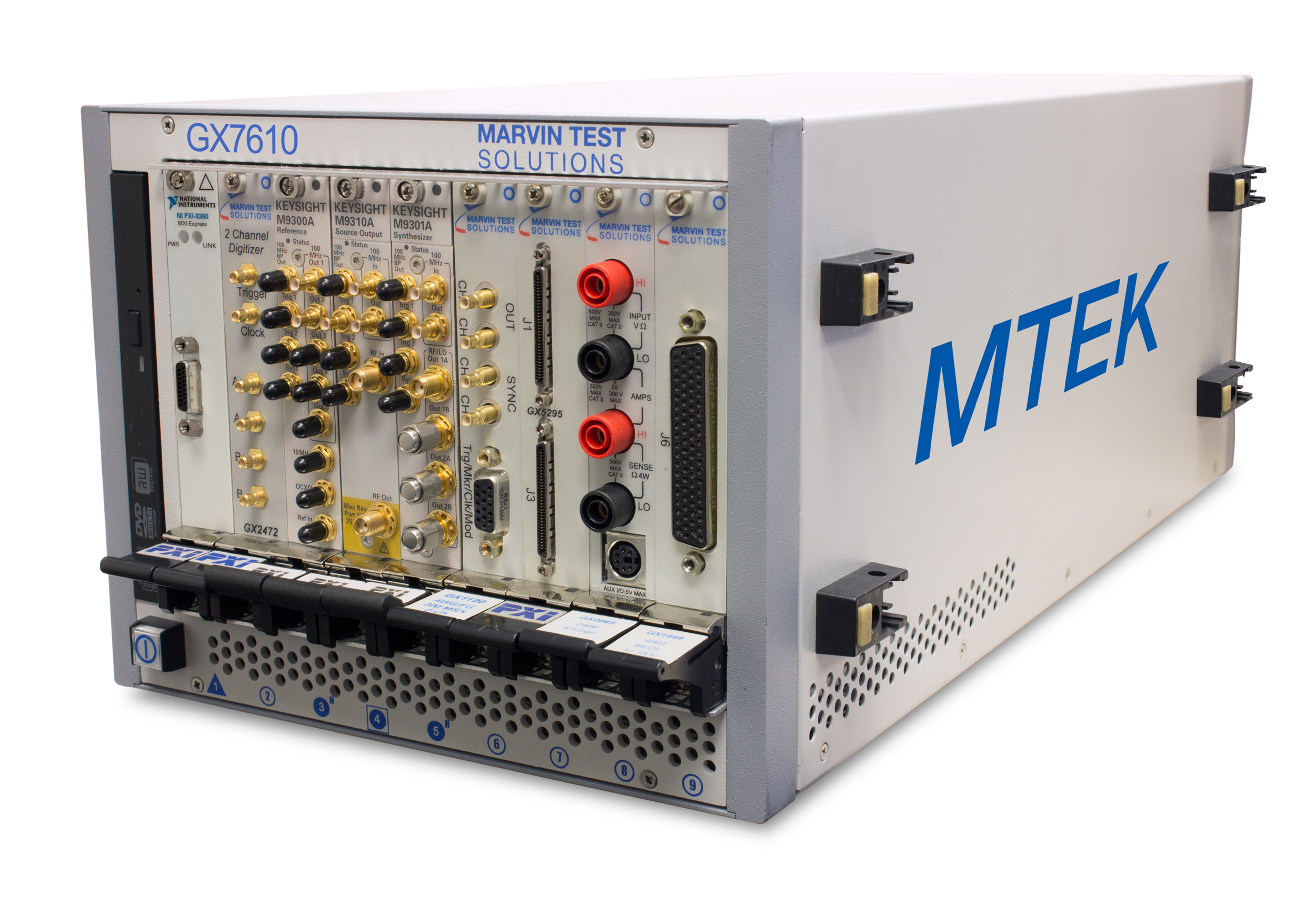 Satellite/Avionics Test
To match the complex test requirements of aerospace applications, such as avionics or satellite test, the PXI platform offers a choice of more than 55 suppliers and more than 1,500 modular instrument products to enable the design of capable ATE systems for current and next-generation test needs (Figure 2). The ready availability of industry-standard modular COTS test hardware makes spares easy to stock, reducing downtime and assuring factory floor productivity.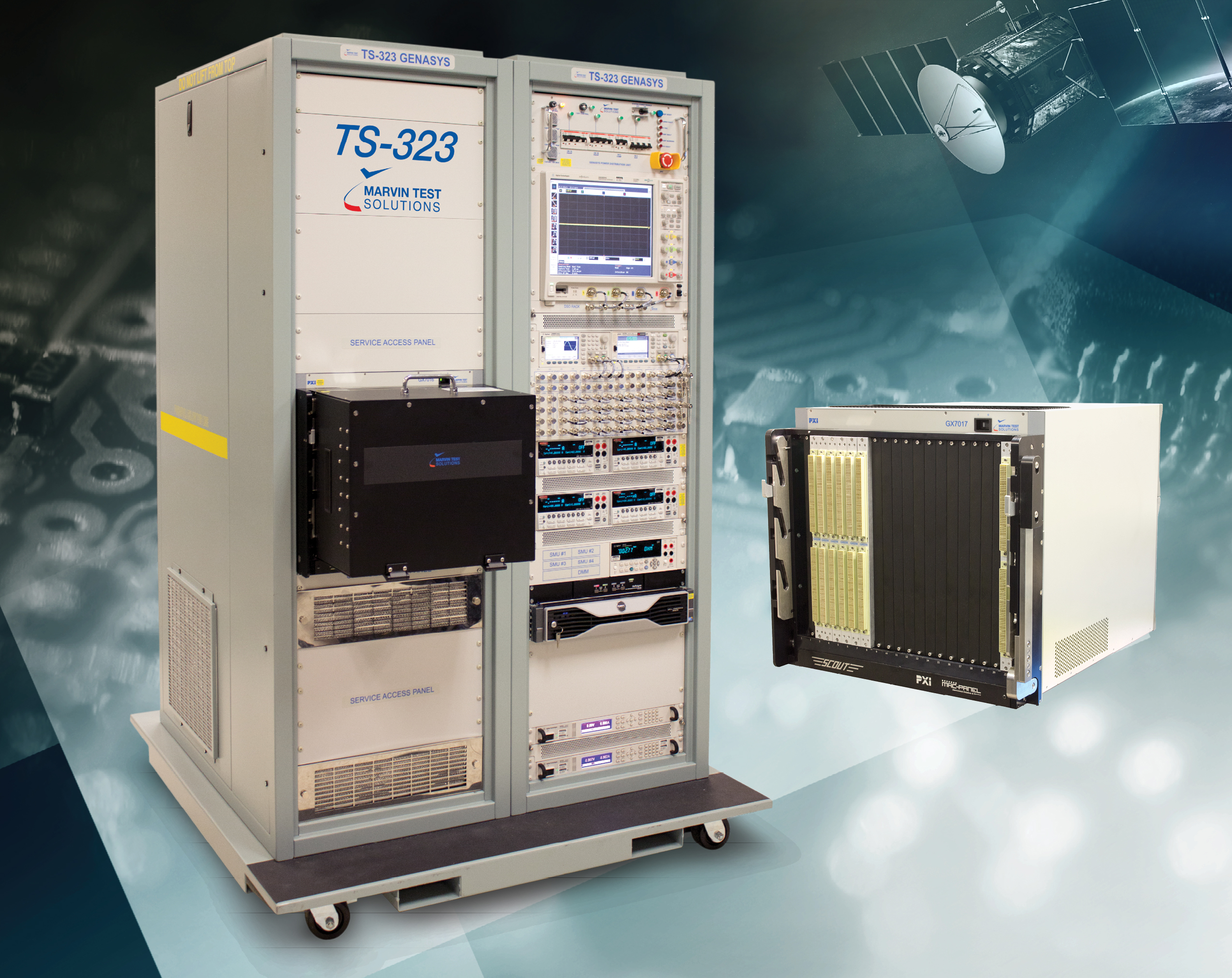 Military/Aerospace Test
Precision guided "smart" weapons have become the munition of choice for advanced militaries throughout the world. The ability to efficiently and effectively perform functional electronic testing on these complex munitions and their associated armament is necessary to maintain high mission readiness by ensuring proper performance and safe, reliable operation (Figure 3).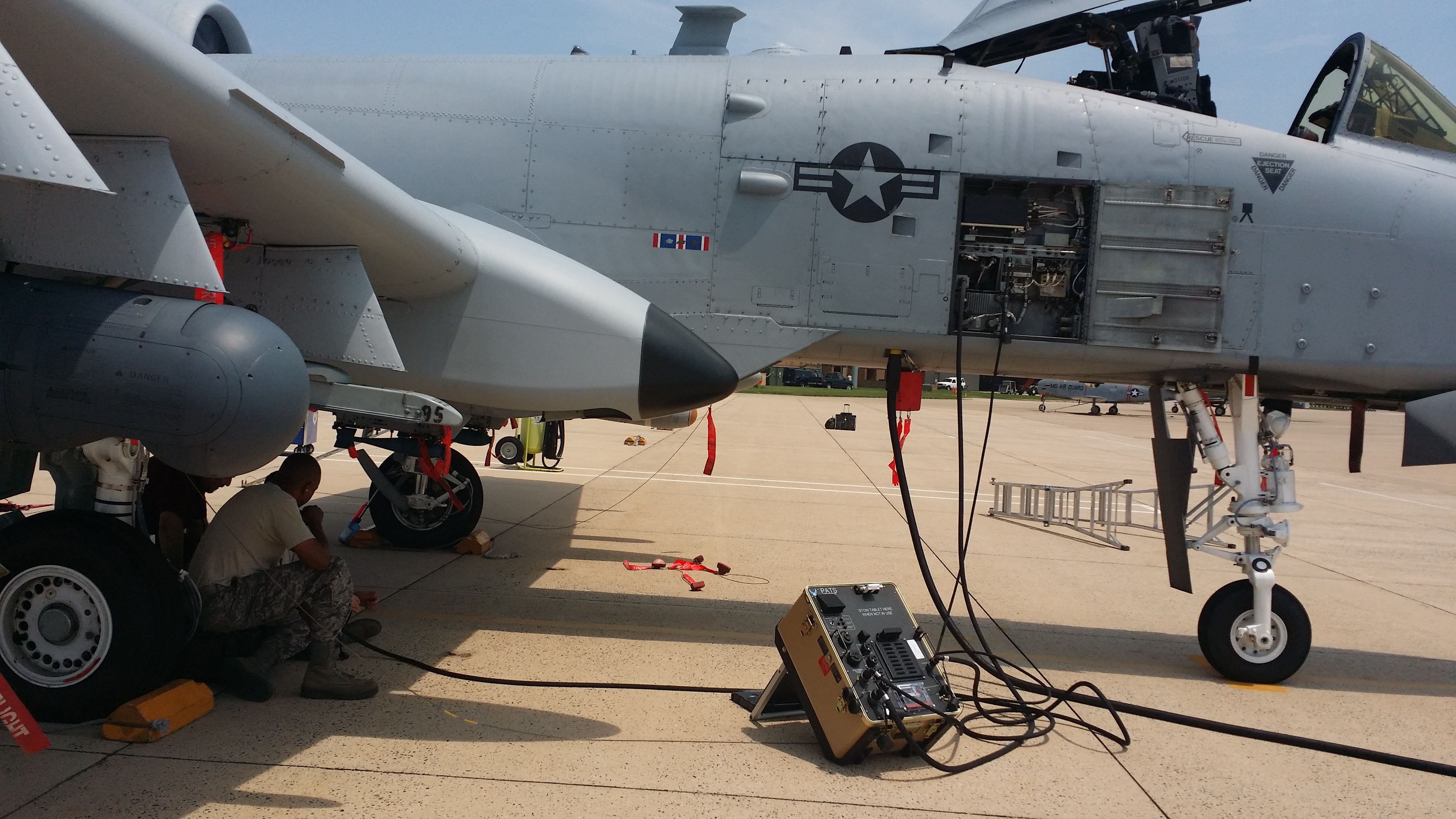 Historically, armament test sets have been based on proprietary architectures and purpose-built for specific applications. However, for test applications, the ability to leverage existing industry standards offers an attractive and flexible alternative—providing a wide selection of instrumentation and interface options that can address armament test requirements from the factory to the flightline to the depot.
Military aircraft and their associated weapon systems have very long life cycles, and in many cases those life cycles have been extended beyond their originally defined service life. The legacy test sets that were designed to support these mission-critical systems when they were first deployed, are themselves either obsolete or lack the capabilities required for testing today's advanced smart munitions and armament systems, resulting in inefficient use of resources as well as endangering mission success.
In addition, new and advanced electronic systems and subsystems continue to be developed, necessitating test solutions that can support not only the legacy products but also these new, advanced generation products associated with satellite, communication, electronic warfare, armament, and radar systems. The PXI architecture, when combined with comprehensive test program migration tools, offers the required functionality associated with these legacy platforms, while providing advanced test capabilities for next-generation products.
PXI-based test solutions can provide support for legacy armament systems as well as for current and next-generation requirements. Key advantages of the modular test platform include the ability to configure a test system that can be used in the controlled environment of a production floor, maintenance depot, or backshop, as well as in the field or on the flightline. Portable, ruggedized test sets are forward-deployable, providing troubleshooting and repair capabilities wherever they are needed. The modular architecture provides a natural upgrade or modernization path to incorporate additional test capability as new requirements emerge, with minimal mission impact and seamless compatibility.
For both legacy and next-generation test requirements and for a variety of commercial and military applications, the PXI architecture offers a robust set of capabilities for performance test. By employing a COTS-based, card modular test platform such as PXI, end users have the option to configure these systems with moderate to high pin counts and with a wide range of instrumentation that can deliver the right test solution at a moderate cost.