It's no secret that over-the-top (OTT) video services have been steadily increasing in popularity, with Parks Associates noting more than 63 million U.S. broadband households have already signed up. The firm also points out 36 percent of those U.S. broadband households (roughly 22.7 million) are now equipped with at least one streaming media player. These figures are relatively consistent with a previous finding from NPD Connected Intelligence that connected TVs are now in 60 percent of U.S. internet homes.
OTT services owe most of this success to their marketing efforts, which helped immensely in maintaining their place in the mainstream market. In addition to using tactics like free trials, services like Hulu and Netflix used events like the 2017 Super Bowl and Academy Awards for exposure to large audiences where they could showcase their most appealing features like original content and low monthly rates.
New customers are continuing to make the shift from pay TV to OTT streaming, mainly due to the aforementioned factors. But a survey conducted at Parks Associates' annual Premiere Connected Home Conference in San Francisco shed even more light on the contributing reasons behind OTT's newfound success.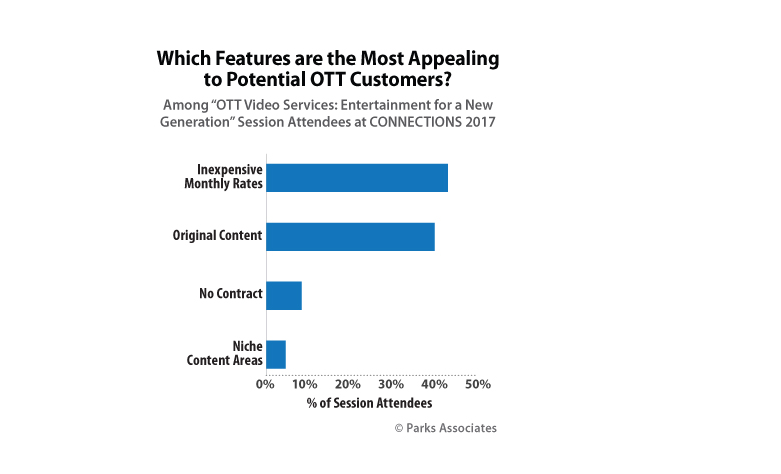 The vast majority of participants cited original content and OTT's cheap monthly rates as the biggest draws. And operators should take note.
With subscription models thriving in the United States, their success has significantly impacted traditional distribution channels (like pay TV). Between 2012 and 2015 alone, U.S. consumers increased their average monthly spending on OTT subscriptions by nearly 70 percent, while pay TV continued to shrink. Another recent Parks Associates study found approximately 20 percent of pay TV subscribers are reportedly dissatisfied with their service – a 100 percent increase since 2013.