The Internet of Things has been heralded as a massive opportunity for broadband providers. While adoption of smart home services is still in the early stages, Parks Associates recently predicted more than 12 million U.S. households will have a smart water leak detector, more than 40 million will have a smart thermostat, nearly 50 million will have a smart light bulb, and nearly 14 million will have a smart home controller by 2020.
With so many IoT formats floating around – LTE-M, NB-IoT, LoRa, SigFox, and more – the question was left open as to which would capture the explosive growth expected in the IoT space over the coming years. But now a new report from Mobile Experts has answers.
A detailed forecast from the firm predicts LTE-M and NB-IoT device shipments will see massive growth in the near future, overtaking unlicensed LPWA (U-LPWA) device shipments by 2020.
According to the report, shipments of unlicensed LPWA IoT devices will grow at a hefty 58 percent compound annual growth rate (CAGR) over the next four years. But that, the report indicates, will be dwarfed by the rise of LTE-M and NB-IoT devices, which are expected to grow at a 200 percent CAGR over the same period.
Between 2020 and 2021, shipments across U-LPWA and LTE-M/NB-IoT devices will jump from fewer than 350 million to more than 550 million. Additionally, connectivity module revenue will grow from about $1B in 2016 to about $33B in 2021, with the growth in shipment numbers more than offsetting reductions in device pricing.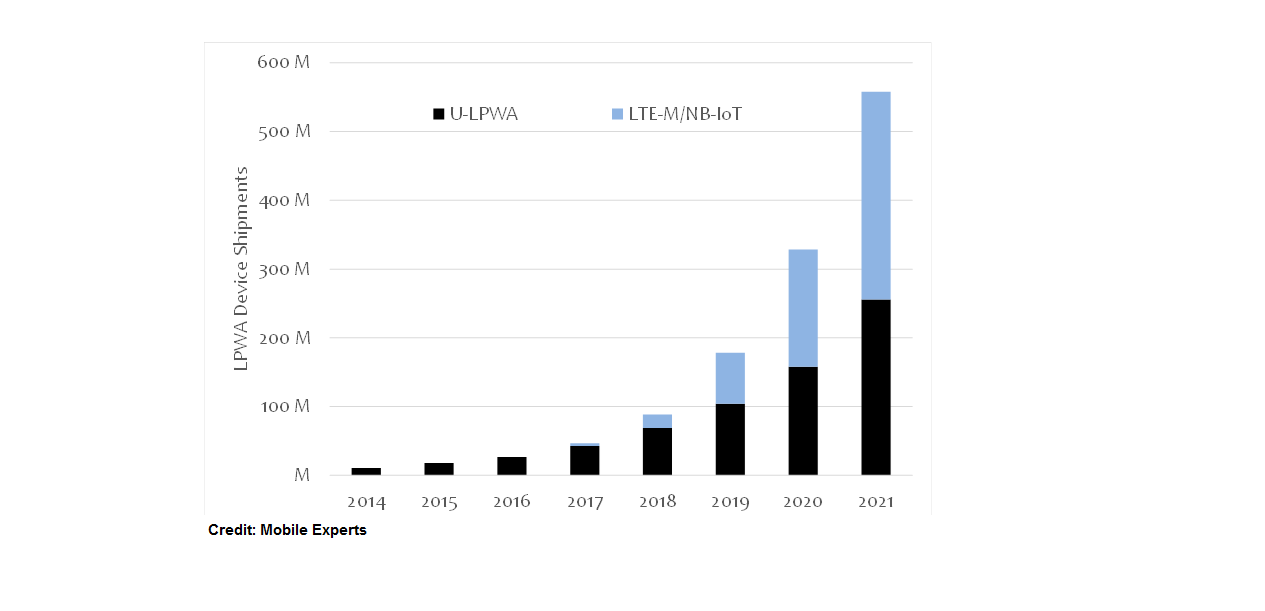 Mobile Experts indicates the biggest applications in the IoT explosion will be asset tracking, building automation, and smart meters. But the firm notes different verticals may go for different IoT technology formats.
"Each vertical market has very different drivers – there is no 'typical IoT device' and no 'typical IoT business model,'" Mobile Experts Principal Analyst Joe Madden comments. "The short answer is that only a few of the unlicensed LPWA options can thrive, because the breakeven point on a widespread IoT network is difficult to reach. Out of about 10 unlicensed LPWA options, we expect one to grow as a robust, broad ecosystem and two others to occupy niche opportunities. Some features of formats like Dash7 or Qowisio are useful, and can be absorbed into other technology roadmaps. Others are likely to die."
The study includes a five-year forecast for LTE-M, NB-IoT, Sigfox, LoRa, Ingenu, Telensa, 802.15.4 (Silver Spring), and other formats. It can be found here.