A mico-robot fitted with origami ankle joints and electroadhesive foot pads may soon be climbing all around the internal walls of jet engines as next-gen inspectors. The development is thanks to researchers at Harvard University's Wyss Institute for Biologically Inspired Engineering, and John A. Paulson School of Engineering and Applied Sciences (SEAS).
Jet engines, according to the Wyss Institute, can have up to 25,000 individual parts. As one can imagine, maintenance can be an arduous endeavor since the machines are usually disassembled to access the deeply located components, which increases cost and time. With all this in mind, a single engine can reportedly take more than a month to fully inspect.
Along with engines, this problem persists with scientific instruments, generators, construction equipment, and other complicated machinery. This is where the new robot, dubbed the Harvard Ambulatory Micro-Robot with Electroadhesion (HAMR-E), comes into play.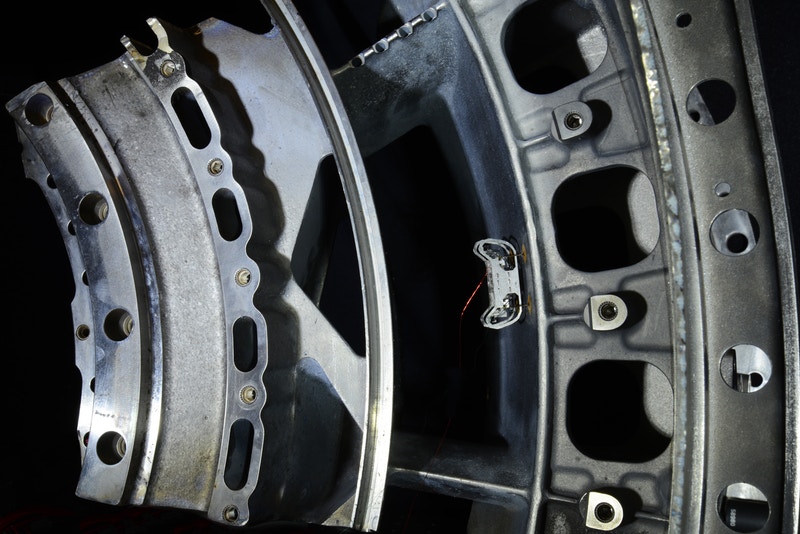 "Now that these robots can explore in three dimensions instead of just moving back and forth on a flat surface, there's a whole new world that they can move around in and engage with," says Sébastien de Rivaz, former Wyss Institute and SEAS research fellow who now works at Apple, and the study's first author. "They could one day enable non-invasive inspection of hard-to-reach areas of large machines, saving companies time and money and making those machines safer."
The researchers used an existing four-legged micro-robot called HAMR as the base structure. Next, they had to design a robot that could not only handle vertical surfaces, but also master the art of upside-down climbing. To meet this challenge, they added adhesive foot pads made of "a polyimide-insulated copper electrode, which enables the generation of electrostatic forces between the pads and the underlying conductive surface," according to the Wyss Institute.
By switching the electric field on and off, the robot can pick up and place down its feet with ease. Plus, the pads have the ability to flex, which allows HAMR-E to crawl on curved surfaces.
The researchers also fashioned new, origami-inspired ankles joint for the robotic jet inspector that can rotate in three dimensions, helping HAMR-E maintains its orientation while climbing. The team also created a unique walking pattern, which ensures three out of four foot pads are in contact with a surface at all times.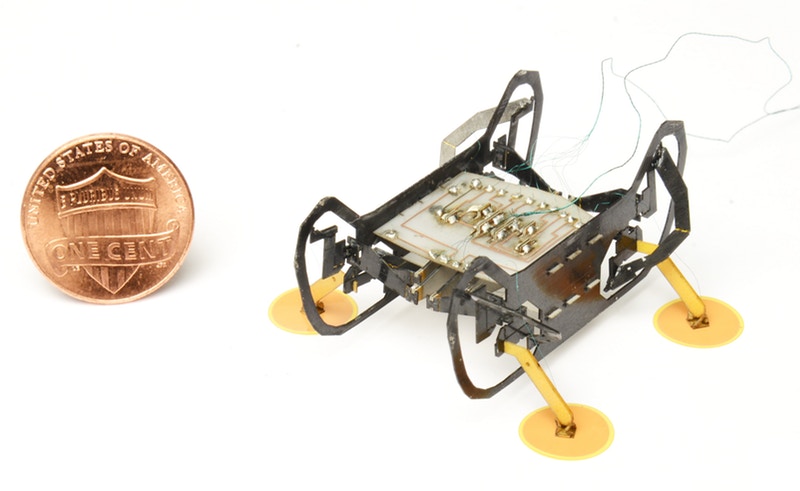 During experiments, HAMR-E completed 100 steps in a row without detaching. Its speed was similar to other robots of its kind on inverted surfaces, slightly slower on vertical surfaces, and much faster on horizontal surfaces. While on a horizontal surface, the robot also executed 180-degree turns.
"HAMR-E also successfully maneuvered around a curved, inverted section of a jet engine while staying attached, and its passive ankle joints and adhesive foot pads were able to accommodate the rough and uneven features of the engine surface simply by increasing the electroadhesion voltage," according to the Wyss Institute.
What's next for HAMR-E? Researchers plan in add leg sensors that will help further prevent falling by detecting and compensating for foot pad detachment. The little guy may also be able to carry electronics, additional sensors, and a power supply, since its payload capacity trumps its own weight. Furthermore, the team is looking to expand HAMR-E's horizons to non-conductive surfaces.
"This iteration of HAMR-E is the first and most convincing step toward showing that this approach to a centimeter-scale climbing robot is possible, and that such robots could in the future be used to explore any sort of infrastructure, including buildings, pipes, engines, generators, and more," says Robert Wood, Ph.D., Wyss Institute founding core faculty member, SEAS Charles River professor of Engineering and Applied Sciences, and corresponding research author.
The research is outlined in the article, "Inverted and vertical climbing of a quadrupedal microrobot using electroadhesion," published in Science Robotics.