This article is the last in a series focusing on semiconductor memory trends in retail shopping, which is a growing area of interest for the Internet of Things. Large stores have begun to use the Internet of Things to engage with their customer base and enable a shopping experience that's tailored to individual shoppers. Retailers are connecting devices with one another throughout the store, as well as with corporate headquarters and cloud resources. The ultimate goal is to deploy technology that leverage collected data to drive sales, build customer loyalty, manage inventory, and enhance operational efficiency.
In previous articles, we explored two early adopters of IoT in retail – Point of Sale terminals and Electronic Shelf Labels. The latest generation of smart POS terminals are often the first step retailers take to help them track customers' shopping habits, manage inventory, and drive loyalty through promotions. All the major POS terminal suppliers have introduced models that implement these capabilities. They tend to be powerful, compact, battery powered, and highly secure. These requirements trickle down to the semiconductor chips used in these devices. You can read the article on POS terminals by clicking here. Electronic Shelf Labels are a relatively new type of equipment that many stores are using. These shelf-top devices can be programmed to update pricing based on promotions and inventory and track consumer shopping behavior. They also automate tedious tasks while eliminating discrepancies and delays. Hence these devices can provide significant analytics insight to retailers with fairly low investment. You can read the article on Electronic Shelf Labels by clicking here.
In this article we'll cover one final piece of technology that's already been introduced in many stores and will continue to be widely adopted in the near future. These devices will allow consumers to have a more engaging shopping experience while enabling retailers with inventory management while improving customer service.
Wearable technology is probably the most ubiquitous (and publicized) technology to come out of the IoT boom. While they're quite useful in many aspects of everyday life – recording your fitness data, or taking calls and delivering notifications – they can also integrate many of our other activities. There is great potential for smart retail to benefit from wearable devices. Wearable devices can be used to deliver custom offers to shoppers, to complete payment, and to even guide shoppers around a store based on their shopping lists. In addition, they can be used by the staff at these retail outlets to augment their work. A few applications where wearable devices can make work easier for staff include inventory management and customer relationship management.
The requirements for semiconductors in wearable devices are very different from most other intelligent shopping applications. These are primarily driven by the combination of power, bandwidth and footprint, which is unique to this family. This applies to memories as well, where they are expected to be compact, low power, and high bandwidth all at once.
The PCB in a wearable device is extremely small so that it can fit in a person's hand or on their wrist. This means that memories need to be as small as possible, ideally no bigger than the die. This form factor is hard to achieve outside of Chip Scale Packages. Furthermore, today's wearable devices are required to be almost as powerful as mobile devices. They need to have high-resolution displays, be able to run powerful apps, and gather data continuously from multiple sensors, all while running a host of background tasks. Such demanding needs require high-end processors and peripherals.
Wearable devices also require low power consumption since they need to run high-speed processes on only a small battery. The wearable should have a battery life of at least a day for smaller devices. Any increase in battery size adds to the weight and size of the wearable, which makes the device less elegant.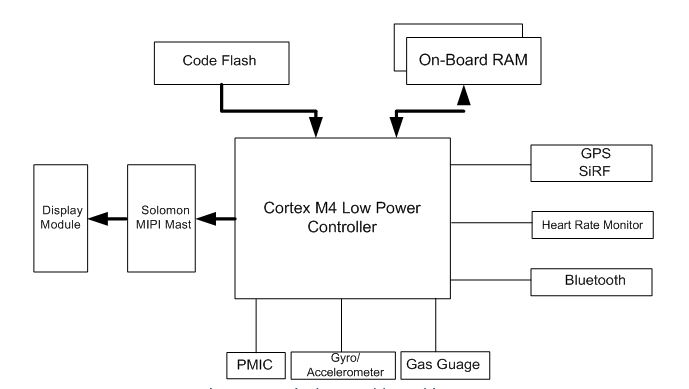 Figure 1 shows the typical components of a wearable device. The biggest power-consuming component is the display. However, the power consumed is highly variable, depending on whether the display is LCD (most), OLED, or E-ink (least). The general architecture of the remaining components remains more or less similar across all wearable devices. A Cortex M4 is one of the most widely used controllers, offering fast performance with low power consumption. Cortex M4 controllers have internal RAM ranging from 384Kbits up to 768Kbits. Despite their small size, these devices execute complex tasks and collect large chunks of data from various sensors. Having on-board RAM with the ability to back up data at low standby currents allows the device to store sensor data, construct protocol packets for Bluetooth transfer, or store the current display screen content between screen wake up periods.
Several of the activity trackers available in the market can display text messages, call notifications, and calendar activity from the smart phones to which they are connected. This requires additional storage space in the system. An expansion RAM, either volatile or non-volatile, with low power consumption and 4 to 8 Mbit density addresses these situations. Table 1 shows a comparative power consumption of these common components.

Wearable devices use a variety of memories for different functions. Common types of memories are non-volatile storage and RAM. While NOR Flash is the most common type of non-volatile memory, both DRAMs and SRAMs are used for random access tasks like caching and buffering. Higher end wearable devices like large smart watches, smart glasses, and virtual reality headsets use DRAMs since of their availability in higher densities. Smaller devices like activity trackers and small smartwatches use SRAMs to optimize power consumption over higher density memories. Since they have smaller batteries and are expected to last longer than larger wearable devices they cannot accommodate the higher power consumption of DRAMs due to refresh. Choosing between a DRAM and an SRAM is a tradeoff between capacity and power consumption.
This article and its earlier editions have covered only a limited subset of components that make a shopping experience intelligent. There will also be various video cameras, sensors, beacons, and displays that support extensive data analytics. Since their memory requirements are either small or have remained unchanged for years, we have decided not to focus on them now. Once those components are widely adopted and evolve beyond their current usage, we will revisit these components and study how they influence semiconductor design. However, the underlying requirements of devices remain unchanged – lowest power without compromising performance, small footprint, and high reliability. More about SRAMs with deep-sleep mode can be found in this application note. Further information about designing systems using HyperFlash memory can be found in this application note.