Microsoft is aiming to close the rural broadband gap within the next five years through a new plan that would utilize unlicensed TV white space spectrum.
Microsoft President Brad Smith in a Monday blog post says the plan's goal is to eliminate the coverage gap by July 4, 2022.
According to Smith, Microsoft's strategy combines public and private investments with new technologies deployed in unused TV white space in the 600 MHz band. Smith indicates this frequency band is ideal for rural coverage thanks to propagation characteristics that allow it to travel over hills and through buildings and trees. Microsoft already has the white space know-how, having deployed 20 TV white spaces projects in 17 countries serving 185,000 users. But where that signal doesn't reach, satellite backup can be used, he says.
"The best approach for the nation is to rely on a mixture of technologies for rural communities," Smith writes. "Specifically, TV white spaces will provide the best approach to reach the 80 percent of this underserved rural population that live in communities with a population density between two and 200 people per square mile. Satellite coverage should be used for areas with a population density of less than two people per square mile, and fixed wireless and limited fiber to the home should be used for communities with a density greater than 200 people per square mile."
Smith claims this hybrid approach will dramatically reduce the cost of broadband deployments in rural areas, lowing the price tag for total capital and two years of operating costs to between $8 billion and $12 billion. That range, he notes, is around 80 percent less than it would cost to deploy fiber alone and 50 percent cheaper than using fixed wireless 4G technology.
To lead the charge, Smith says Microsoft is teaming up with partners in its Rural Airband Initiative to launch 12 pilot projects in 12 states over the next year, including New York, Virginia, Texas, Maine, Washington, and Michigan, among others. Though it'll be investing upfront in these capital projects, Smith said the company isn't trying to jump into the telecom space itself. Instead, it will seek a revenue share from operators to recoup its investment and will in turn use those proceeds to invest in additional projects.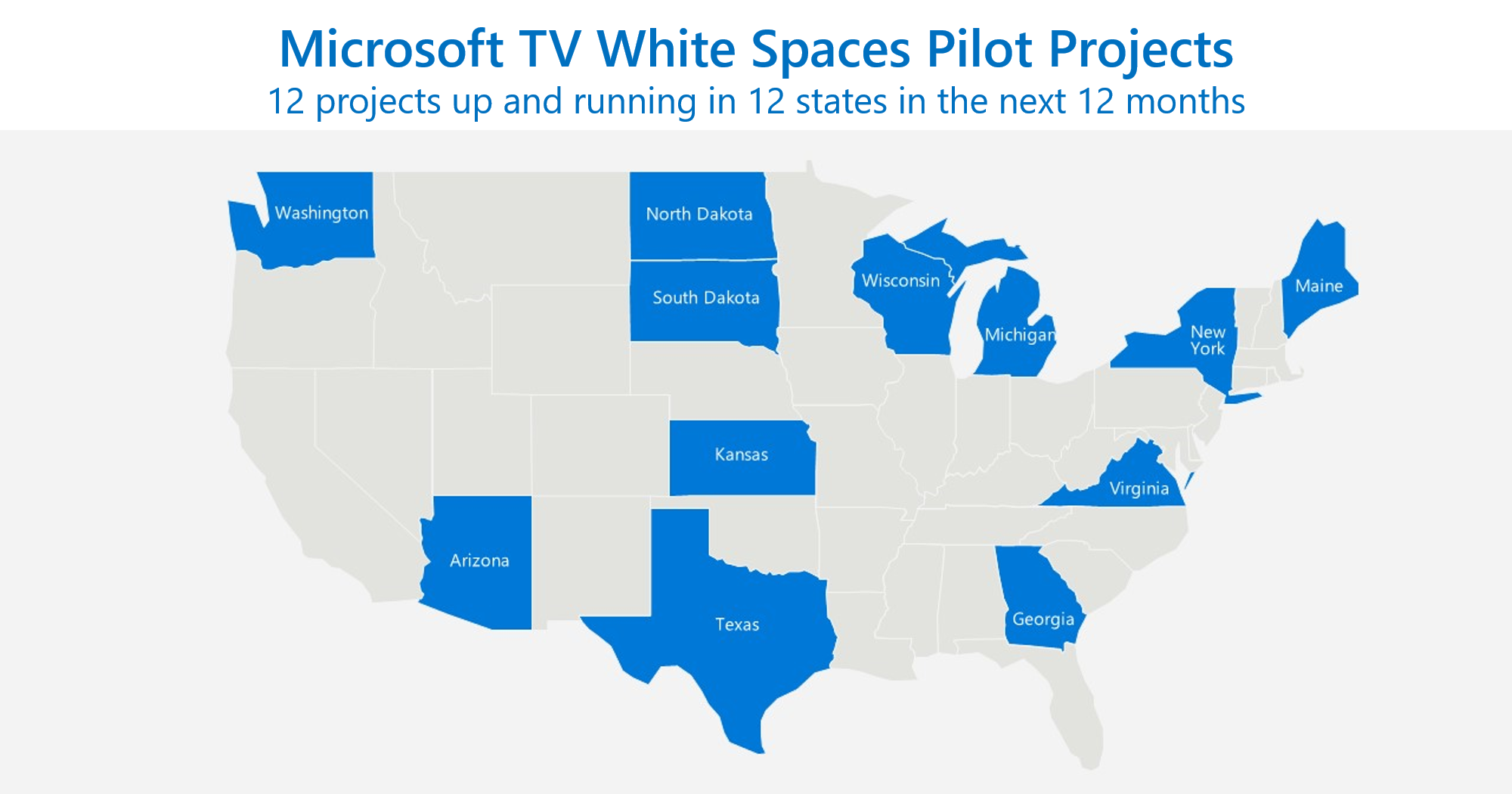 Additionally, Microsoft will invest in digital skills training to put the expanded connectivity to good use, and undertake a licensing initiative to provide royalty-free access to 39 patents and sample source code for its hybrid broadband technology. Smith calls on the FCC to do its part as well by accelerating its work to collect and more accurately report on the state of broadband coverage in rural communities. That, he notes, will help policy makers and private sector investors make more targeted investments.
"The time has come to extend this coverage to the rural areas that lack it entirely. We believe a new rural broadband strategy makes this feasible, and with Microsoft's Rural Airband Initiative we'll put our own resources and energy behind this effort. We can all innovate together, achieving what none of us can accomplish alone," he concludes.