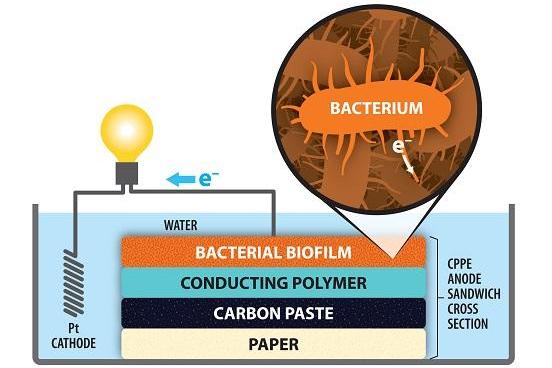 Scientists have found a way to boost the performance of bacterial fuel cells by using an electrode made of paper.
Microbial fuel cells, MFCs, use bacteria to generate an electric current. The technology holds tremendous promise. That promise is unlikely to be realized until the cells become more efficient and cheaper.
Most MFCs use electrodes made of metal or carbon felt. The former corrodes and the latter is porous.
Scientists at the University of Rochester decided to build an MFC prototype with an electrode made of paper dipped in carbon paste, a combination of graphite and mineral oil. Their invention — cheap and easy to make — proved effective.
"The paper electrode has more than twice the current density than the felt model," Kara Bren, a processor of chemistry, said in a news release.
When deployed in wastewater, the MFC's carbon-coated paper attracts Shewanella oneidensis MR-1, a bacterial species whose atoms eject electrons as it eats toxic heavy metal ions. The electrons form a current flowing from the carbon-coated anode to the platinum cathode.
"We've come up with an electrode that's simple, inexpensive, and more efficient," said postdoctoral fellow Peter Lamberg. "As a result, it will be easy to modify it for further study and applications in the future."
Researchers described their MFC in the journal ACS Energy Letters.