An optical Time of Flight (ToF) sensor is a device that measures distance using light. Because ToF sensors are a low-cost "contactless" technology, possess excellent long-term stability, are available in extremely small packages, and quickly deliver precise data, they are finding their way into a wide variety of products. One ToF sensor behind a smartphone screen or automobile dashboard for example, can sense user proximity, while two or three can be used to recognize user hand gestures. Consumer robot vacuums use them as navigation guides to sense walls and avoid obstacles. They're used in drones for ground ranging, along with measuring levels of liquids and solids in industrial process control systems, not to mention consumer "laser tape measures."
Although there are a number of integrated ToF sensor components and technologies available, at a very high level, all rely on the fact that light travels at a known velocity (c = 299,792,458 meters/sec). In operation, a ToF sensor emits carefully controlled light toward a distant object. Some of the light that impinges on the object is reflected back to the sensor, where it is detected, processed, and compared to the originating light. In one ToF sensor implementation, the controlled light is delivered as short pulses. In this case, we determine the distance by measuring elapsed time from transmission to reception (. In another implementation, we use modulated light and measure the phase delay of returning light.
Broadly speaking, pulsed ToF enables longer ranges, while modulated ToF can yield more precise data at higher acquisition rates. These two ToF techniques are often used as a platform upon which more sophisticated 3D depth measurement systems such as lidar subsystems can be built. Common lidar subsystems use spinning mirrors to actively sweep the ToF measurement point across a defined path—a key element for most autonomous vehicles and some higher-end drones and robotic devices.
For comparison, it's worth noting not all optical depth measurement systems rely on ToF. Augmented reality (AR) and gaming devices, theatrical motion capture systems, medical imaging, and certain industrial applications require sophisticated 3D point cloud generation and feature extraction. In these applications, throughput is generally more important than cost, and neither sensor size nor computational resources are limiting constraints. One category of non-ToF optical measurement is called structured light imaging. These systems sense depth and object surface contours by projecting a specific light pattern onto a scene, processing the contour-distorted images from two or more cameras' different positions, and then performing real-time image reconstruction. Structured light imaging was implemented in the early version of Microsoft's Kinect ™ gaming peripheral, and helped bring this approach into popular use. Stereoscopic measurement systems are another category. They use two cameras along with extensive processing to emulate human stereoscopic vision. In some cases, stereoscopic systems may use ambient scene lighting instead of projected light patterns.
Careful sensor selection is critical to many applications. There are various options and attendant trade-offs, along with an ever-increasing panorama of innovative sensor modalities to address new problems. To illustrate, I'll review some highlights of a recent IoT design we assisted with creating. The end goal was to develop an intelligent, networked rubbish bin. Specifications included a feature where the bin would "call" for itself to be emptied when nearing full capacity—thus reducing truck rolls, labor costs, and saving fuel. Surprisingly, most of the "high-tech" areas of the IoT rubbish bin system were relatively straightforward to implement—solar power, cellular connectivity, cloud visualization, etc. The puzzle was how to measure when the bin needed to be emptied. The volume of rubbish in a container is notoriously difficult to measure if cost, reliability, and accuracy are important. One reason is due to its variability. On any particular day, will the bin hold a lot of lightweight aluminum cans or heavy bricks?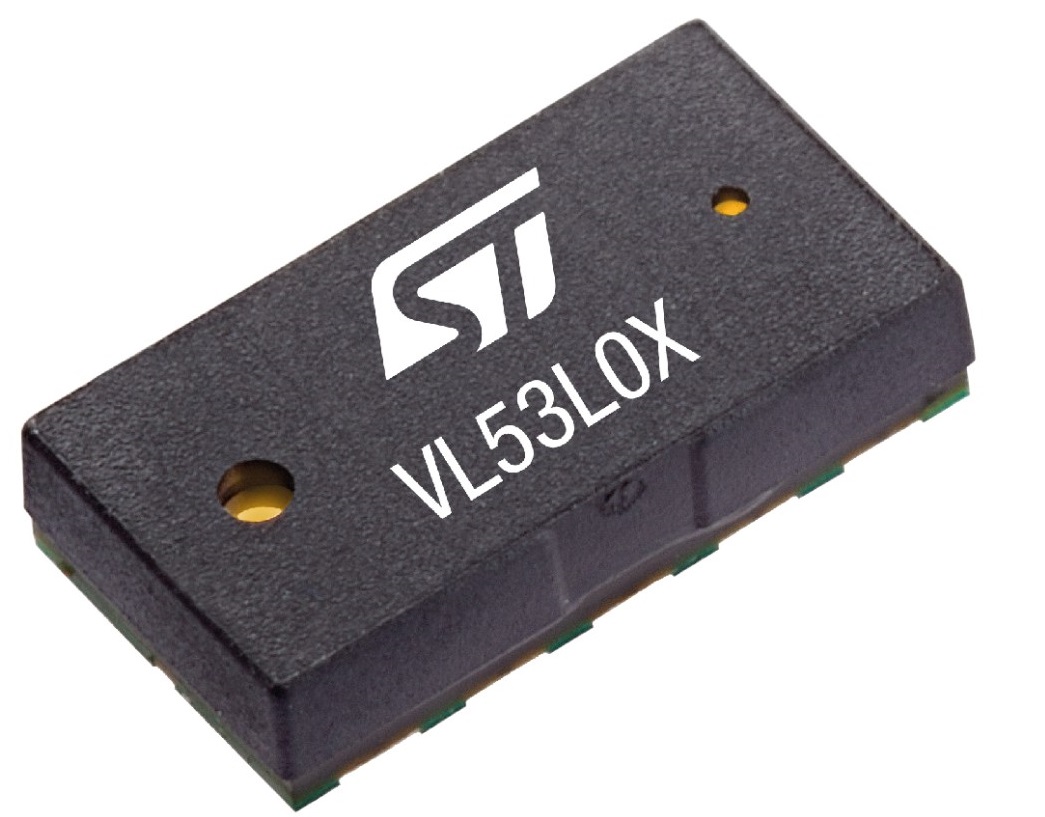 We aren't able to predict this in advance, of course, so a weight sensor placed at the bottom of the container won't provide a meaningful indication of its volume. What about a downward-facing ultrasonic distance sensor placed in the lid? Ultrasonic sensors serve many industrial requirements, but the power and cost of a properly sealed ruggedized sensor presented a challenge. They also have a "dead zone"—a minimum detection distance. This means if the material in the bin managed to accumulate above a certain height (too close to the sensor), it would no longer be detectable. After considering many approaches, we settled on a newly-introduced ToF sensor placed in the lid. It has no dead-zone (it detects objects as close as 0 mm away), operates with incredibly low current levels (< 1 microampere in sleep mode), and is packaged as a 3 mm x 5 mm surface-mountable component. Sealing the sensor from the contaminants in the bin only required placing it behind a small flat infrared window. Lastly, because the device is optimized for smartphones, cost was well below our target.
To summarize, ToF is a versatile and precise distance measuring option for many IoT-enabled applications. New generations of sensors extend a product's functionality, enhance reliability, and provide a competitive edge. Increasingly, we find sensors originally intended for one specific market are finding homes in new, unanticipated applications.