The pace of technological advancements across consumer and industrial sectors will continue to boost rapid growth in the global microcontroller and microprocessor markets into the early and mid 2020s, according to researchers and analysts.
Among the key drivers leading the explosive growth are applications in the automotive, telecommunications, and healthcare sectors, as electronic and electrical components become more powerful and robust, and ever smaller in size.
In addition, experts point to ongoing developments in artificial intelligence (AI) as helping to steer a continual rise in the microcontroller embedded systems market, at least to the year 2027 and likely well beyond. Along the way, the microcontroller market in general is projected to hit a compound annual growth rate (CAGR) of nearly 7 percent by 2023.
On the microprocessor side, CAGR projections though 2025 range between 2 and 3 percent based on anticipated advancements PCs, laptops, servers, tablets, cellphones, embedded microprocessor units, and other applications.
The industrial sector's growing move into cloud computing and Software-as-a-Service subscription models has helped fuel the boom in global server microprocessor market activity, which has been led by North America but with the Asia-Pacific region showing the fastest growth, researchers say.
Technology On The Edge
Other significant applications driving the microprocessor market in 2019 include a growing number of Internet of Things (IoT) applications and the emergence of 5G in communications, projected to become a $10 trillion market over the next 15 years.
Not surprisingly, Intel remains the largest supplier of microprocessors, with roughly a one-third share of the market, according to Statista (Figure 1). Other players include Broadcom, Qualcomm, Micron, Sony, TSMC, nVidia, and SK Hynix.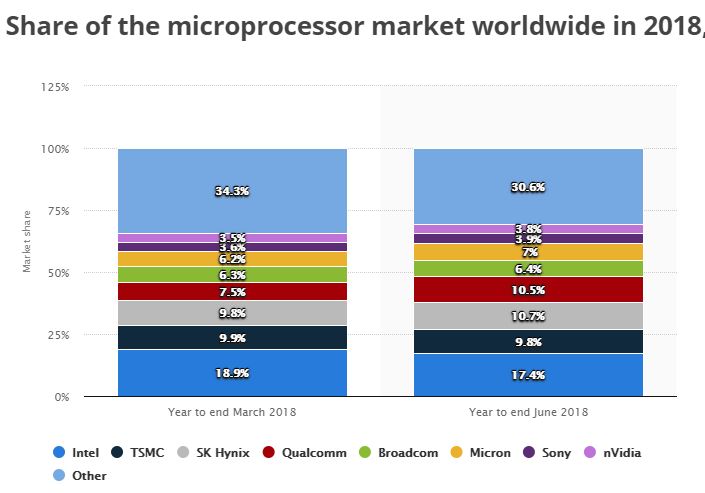 "With faster speeds, increased bandwidth, and improved access, 5G is the next evolution of wireless technology and will deliver a better user experience on existing devices," reported Sandra Rivera, senior vice president and general manager of Intel's Network Platforms Group, from the 2019 Mobile World Congress in Barcelona late February. "But more than that, 5G will enable disruptive innovation in the network infrastructure and across all types of smart and connected machines."
Rivera added that 5G represents the true convergence of computing and communications and that Intel is working with partners on cloud architectures to transform the network and build out the intelligent "edge"—bringing computing, media processing, AI, and analytics closer to the end devices.
Edge computing is emerging as an essential element for 5G networks along with the accompanying applications and services to come.
For network operators and service providers, Rivera said the edge computing transformation opens opportunities to deliver more value from their networks with an entirely new class of consumer and business services that were unattainable on previous architectures.
In a recent research report, "Multi-Access Edge Computing in the Emerging 5G Era," IDC Asia-Pacific analyst Shiv Putcha called it an important concept for the telecommunications industry "to not only build a network edge that will offer compute and storage resources, but the key building block through application programming interfaces (APIs) to driving a new ecosystem that could potentially generate significant new business opportunities and revenue streams for (service providers)."
Getting Behind the Wheel
In addition to developments in 5G communications, experts say that the move by automakers to expand popular electronic functions beyond the luxury level to the more mainstream vehicle models has triggered a boom in microcontroller and microprocessor demand.
Major players in global automotive microcontrollers include NXP Semiconductors NV, STMicroelectronics NV, Texas Instruments Inc., Renesas Electronic Corp., Microchip Technology Inc., Infineon Technologies, and Silicon Labs Private Limited.
Microcontrollers and microprocessors that long have been used to control power windows, brake systems, and interior displays, now are being added to a growing number of other driver services, including systems for lane departure warnings, parking assistance, collision avoidance, side assist, backup camera technology, and greatly enhanced entertainment features, along with a host of highly advanced vehicle displays and electronic warning notifications that previously were not available across many makes and models.
What's more, while the jury still is out on the ultimate success of fully autonomous cars, many industrial suppliers of automotive parts and tools anticipate that the move to electric vehicle (EV) production will grow exponentially, resulting in new demand for microcontrollers. To that end, some auto supplier executives are predicting that 100-percent EVs may replace standard combustion engine production in as little as 10 years.
Even as the use of embedded microcontrollers continues to advance within overall auto systems and production, the largest boost in market share is driven by the increasing adoption of small-size electronic and electrical components in vehicles, according to Market Research Future.
The India-based research firm adds that the soaring uptake of sensing devices and technologically advanced infotainment systems also is estimated to drive the microcontroller embedded systems market "with a confident pull."
Healthcare Meets the Cloud
Increased activity in microarchitecture development within the medical and healthcare environment in 2019 continues to be spurred on by IoT and cloud-based opportunities, making the sector one of the most impressive markets for future growth.
The equipment often requires complex computer-controlled systems, using a variety of semiconductors, microcontrollers, and other components to not only monitor patient vital signs, but also to handle imagery and other diagnostic functions.
An increasing number of healthcare operations have begun using embedded chip technology to treat patients in remote areas where medical services and doctors are not readily available.
Through IoT, embedded devices using high-speed processors can quickly help diagnose patient ailments and pave the way for reliable treatment regimens, storing data in the cloud for further evaluation and follow-up.
Sensors monitor temperature, blood pressure, heart functions, glucose, and a variety of other internal systems for remote consultation with medical professionals.
According to consulting firm Stratistics MRC, the more than $60 billion global medical automation technologies market is expected to reach nearly $140 billion by 2026, growing at a CAGR of 9.6 percent during the period.
Technology advancements in medical automation robotics facilitate deployment of robots to handle time consuming tasks, reduce labor, prevent errors to improve patient safety, and sustain business operations, Stratistics reports, and they increasingly are being used in supply chain functions, surgical procedures, and clinical applications.
Robotics also comes into play in a wide range of prosthetic devices, with some of the latest advancements leading to computerized bionic limbs driven by microprocessors and computer chips that help propel motion and, in the case of robotic legs, using sensors that even adjust for speed and terrain.