Industry 4.0 is barreling forward at breakneck speed, to the extent that it may wind up being Industry 5.0 by the time we're done injecting artificial intelligence (AI). One of the great realities in embedded engineering today is the increased importance of power management, both as a cost enabler and technology force multiplier. The more sophisticated process machinery, the more sophisticated power systems required to drive it become.
This explosion of energy management solutions in intelligent automation was very apparent at the recent Power Control and Intelligent Motion (PCIM) Europe 2018 in Nuremberg, Germany. Over 11,000 visitors saw 500 exhibitors from over two dozen countries present components, devices, and other solutions in every application space in power electronics. About half of the exhibitors presented products and services designed specifically for electro mobility.
New Technology Unveiled
A startup called Pre-Switch headed by industry veteran Bruce Renouard, introduced Pre-Flex technology using an embedded AI controller IC to effectively eliminate transistor switching losses in hard-switched architectures in virtually any power converter topology. Pre-Flex (Figure 1) promises to dramatically reduce cost, size, and weight in power systems while increasing the efficiency and reliability.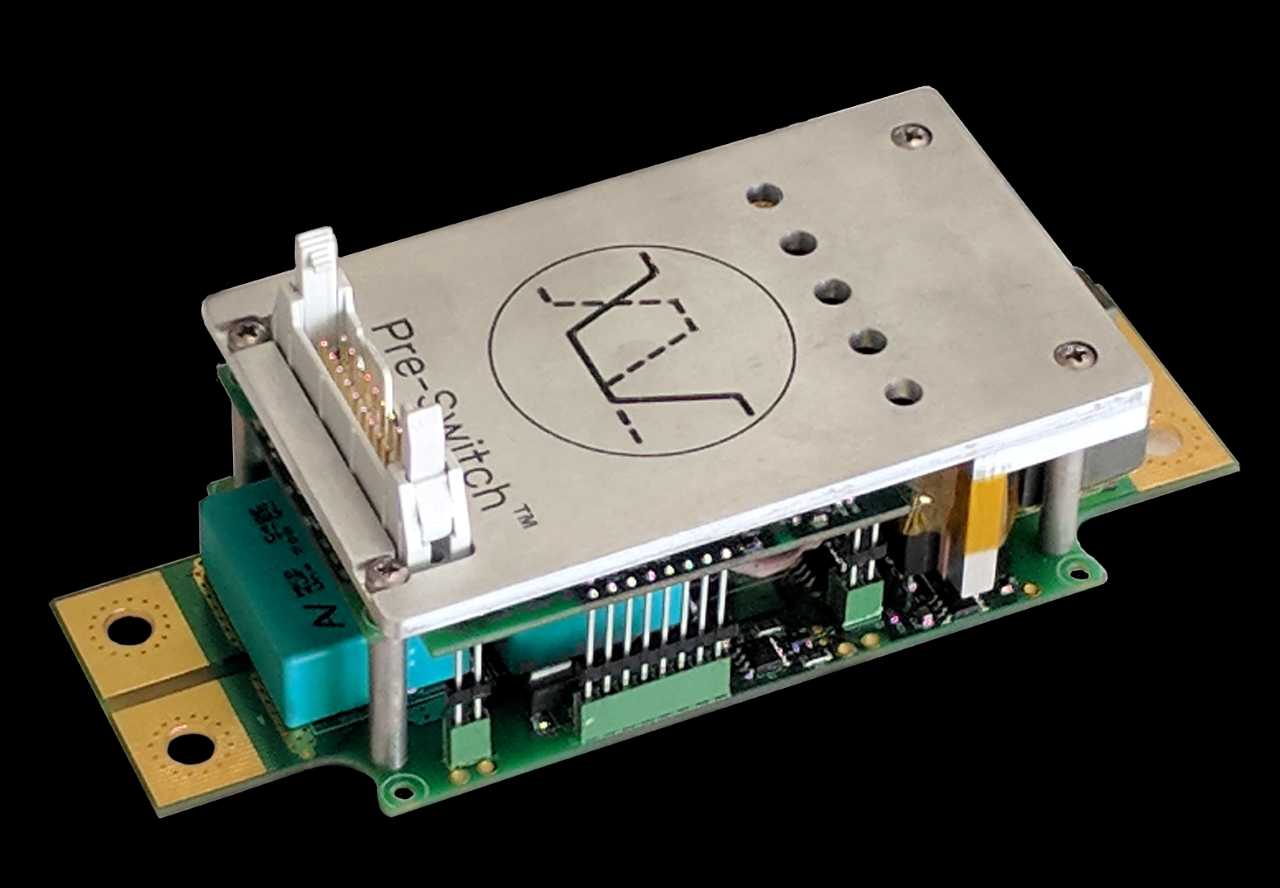 Suited for the server, solar, wind, EV, traction, and motor-drive markets, Pre-Flex technology learns and adapts 'in-system,' on a cycle-by-cycle basis to reliably force resonant softswitch across changing loads, input voltages, temperatures, and manufacturing tolerances. Pre-Flex also significantly lowers EMI and dramatically decreases dV/dt for any switch type.
The technology presently scales from 1 kW to gigawatts. In addition, the higher switching frequencies enabled by Pre-Switch can provide a lower motor current ripple, reducing motor harmonic losses and increasing motor and system efficiency.
Wide-Bandgap Semiconductors
In semiconductors, ROHM and GaN Systems announced a collaboration in the gallium nitride (GaN) power semiconductor business. This strategic partnership leverages GaN Systems' capabilities in power GaN transistors and ROHM's strengths in the design and manufacture of electronic components.
The companies have agreed to jointly develop form-, fit-, and function-compatible products, providing customers with multiple sources for package-efficient GaN power switches. Customers will also benefit from greater global access to GaN products and resources, especially in Asia, one of the fastest growing market for GaN.
Infineon Technologies announced volume production for CoolGaN products by the end of 2018, with engineering samples available now. Infineon claims CoolGaN is one of the most reliable and globally-qualified GaN solutions in the market, due to a quality management process that not tests the device, but also its behavior in the application.
The performance of CoolGaN at 100 ppm (parts per million) has a predicted lifetime of about 55 years, exceeding the expected lifespan by 40 years, with doubled output power in a given energy storage slot size, freeing up space and realizing higher efficiency at the same time. Full production of CoolGaN 400 V and 600 V e-mode HEMTs will start by end of 2018.
ON Semiconductor announced an expansion of its silicon carbide (SiC) Schottky diode portfolio, adding AEC-Q101 automotive-grade SiC diodes for demanding automotive applications. The diodes have no reverse recovery current, and switching performance is independent of temperature.
The devices are available in surface-mount and through-hole packages, including TO-247, D2PAK, and DPAK. The diodes also include a novel termination structure that improves reliability and stability, and have an operating temperature range from -55°C to +175°C.
One must also be able to drive these new wide-bandgap devices, and one of the solutions involved is the AgileSwitch Gate Driver Core optimized for SiC MOSFET modules. Features include software-configurable Vgs, a robust high-noise-immunity design, advanced monitoring and fault reporting, and a compact form factor.
The ASC1 (AgileSwitch Software Configurable Core 1) SiC MOSFET gate driver core is available with a family of tested reference adapter boards (Figure 2) to help provide compatibility with most SiC MOSFET modules. The ASC1 driver core features a configurable gate voltage, and uses the company's software-configurable Augmented Turn-Off (ATOff) technology. By reducing turn-off spikes and ringing, both under normal operation and short-circuit (DSAT) conditions, SiC MOSFET modules can be safely operated in higher frequencies that enable dramatic increases in power conversion density.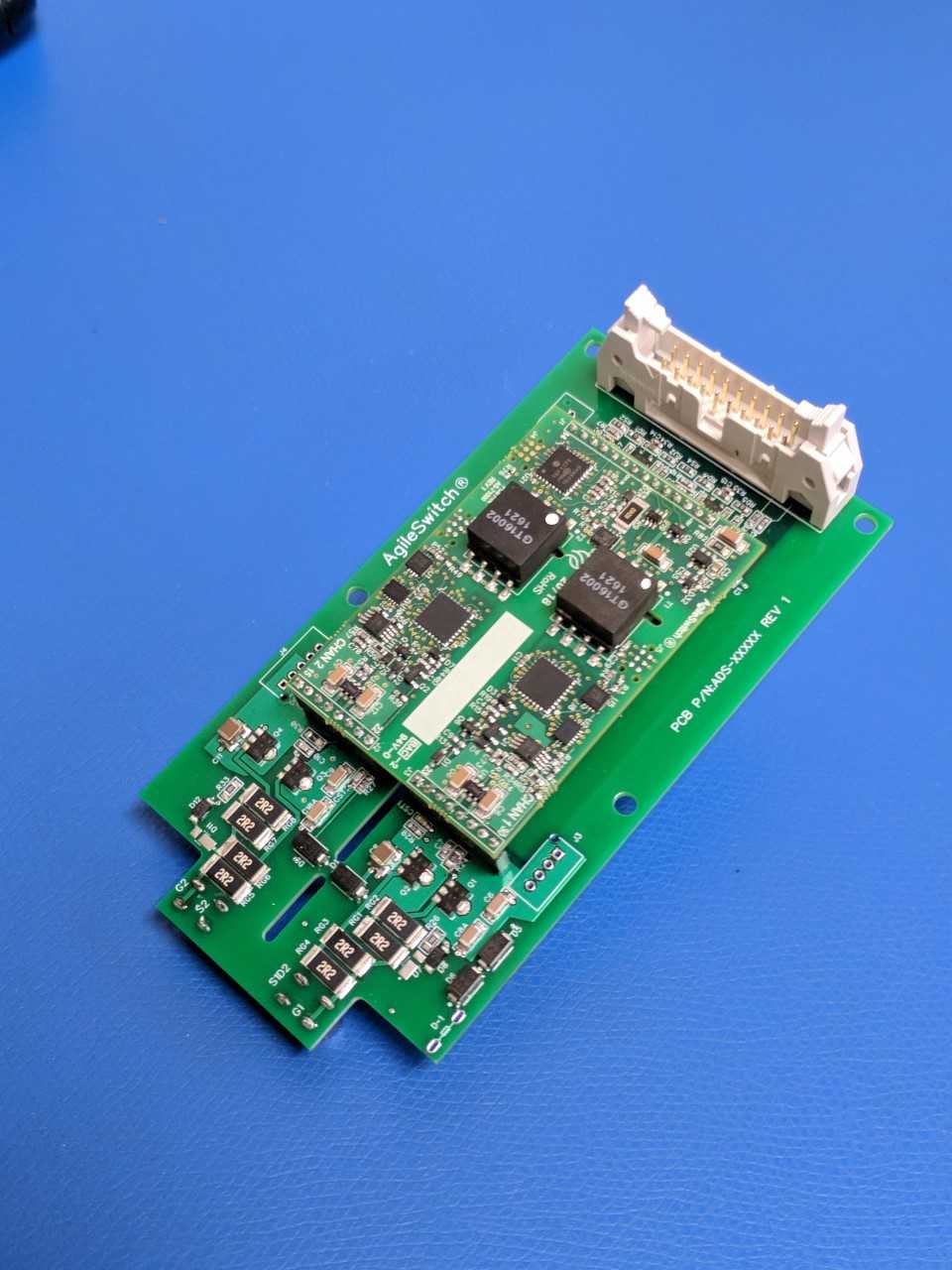 Solutions for Demanding Applications
Targeting the industrial and automotive markets, KEMET released two series of power film capacitors that meet the requirements of AEC-Q200. The new RoHS-compliant capacitors have a polypropylene metallized film construction, and are available as two or four radial-leaded board-mount devices.
Available values for the C4AQ series range from 1.0 µF to 130 µF, with additional sampling for 170 µF and 210 µF. Voltage values span from 500 Vdc to 1500 Vdc. Devices from the C4AF series are designed for use in more demanding and harsh applications and are offered in capacitance values up to 62 µF with voltage ratings up to 400 VAC.
The power film capacitors are also suited for high frequency applications, with rectangular, resin-filled enclosures and an array of application benefits including self-healing characteristics and low losses. Additional features include high ripple current values, high capacitance density, and high contact reliability, with an operating temperature range from -55°C to +105°C.
Targeting data center as well as automotive applications, Vicor unveiled their non-isolated bus converter modules, including a bidirectional non-isolated fixed-ratio converter for hybrid 48 V/12 V power systems. The 2317 NBM (Figure 3) is a bidirectional converter that can provide up to 750 W continuously at 48 V from 12 V, or at 12 V from 48 V, with over 98 percent peak efficiency.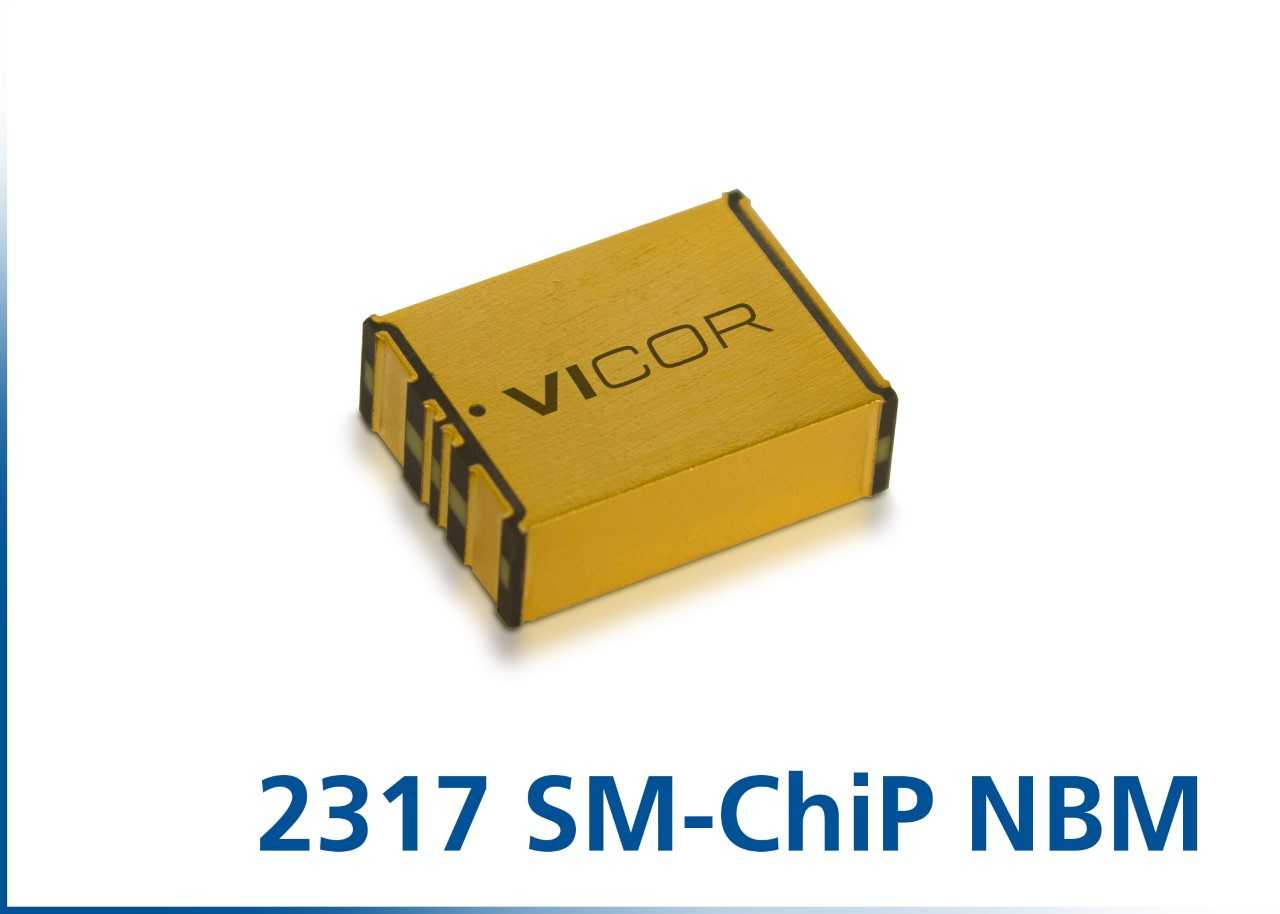 Delivering up to 1 kW of peak power in a 23 x 17 x 7 mm SMT package, the NBM2317S54D1464T0R provides a complete solution with no external circuitry needed. By switching at 2 MHz, it provides low output impedance and fast transient response to dynamic loads, with hot-swap and inrush current limiting, increasing power system density while saving valuable board space, time, and money.
The device supports 48 V-input GPUs using Power-on-Package Modular Current Multipliers driven from a 48 V node sourcing a small fraction (1/48) of the GPU current. Current multiplication overcomes power delivery boundaries imposed by traditional 12 V systems. In data centers that have been upgraded to a 48 V infrastructure, it can be used to support legacy 12 V loads. In mild hybrid and autonomous vehicles using 48 V, the solution supports legacy 12 V subsystems at 48 V, with or without dual batteries.
LEM introduced the DVC 1000-P for insulated nominal-voltage measurements in traction and industrial applications using isolating amplifier technology. With a safety insulation voltage of 4.2 kV, the DVC 1000-P transducer measures only 37 x 43 x 23.5 mm, and mounts with a total volume of 37.4 cm3.
The DVC 1000-P complies with the International Railway Industry Standards, and is can measure DC link, an output voltage of inverter, input voltage of 4 quadrants converters, or a battery voltage. DVC 1000-P transducer measures voltages by a direct connection on its primary side. An isolated signal creates a voltage at the transducer output connections, which is an exact representation of the primary voltage. No additional components are necessary.
Overall accuracy is +/- 1 percent at +25°C, with a high stability in temperature leading an overall accuracy of +/- 1.5 percent from -40°C to +85°C as operating temperature range. Its measurement frequency bandwidth (-3 dB point) is 47 kHz, and the DVC 1000-P consumes only 35 mA at no primary voltage when power supplied under +5 VDC.
Power Integrations announced that two of its SCALE-iDriver gate-driver IC family (Figure 4) are now certified to AEC-Q100 Grade Level 1 for automotive use. The two parts, SID1132KQ and SID1182KQ, can drive 650 V, 750 V, and 1200 V automotive IGBT and SiC-MOSFET modules, and are rated for peak currents of +/-2.5 A and +/-8 A respectively.
Features include FluxLink magneto-inductive bi-directional communication technology for reinforced galvanic isolation between the primary and secondary sides, eliminating the need for optoelectronics. The devices use the compact and robust eSOP package, which offers a CTI level of 600, 9.5 mm creepage and clearance distance, and easily meets automotive 5,500 m requirements.