The router and switch market for service providers continued to claw its way back in the most recent third quarter, according to a report by Infonetics Research.
Over the long haul, Infonetics forecasts the service provider router and switch market would grow at a 7 percent CAGR from 2012 to 2017, when it will reach $20.2 billion.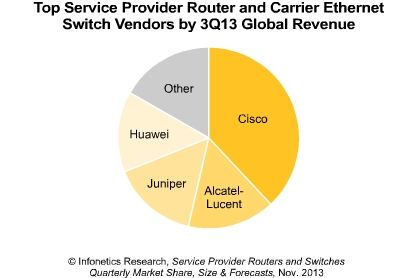 "The third quarter is normally slow for the carrier router/switch market, so a 10% percent sequential drop isn't overwhelmingly bad, especially with the expectation of a good fourth quarter in 2012 and an improving year-over-year outlook," said Michael Howard, principal analyst for carrier networks and co-founder of Infonetics Research. "All three main IP router/switch categories – edge routers, core routers, and carrier Ethernet switches (CES) – are up from a year ago."
The global carrier router and switch market (IP edge and core routers and carrier Ethernet switches) totaled $3.6 billion in the third quarter, which was an increase of 7 percent from same quarter a year ago.
On the global router/CES revenue share leaderboard, Cisco maintained its lead with 38 percent while Alcatel-Lucent took over second place. Juniper Networks came in third and Huawei dropped to fourth.
Sequential dips by Huawei and ZTE pulled Asia Pacific down in the third quarter, but Infonetics expected the region to bounce back in the fourth quarter.
Though Europe/EMEA declined 10 percent in the third quarter from the second quarter, European service providers were also expected to carry out a decent budget flush in the fourth quarter, according to Infonetics.