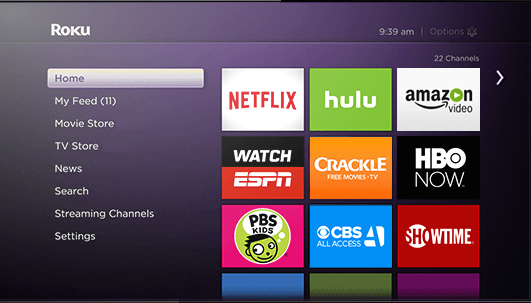 Roku could have the largest number of connected TV users in the U.S. this year, beating out Google Chromecast, Amazon Fire TV, and Apple TV, according to eMarketer's new 2017 forecast.
In the report released Wednesday, the firm estimates Roku will have 38.9 million users that use the device at least once per month this year, up 19.3 percent compared to 2016. If the numbers hold up, it would mean Roku captures 23.1 percent of all connected TV users.
As pointed out by Tech Crunch, though, there is a large discrepancy between eMarketer's estimates and Roku's recently released statistics showing 15 million monthly active user accounts. The media outlet says the difference is due to how "monthly actives" are being counted, with Roku only counting active user accounts and eMarketer counting individual users. Since Roku devices don't have individual user profiles, there are multiple users linked to a single Roku account.
Chromecast is projected to be slightly behind Roku, with 36.9 million users, capturing 22 percent of connected TV users. Amazon Fire TV comes in third, with the firm estimating 35.8 million users this year, equating to 21.3 percent of connected TV users.
Bringing in the rear is Apple TV with an estimated 21.3 million users in 2017, or 12.7 percent of connected TV users.
Roku is sitting atop the connected TV device market partly due to the fact that it's a neutral player in the space, eMarketer analysts say. Since the company doesn't promote specific content or platforms it's able to form partnerships more easily.
"As the only major market participant not affiliated with a content or TV device platform, Roku has used its neutrality to strike deals with a wide range of partners, including smart TV makers, over-the-top (OTT) service providers, and social media companies," Paul Verna, principal video analyst at eMarketer, comments.
"That expansive strategy, combined with the company's broad selection of connectivity devices at various price points, has put Roku at the head of the pack," he adds.
By contrast, the firm notes Apple TV didn't support Amazon content until this year due to fight between the two companies, which may have damaged Apple's share of the streaming market.
Apple is also hurt by "the absence of a compelling content offering," and "a much higher price bracket than its competitors," Verna says.
Google, Amazon, and Roku all offer streaming docks starting at well below $40, while Apple TV devices start at $150, the report notes.
eMarketer isn't optimistic about Apple TV's ability to reverse lagging trends, and estimates the company will add less than 4 million users by the end of 2021, compared to net adds of between 20 million and 30 million for competitors.
Usage of connected TV devices are still on a strong path upward, with an estimated 168.1 million people in the U.S. forecast to use an internet-connected TV this year, up 10.1 percent over 2016. The usage of smart TVs accounting for a large portion, according to the forecast.
Smart TV usage is the largest single subgroup within the internet-connected TV category, and with 81.2 million users this year, smart TV users will make up almost half of all connected TV viewers , the firm reports. That is a robust 30.8 percent jump over 2016 levels.
Notably, the new figures led eMarketer to downwardly revise its latest forecast of total connected TV viewers, due to strong sales of smart TVs. Since no secondary device is needed for smart TVS it will impact demand for third-party connectivity devices, Verna says.