Rapid advancements in the Internet of Things (IoT) are accelerating its adoption across the industrial realm. While the number of active IoT devices as of 2018 was about 7 billion, it's estimated to reach 22 billion by 2025. These will encompass all sorts of devices used across sectors like healthcare, retail, transportation, wearables, and much more. Here's where the semiconductor industry plays an integral part in answering evolving IoT application demands. As smart cities and connected industries develop, cutting-edge IoT device implementations are amplifying interconnectivity with system-on-chip (SoC) at the head of this transformation.
What Does SoC Mean?
SoC is nothing but a fusion of sensor capabilities and computing resources into one chip, designed to be power efficient, compact, and secure. There's a lot that goes into an SoC: processors (MCU), RF transceivers, memory, power management, connectivity, and sensors like strain gauges, MEMs, and accelerometers, all in one single unit. While SoCs offer the highest levels of integration and conservation of area, building a robust SoC implementation requires advanced skills and design knowledge.
SoC-IoT: Stirring up a New Storm
According to Netscribes IP research, the last decade has witnessed a steady uptick in patents filed under the SoC-IoT segment. An increasing number of firms are opting for custom IPs to create IoT-SoC designs that are distinctly different from their competitors. From semiconductor manufacturers, application, and service providers, to component manufacturers, and tech companies, the global SoC-IoT patent filing trend looks promising.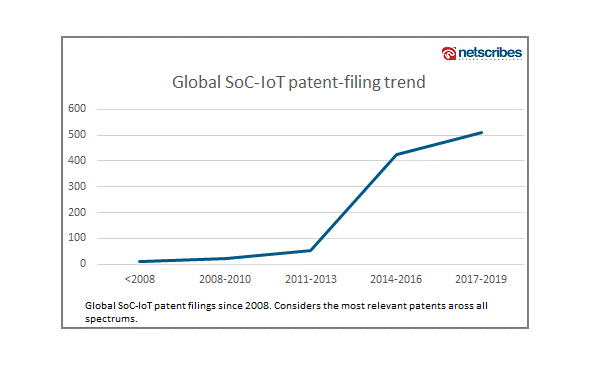 Forty percent of the global SoC-IoT patents are shared between famous tech players like Intel, Samsung, Qualcomm, Ericsson, and Huawei. While global giants like Google, Microsoft, and Sony feature among the next top 10 in the list along with some others, these companies have yet to claim a significant share or count of SoC-IoT patents.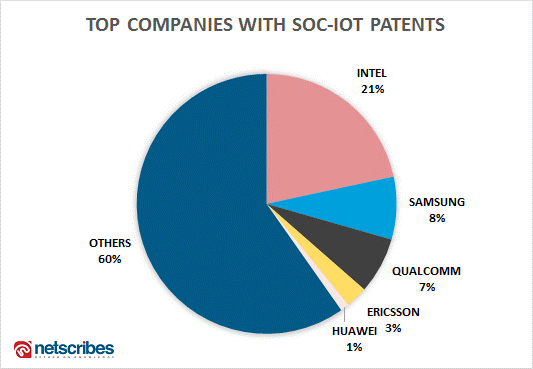 The Significance of SoC in the Evolution of IoT
With technology driving consumer needs, the demand for compact and feature-rich IoT devices surges on. Smart watches, security cameras, smartphones, etc., are relevant consumer use cases, while telematics and industrial robots power the Industrial Internet of Things (IIoT) needs. This is compelling semiconductor players to consciously work on minimizing their two perennial challenges—hardware design and device integration. Chips with an ultra-small form factor, minimal power consumption, and multiple wireless connectivity options will win this game.
It is to break these barriers that global innovators have developed suitable silicon implementations like application-specific integrated circuits (ASICs), SoC, and system-in-package (SiP) technologies. While both ASIC/SoC and SiP approaches pose their own share of pros and cons, SoCs beat the rest in efficient power usage, automatically stealing the IoT device market share. As newer innovations within SoC continue to surface, this technology will get further integrated into emerging IoT solutions.
A recent connectivity solution developed by Qualcomm is the QCA4020 tri-mode connectivity SoC. It integrates three major radios in one low-power, cost-optimized chip to address complexities in inter-device communications. What's interesting to note is that innovations in the IoT-SoC realm are pouring in more from startup companies with significant disruptive capabilities than global tech majors. For instance, RivieraWaves' CEVA Bluetooth IP offers a comprehensive suite of IPs and platforms for embedding Bluetooth 5.1—both low energy (BLE) and dual mode (BTDM) versions—into SoC/ASSP.
Next Steps
The present SoC scenario offers a clear insight into its indispensable role in the future of IoT. For tech players to ensure they harness the maximum out of this technology, staying updated with the latest IP and solutions will be crucial. Additionally, a comprehensive understanding of the implementations, technology investments, and competitive landscape within SoC-IoT is pivotal for any organization to steer their future IoT product decisions in the right direction.