Quality control expectations are higher than ever for 4K/UHD. Delivering the enhanced, immersive experience viewers expect involves more than just dusting off your HD workflows and hoping they will fly in this new world. There are a number of new challenges that must be addressed such as inter-channel timing for quad links, ensuring correct colorimetry, managing the aspect ratio of incoming 4K/UHD content, optimizing distribution and transmission and more. Let's take a closer look at six key challenges that you're likely to face when it comes to 4K/UHD QC monitoring.
Quad Link inter-channel timing
Producing 4K/UHD images starts with acquisition from high resolution cameras that offers extended color gamut and high dynamic range to capture the image. On location larger high resolution images are saved to multiple disks for processing later. While in a studio or outside broadcast truck the signals are distributed as four (quad) links using 3G-SDI for fast progressive formats such as 50p, 59.94p and 60p or HD-SDI for progressive signals from 23.98p to 30p.
Inter-channel timing is critical to ensure that the quad links signals arrive at the end device and can be stitched back together correctly. Different cable lengths and propagation delays through equipment can cause timing shifts as each link is sent along a separate path.
The SMPTE ST 425-5 standard requires that the inter-channel delay at the output of a device shall not exceed 400ns which is approximately 29 clocks for HD-SDI signals. However, no specification is standardized for the maximum signal delay at the receiving device. Therefore, care has to be taken in ensuring that timing along each signal path is the same and the user should determine how much delay difference equipment can tolerate.
Video payload identifier monitoring
With a wide variety of formats, it is essential to use the SMPTE ST 352 Video Payload Identifier (VPID) that is carried within the ancillary data space to assist a device in quickly decoding the correct video format.
Quad links can carry a wide variety of video formats and equipment can use the VPID to assist in determining the video format from the ancillary data packet, as shown in Figure 1. This allows instruments such as waveform monitors and rasterizers to automatically determine the format of a video signal. When the VPID is incorrect or multiple VPIDs are present in the same signal this can cause issues in processing equipment to correctly determine which ancillary packet to use.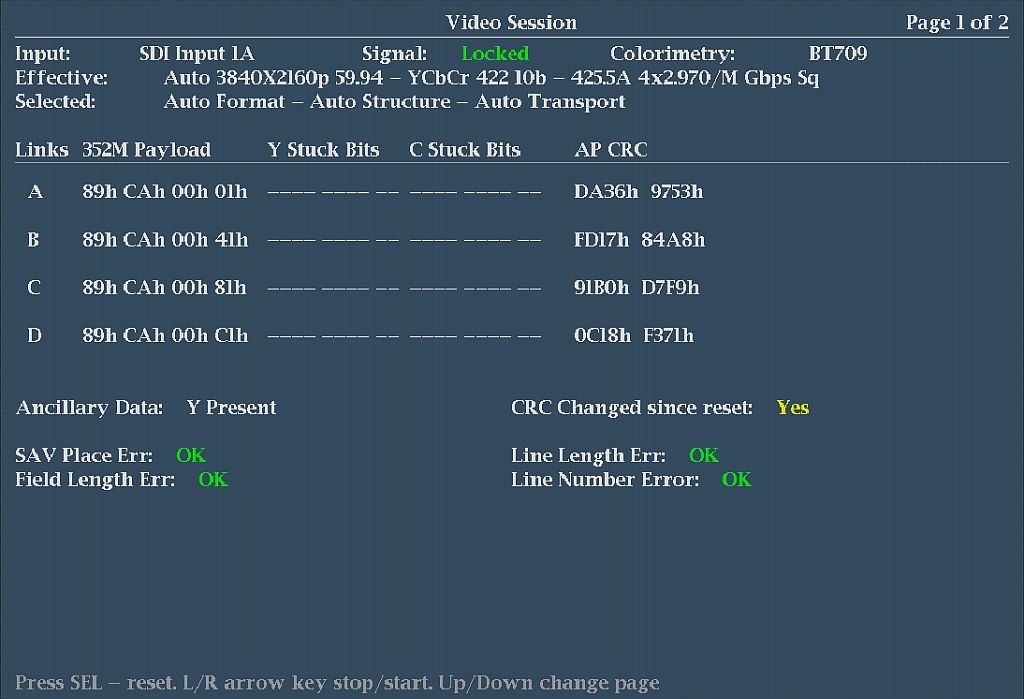 Selecting the correct colorimetry
4K/UHD can support either traditional HD colorimetry ITU-R BT.709 or the extended colorspace available in ITU-R BT.2020 to get higher color fidelity. In some cases, the SMPTE 352 VPID may contain information on the colorimetry data that is used. If so, this information can be used by the waveform monitors to automatically use the appropriate colorspace. Often however, this may not be the case and a known test signal such as color bars is necessary to assist in determining the correct color space.
In Figure 2, a 100 percent split field color bar signal containing both Rec. 709 and Rec. 2020 color spaces is used to show the difference in levels on the RGB paraded waveform display. In this case, the operator manually selects from the configuration menu between the 709 and 2020 colorspaces. When the correct colorspace is selected then the traces will be at 0 percent and 100 percent (700mv) levels. If the incorrect colorspace is chosen, then there will be variations in level of the signal and not all the color bars will be at the 0 percent and 100 percent levels.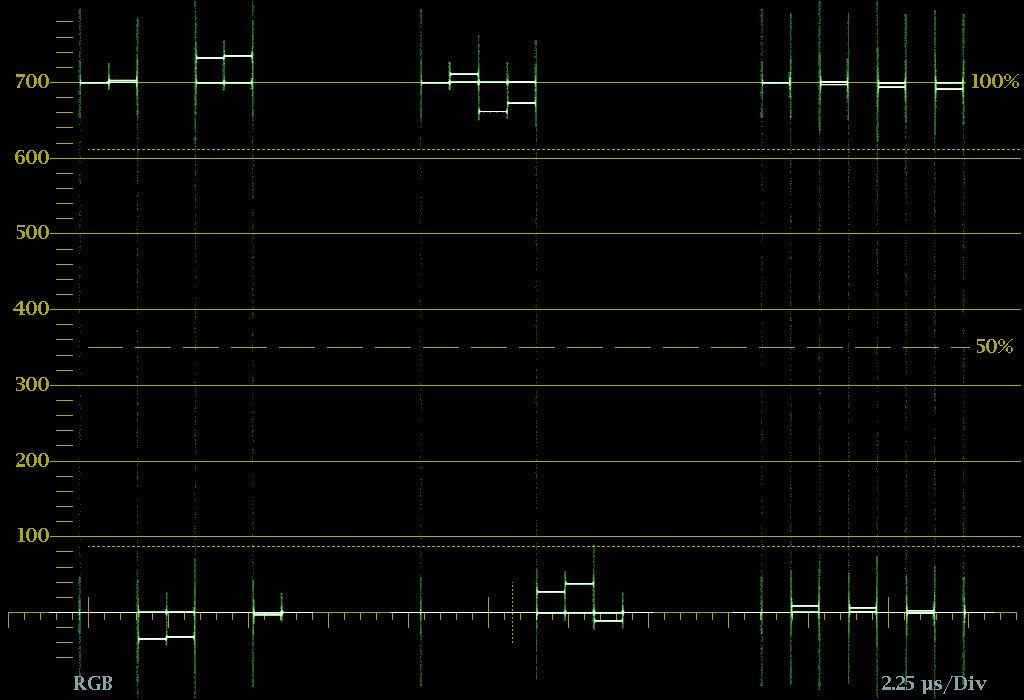 Determining aspect ratios of incoming 4K content
Checking as to whether incoming 4K/UHD content was scanned and matted correctly for the proper aspect ratio can be a daunting task. The aspect ratio for film and digital cinema are different typically having aspect ratios of 1.85:1 or 2:39:1 which are then fitted into images sizes of 4096×2160, 3840×2160, 2048×1080 or 1920×1080 depending on the application. Yes, it can get complicated.
To determine if aspect ratios are correct, it's necessary to check the start and end of the active picture both horizontally and vertically. This can be done either in waveform monitor displays using line select and magnification or by using a data list with line selection and sample cursors. In some cases, process presets can be used to set up default positions for verifying the aspect ratio of the image, saving operator time.
Higher quality expectations
Tight quality control of luma and chroma gamut is needed for 4K/UHD content as expectations are higher than ever to maintain compliance without sacrificing the artistic intent of the image.
When a program is finally assembled, operators need to ensure that the video and audio meet the specified delivery specifications. This involves setting up the specified thresholds within a waveform monitor to trigger an alarm if values are exceeded. Errors can then be logged and tied to a timecode to help track them down. The entire log can be sent to an editor if needed. A comprehensive monitoring dashboard is shown in Figure 3.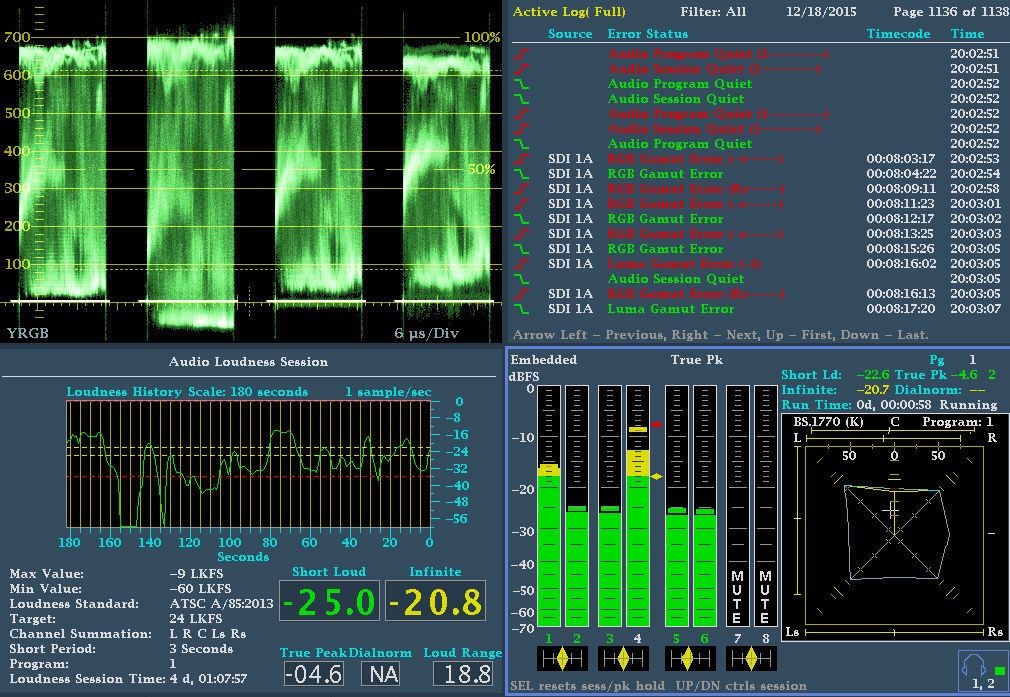 Transmission of 4K content
Quad link signals data can be transmitted as square division or two-sample Interleaved depending on the application.
In square division images are divided into four quadrants. Each quadrant of the image is then encapsulated into an individual SDI signal. This is the simplest way to segment an image but requires more memory to store each of the quadrants before assembling the complete image. This method is commonly used by a variety of post-production equipment.
Another way to split apart a 4K/UHD image is to use two sample interleave. In this process groups of two pixels are separated from the image and sent on four different links. This method requires less memory and allows groups of pixels to be processed more quickly. However, this process requires multiplexing of the data into four separate SDI streams. Two-sample interleaving is typically used within camera acquisition and the transmission process.
It should also be noted that as data rates increase, the signal itself will become more susceptible to the impact of jitter and noise. The characteristics of the physical medium (i.e. the cable carrying the signal) need to be considered when designing these systems as these have a direct impact on jitter and signal attenuation. Increasingly fiber optic cables are used to carry higher data rate signals with tools such as eye diagrams used to check signal integrity.
The video industry is aggressively making the move to 4K/UHD content creation, with most new truck and facility builds incorporating the latest technologies. Successful production of higher quality content, however, requires the right tools and close attention to the six challenges discussed here.
Mike Waidson is an application engineer within the Video Business Line at Tektronix.