Raise your hand if you have a device like an Amazon Echo, Google Home, Apple HomePod, or Sonos One in your home. What about two or more? In fact, the market for smart speakers and smart displays is estimated to continue its high growth trajectory, and at least one of these devices will be installed in the majority of U.S. households by early 2020. Tens of millions of households will have at least one of these smart speakers in their homes, and the total number of installed devices will reach well over 100 million.
Although other consumer products like TVs, automobiles, phones, and tablets will continue to incorporate virtual assistant technology, the desire to have an "always-on" device positioned in the home is one primary growth driver. Smart speakers and smart displays are becoming common in households worldwide as consumers continue to adopt wireless solutions to get news, stream content, and even connect with others in real time. With on-demand virtual assistant capabilities and quality audio performance, incorporating display functionality will be a key differentiator for smart speakers and smart home hubs on the market.
However, fitting easy-to-see visual content into a small device is a major challenge for smart device developers. It can be difficult to package tablet-to-small-TV-size displays into compact, aesthetically pleasing form factors—and even more burdensome for viewers to see from a distance. Pico—or small size—projection technology enables large displays from small devices to enable visual content and interactivity through smart speakers and other home devices.
The Role of Display Projection in Smart Speakers
Smart speakers were originally designed as wireless audio playback devices with various connectivity options. They now come in many shapes and portable sizes, with different levels of audio performance. The defining feature of a smart speaker is a user's ability to give voice commands and receive a response from a virtual assistant. Furthermore, smart speakers can communicate with other appliances in the home, positioning the device as an essential hub for home automation, as well as an always-on/on-demand source of information.
Adding display to a smart speaker is a natural extension of its functionality. Similar to how center console displays are proliferating in automotive environments, consumers will benefit from a similar visual experience for their home information and entertainment. Currently, the way users request content from a smart speaker differs from their interaction with a smartphone or tablet; since voice commands are the primary mode of requesting content from a smart speaker, a simplified user interface is needed to efficiently communicate results. Displayed images need to be simple, with minimal need for touch interaction, while also providing an image large enough to be viewed from a distance.
Smart displays will likely be located near high-traffic areas, such as the kitchen or family room, and should be aesthetically pleasing while looking nonintrusive. Incorporating tablet-size, flat-panel displays (approximiately 7 to 10 in.) adds to clutter and limits where consumers can put their smart display. However, the ability for pico projection to generate a large image from a small device and turn any surface into a display addresses these challenges. Imagine being able to generate a crisp and stunning 20- to 40-in. image from an optical module approximately 50 cc, as the examples show in Figure 1.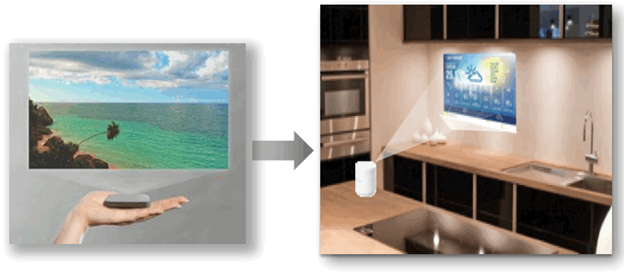 Furthermore, pico projection offers several options:
Ultra-short throw projection
Standard throw projection
Surface projection
Free-form projection
Interactivity
These options offer flexibility in the type of surface used for a smart display, and can even be designed for dual use, such as surface projection and ultra-short throw projection in a single device. Smart speaker developers incorporating pico projection can innovate with these options to bring new, differentiated, and enhanced products to market. Figure 2 illustrates various projection display options for smart speakers.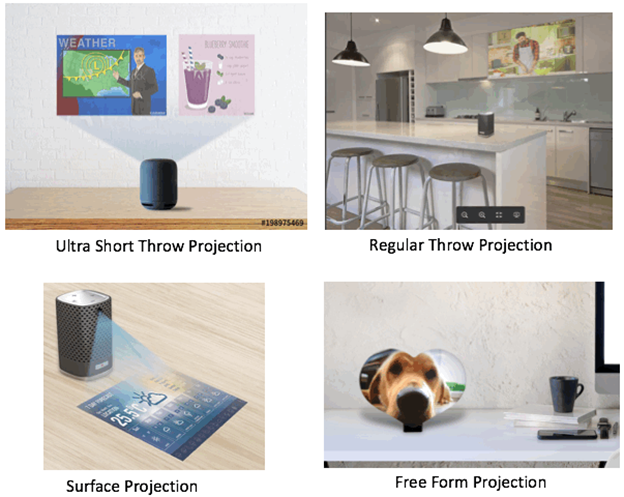 Table 1 illustrates the design benefits of pico projection technology in smart home display design.
Pico projection design considerations

Design benefit for smart displays

Image quality

High contrast and color gamut provides the most vibrant images
Film-like image: high fill factor
Resolution options up to 4K UHD

Flexibility and scalability

Short and ultra-short throw capability, any size image, on any surface, of any resolution
Compact optical engines can be integrated into various industrial designs without compromising size and aesthetics
Virtually any shape

High optical efficiency

Low power even for high-brightness systems
Very low or noiseless thermal solutions
Small and compact optical engines

Ecosystem

Extensive supply chain, including optical module suppliers and system integrators
Unique Requirements for Smart Displays
Designing projection-based smart displays comes with a unique set of challenges. The exact projector specification will depend on factors like the desired image size, resolution, type of display surface, the form factor required for integration into the speaker, and the distance between the projection unit and the display surface.
Projection surface: Some surfaces, like kitchen countertops or wallpaper, may not be ideal for projection due to their color, pattern, or surface curvature. It's possible to overcome this problem with additional brightness and algorithms to compensate for surface geometry, color, and pattern.
Size and form factor: The required size and form factor are additional system design considerations. Projection modules need to integrate into uniquely shaped and aesthetically pleasing smart speaker designs. The size of the optical engine you use depends primarily on its brightness, resolution, and throw ratio.
Brightness: The total lumens output from the projector will depend on the desired size of the image and the ambient light condition. If the projection surface has color or patterns (like on a kitchen countertop), it may be necessary to increase the brightness.
Resolution: The required resolution depends primarily on the information content displayed, as well as the desired image size. Something as low as nHD (640 x 360) can be good for simple graphics and basic motion, while qHD (960 x 540), 720p (1280 x 720), or higher may be a better fit when you're wanting to display movies or games.
Throw ratio: A projector's throw ratio is defined as the ratio of the distance between the projection lens and the screen to the width of the projected image. The required throw ratio depends on placement of the product relative to the image surface. A long-throw projection lens is typically defined as having a throw ratio greater than 2-to-1. A long-throw lens would be used in situations where the display surface is a long distance from the projection module. A short-throw projection lens is typically defined as having a throw ratio from 0.8-to-1 to 1-to-1, and an ultra-short throw projection lens is typically defined as having a throw ratio less than 0.5-to-1. Short-throw and ultra-short throw lenses could be used in situations where the projection surface is very close or right next to the projection module.
Value-Added Features of Smart Displays
Several features can enhance the effectiveness of a projection display and add value to the smart speaker.
Interactivity: Interactivity can turn a projected image into a virtual tablet. Depending on the use case, a simple gesture control may suffice, or a highly accurate multitouch capability may be required. There are multiple technologies that can be integrated with projection systems to provide an effective user interface including stereo vision, structured light, and time of flight.
Keystone correction: The space constraints of a projection system often prevent the centering and alignment of the projector with respect to the projection surface, resulting in a geometric distortion that resembles a keystone. Keystone correction compensates for this distortion and enables the design of a more compact device or appliance.
Projection surface correction: In some cases, the desired display surface may have irregular surface geometry (contouring). Advanced image-processing capabilities enable the correction of the projected image to compensate for this contouring so the image appears undistorted. Similarly, adaptive corrections for surface color and pattern can significantly enhance the effectiveness of the projection function in smart speakers.
The smart speaker market is growing rapidly, and the addition of smart displays will enhance the user experience and value. Projection display technology offers exciting opportunities to provide differentiated display options for smart speakers and beyond.