Wireless Charging as a hardware application has been around for a few decades. The implantable medical device industry has been developing implantable neuro-stimulators with wirelessly re-chargeable batteries for several years.
In an effort to bring this application to the consumer electronics industry, the Wireless Power Consortium (WPC) was formed in late 2008 [1] to standardize the development of wireless charging solutions. Power Matters Alliance (PMA) was formed in 2012 [2] for the same purpose. Both these standards offered a similar use case, i.e. a one-to-one tightly coupled system with little to no spatial flexibility. Then, along came the Alliance For Wireless Power (A4WP) also in 2012 with a promise to fulfill this need.
In 2015 [3], PMA and A4WP merged to form the AirFuel Alliance, and it appears that they have preserved their original operating frequencies and protocols, though it should be expected that there will be a path to a unified operating protocol to enable interoperability. In this article, the erstwhile PMA will be referred to as AirFuel-Inductive (AF-I), and the erstwhile A4WP will be referred to as AirFuel-Resonant (AF-R).
WPC is presently leading the pack in terms of infrastructure installations and device releases. WPC is also working on a resonant mode that will allow for higher spatial flexibility [4, 5, 10]. We will refer to this as WPC-resonant (WP-R). All the released products are designed to operate in the WPC-Inductive (WP-I) mode.
The takeaway is that multiple protocols and two alliances still exist in the market, possibly delaying widespread adoption. This article addresses the standards competitions, with a focus on WP-I and AF-R, from a non-technologist's perspective using publicly available data and articles.
Introduction
History is littered with examples ranging from an organic evolution of a standard (e.g. standardization of the frequency of musical note, "A" at 440 Hz), to a concerted effort by diverse agencies towards the standardization of a technology, process, practice or a service for increased profit and better use-case scenarios for the consumer.
Standards competition should be good for the consumer because it results in smart people competing with each other to reduce the problems and inconveniences faced by consumers and improve their quality of life and enhance productivity. Often, the competitions transform into "battles" with complex and expensive strategies to outmaneuver the competition. This aspect sometimes devolves into truth-bending and the occasional name-calling; but business is important and bills need to be paid. Even Thomas Edison did it.
The Wireless Charging Industry
This article is focused on Wireless Charging using Near Field Magnetic Coupling (NFMC) for consumer electronics applications. Note that NFMC is the only practical mechanism of wireless charging that is physically capable of charging your average modern smartphone at rates comparable with cable-connected charging while being electromagnetically safe to the users. Other mechanisms may have some unique benefits; however, due to fundamental drawbacks, they are not likely to supplant NFMC in the consumer electronics space, both from the infrastructure side and from the user side. So if you're waiting for the next best thing to wirelessly charge your smartphone, your best bet is the next version of the NFMC-based devices.
Standards and Off-Standards
NFMC Wireless Charging today has two competing alliances, and three operating protocols. The details of each modality are outside the scope of this article.
A key philosophical difference between AirFuel-Resonance (AF-R) and WPC-Resonant (WP-R) is that AF-R, as of today, does not mandate compatibility with AF-I while WP-R needs to be compatible with all WP-I devices. This has its pros and cons but that aspect is not considered in this article. Further, AirFuel has under its wing other modes of wireless power transfer, for example "uncoupled" RF charging, which is also not considered in this article.
Distinction should also be made between inductive and resonant. All modes described in the previous paragraph use the same physical mechanism, i.e. magnetic field coupling, where the receiver antenna (coil, resonator) is in the near field of the transmitting antenna. In technical speak, the coupling between the transmitter antenna (coil) and the receiving antenna, k>0.01. For inductive modes, k is typically greater than 0.5.
The presence of Standards notwithstanding, the product manufacturer has a choice regarding standards compatibility, and it depends on the use-case. Some product companies may maintain tight control over the ecosystem and prefer to develop the entire transmitter-receiver ecosystem and may not be interested in cross-compatibility with devices not manufactured by them. This is possible in almost all industries, be it Industrial, Medical, Consumer or Military.
Some product categories have been described below:
Standards Certified implies that the devices are certified by 3rd party agencies that are authorized by the individual consortiums, and the devices are interoperable with other complementary devices that have been certified as well. This category is the subject of discussion in this paper.
Multimode Wireless Power implies that the devices are certified with either more than one standard or at least one standard and a proprietary protocol. If it is the former, it will allow the product manufacturer to future-proof their products vis-à-vis standards battle outcomes, and if it is the latter, then it may allow the product manufacturer to create a controlled ecosystem while being compatible with the infrastructure. The motivation of developing multimode systems should be stronger on the transmitter side due to longer product lifespans (for example an automobile has an average lifespan of ~ 13 years), even though the multimode implementation would be cheaper and less complex on the device (receiver) side.
Off-Standards relate to devices that are not certified by any wireless charging standard. This has four sub-categories.
Standards-friendly relates to devices where the product manufacturer is not designing for operation with the infrastructure (interoperability). Instead, the manufacturer develops a companion Tx and Rx system. Components, such as the PMICs, are borrowed from standards-based products due to the robustness of the technology, easy availability, reliable supply-chain and the strong technical support from a diversity of vendors.
Proprietary – HiTech relates to wireless power systems that may have complex power electronics and communication schemes to support a unique architecture. A system such as this may also have security measures to, for example prevent unwanted devices to draw power from the transmitter.
Proprietary – LowTech relates to relatively basic wireless power systems where cost and/or size are key drivers and the high cost and/or size of standard PMICs is prohibitive.
Non-NFMC relates to RF charging [21, 22, 23] and other energy harvesting techniques that provide positional flexibility, but the technology may be feasible only for low power applications in consumer electronics.
To summarize the above in simple terms:
If you are a product manufacturer who would like their devices to work with the infrastructure, then Category (1) is the way to go.
If you are building a Tx/Rx combo and aren't really concerned about your device working with the infrastructure, then 2(a), 2(b), 2(c) or even 2(d) is the way to go.
Multimode implementations are possible which can be compliant with multiple or standards or implement 2 or more of the categories indicated above
Framework for Standards Analysis
In this section, two key factors are discussed here to analyze the wireless charging standards landscape.
Network Effects and Wireless Charging Standards
The presence of "network effects" is implicit in the motivation towards standards development. The key elements of network effects are the following [6, 7]:
Interoperability
Physical networking of nodes (nodes = the transmitters & receivers)
Complementary goods (e.g. aftermarket products, Software-APIs that collect user info, etc.)
Another lateral but related definition of networks in the context of standards development is the network of stakeholders that conceive, design, develop, market & sell the products that need to interoperable with the infrastructure.
Standards are imperative for technologies to create and utilize network effects. Conversely, for a standard to get entrenched, it is important for it to have the potential for strong network effects.
Relationship to Wireless Charging
Each added component increases the size of the network. A higher installed base of the transmitter (or infrastructure) will lead to more device manufacturers to include the feature. Vice-versa, as more devices include the technology, there will be a willingness to develop the infrastructure. This leads to a chicken-and-egg situation wherein the devices are waiting for the infrastructure, and the infrastructure companies are unclear if devices will include the feature. The problem has been exacerbated due to the following:
ambiguity in standards: This is preventing product companies to include the feature,
insufficient education of the consumer: Customers often are not aware that their devices is wireless charging enabled, and,
poor use-case demonstration: The need to purchase a charger for one or two devices is akin to having an actual charging cable
Another aspect that adds value to the consumer is complementary goods. Complementary goods for wireless charging could, for example, include API's running on the infrastructure transmitter and the receiver device, which collect, for example usage and travel patterns, and facilitate useful push notification to the consumer. Protective aftermarket sleeves with additional batteries and wireless charging can also be classified as complementary goods.
Dominant Design and Wireless Charging Standards
According to [8,9], "Dominant Design is a design that consists of a configuration of components that represents the standard in the market for an extended period of time because it meets the requirements and needs of a wide range of users." According to this fundamental concept, there is a need to select a single or just a few specific Dominant Designs that can be pushed through to the consumers. This leads to focusing of efforts and usage on the part of the designers, manufacturers, supply-chain, and consumers, thereby developing a steady feedback loop, which in turn leads to lower costs and improved performance. This is contrary to the possibility of pursuing multiple alternatives at the same time thereby diluting efforts, loss of focus, divergent interest groups and delays in specification development and product rollout.
Relationship to Wireless Charging
WP-I created a Dominant Design for a 5W system, and with the support of critical industry partners was able to release products before any of other standards. Once this Dominant Design starting getting industry traction, costs was driven down, performance was improved and the feedback loop likely allowed the stakeholders to justify R&D spending on other applications (e.g. higher power). WPC increased focus on a diversity of power levels catering to a several industries and product types. The latest push geared towards the consumer electronics industry, especially smartphones, comes in the form of what could be consider as a Dominant Design, the Medium Power, i.e. 15W, system.
The erstwhile PMA, or AF-I, too was able to create a Dominant Design for 5W, and is currently part of several dual-mode devices that club the two inductive modes.
With AF-R, there has been no Dominant Design in the market yet, and it is possible that a diversified approach towards development has been one of the causes for delays in product releases – there has been significant public news about the development and release of various embodiments of the technology that cover smartphone charging, table charging and laptop charging at the same time, together covering about 5W to 30W. It bears mentioning that at least one device, has been brought to the market [20], however it has not reached levels of traction to constitute a Dominant Design
If one were to compare AF-R and WP-I, AF-R promises a superior consumer use-case when compared with WP-I. However, it is also logistically (& technologically) more complex because all transmitters need to be able to charge multiple devices that may be rated for different power levels. For example, a Class-III transmitter can transmit 16W power and should be able to charge a Category-I (~ 1-2W receiver), up to a Category-III (~ 6.5W) receiver). Further, a Class-II transmitter, rated at 10W output power, should also be able to charge these devices. The result is an intricate web of use cases and multiple designs, sometimes conflicting, which slows down the standards development and product roll out.
This would probably not be a problem if there was no competition in the market. However, when there is an incumbent with increasing penetration, speed and clarity is important.
Historical Data Points
HomeRF vs WiFi
When Starbucks in the US decided to retrofit AF-I (then PMA) a couple of years ago in select stores, the WiFi/HomeRF battle was cited [10, 11] as an indicator of PMA developing into the de-facto standard. A closer look at how the events unfolded indicates that this may be a flawed inference.
HomeRF started sputtering before WiFi hardware was installed at Starbucks (2001). Lucent helped Apple develop the Wi-Fi AirPort in 1999. In 2001, Intel, the largest microprocessor manufacturer, an adopter of HomeRF 1.0 and an integral member of HomeRF, decided to support WiFi instead of supporting HomeRF 2.0]. In general, several hardware manufacturers, at the component level and the product level started adopting WiFi; it was a domino effect led by Intel's switch that was based on the issues related to the "last-mile" problem, cost, intellectual property conflicts, little perceived user benefit (Mbps), and time-to-development, for HomeRF 2.0, when compared with WiFi (802.11b). This has also been discussed by an article on the WPC website [12].
Relationship to Wireless Charging
Refer to table below where the author attempts to draw analogies between the dynamics of the wireless internet standards battle and the wireless power standards battle. Please note that only macro-level, potentially industry-moving parameters are considered. There are numerous micro-level events that are beyond the scope of this article.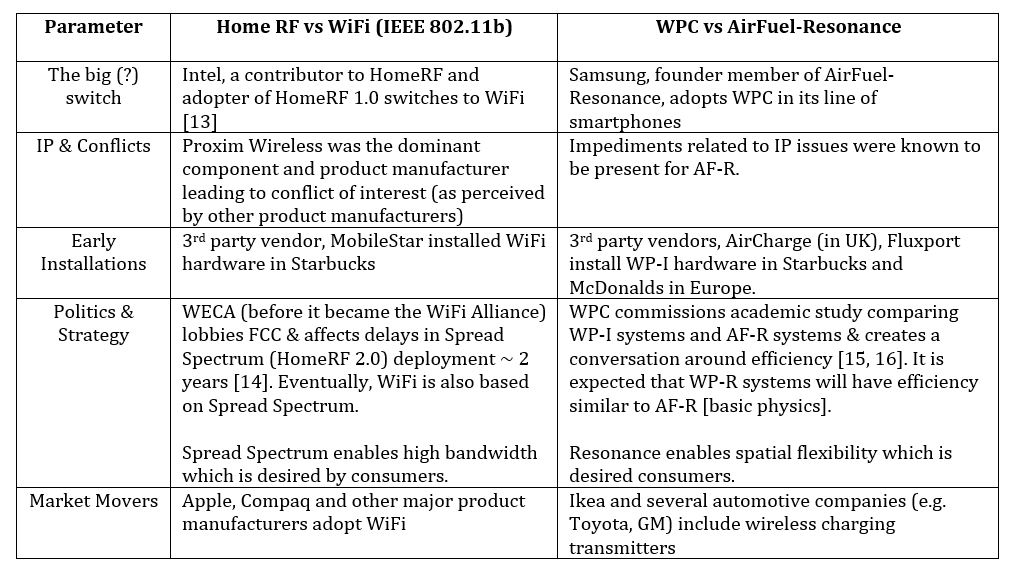 Sony Blu-Ray and HD-DVD
The takeaway from this battle is that the market leader was upstaged because of an expensive but strategically decisive move by the eventual winner, i.e. Sony Blu-Ray (SBR).
Both standards bodies were formed in the same year, 2002, both had similar benefits to the consumer and both of them had assembled a rich team of backers and collaborators. Further, products from both standards were in the market for at least 4 years with some large volume adopters. In the later stages of 2007, HD-DVD seemed to have a lead until Sony swooped in, plunked down $500M and bought Warner Brothers' business. The domino effect from that was so swift that within 2 years, the HD-DVD consortium disbanded.
Relationship to Wireless Charging
There seems to be no direct relationship with Wireless Charging industry due to the fact that competitors had a very similar technology and benefit to customers (i.e. use case), both had a clear Dominant Design, both competitors had strong network effects, both competitors had a strong networks of backers across industries and value chain, and both standards were selling products.
The key takeaway, probably for AirFuel-Resonance rather than WPC, from this battle is the strategy employed by the Blue Ray group, i.e. to maintain active development and a buy-in from key alliance movers and market movers, even when the competition was surging ahead. Eventually, at an opportunistic time, provide a strong capital push to change the market dynamics that would lead to a domino effect in its favor.
This was likely predicated on the fact that HD-DVD standard wasn't still the preferred technology for all the key stakeholders. In the Wireless Charging industry, these key stakeholders are the smartphone manufacturers and the infrastructure companies such as automotive and a handful of stakeholders may hold a disproportionate influence on the outcome on the Wireless Charging industry.
​North and South Railroad Gauges
While the railroad industry was highly fragmented in the US in the mid-19th century, there were two dominant ones. The 4'8.5" standard had more than 50 percent penetration, and the 5' gauge, that was concentrated in the South. While the benefit of a single unified standard was obvious, there was strong resistance towards it and alternate solutions were implemented for transportation between geo. Eventually, it was accelerated by the need to transport Western grain to the East that led to a rapid increase in the laying 4'8.5" gauge tracks.
Relationship to Wireless Charging
In this example, there was no apparent technology benefit of one standard over the other(s). The tipping point towards the "Standard Gauge" was a network need, i.e. the transportation of grain, which was financed by the US government. This was also aided in part by the Civil War on two accounts; first there was the need by the North to move war material east-west, and second, the railroads in the south were not part of the decision making process towards the selection of the 4'8.5" gauge.
Both Standards were "selling" products, until a network need came up which strategically fit with one of the standards. Further the network development expense was picked up by a major buyer, the US government.
DC Power and AC Power
This, in effect was the battle between two great engineering minds of the 19th and 20th century, Edison, and Tesla, and two great entrepreneurial minds, Edison & Westinghouse.
Edison had a competition-free run for about 8 years since developing the first DC power generating hydroelectric plant. However, once George Westinghouse was convinced of the value of AC power, he bought Tesla's patents and invested significant capital into rapidly expanding AC generating stations. Within a year of starting the infrastructure development, there were almost half as many AC power generating stations as the DC ones.
As a response, Edison went on the marketing offensive, more specifically a besmirching campaign against AC power where he tried to create the perception that AC power is unsafe and can kill. This lead to the term "Westinghoused", which implied electrocution to death by AC power, a mechanism to execute death row convicted criminals [18].
Eventually, the superior technology won simply because it was better. The key tipping point was Westinghouse being awarded the contract to light the Chicago World's Fair in 1893, about 13 years after the first DC power plant, and about 4 years after the first AC power plant was built.
Relationship to Wireless Charging
Refer to table below where the author attempts to draw analogies between the dynamics of the wireless internet standards battle and the wireless power standards battle. Please note that only macro-level, potentially industry-moving parameters are considered. There are numerous micro-level events that are beyond the scope of this article.

Discussion
While both WP-I and AF-R have strong networks and will thrive when network effects come into play, only WP-I has been able to create a Dominant Design at an early stage to gain initial traction and create the development-usage-development feedback loop to improve performance and drive costs down.
Specifically using the historical example of the HomeRF vs WiFi case, it can be inferred that WP-I has created nearly insurmountable barriers for AF-R. A contrary conclusion may be reached if one looks at the DC vs AC case wherein the incumbent was eventually unseated by an overall superior technology that operated at a lower efficiency.
Unique situations were described in the Railroad-Gauge battle, and the Sony Blue-Ray and HD-DVD battle (strategy + big money) where the competing standards were nearly at par – these two indicate that role of government bodies [19], and strategy plus big money, respectively, can be game changing.
All said, it should be acknowledged that WPC-Inductive versus AirFuel-resonance is not exactly an apples-to-apples comparison, though that is how the battle is being played out in the public domain. A more appropriate comparison would be if WPC-Inductive is compared with AirFuel-Inductive (formerly PMA), and WPC-resonance is compared with AirFuel-Resonance. This apples-to-oranges comparison is facilitated by the fact that WPC-inductive and WPC-resonance have been tightly controlled by a single organization from their inception, while AirFuel-Inductive and AirFuel-Resonance have roots in two independent organizations with independent operating protocols.
Conclusion
This paper utilizes (1) published frameworks of analyzing standards, (2) case-studies of some historical standards battles in order, and (3) publicly available information to study the wireless charging industry, predict potential outcomes, and provide recommendations to the present standards bodies to improve their outcomes.
WPC seems to have a clear strategic path towards out-battling AirFuel, and introduce resonance-based solutions at a later point.
However, AirFuel-Resonance still has at least one path to pre-eminence. It first needs to create a Dominant Design in the form of a consumer product. If it takes too long that WPC has non-negligible infrastructure traction, the Dominant Design from this alliance may need to initially introduce complex systems that are multimode to ensure backwards compatibility with deployed devices. Further, In order to upstage the de-facto standard [assuming here that it is WPC], it is expected that a newcomer (in this case AirFuel-Resonance), in order to upstage the incumbent will need an overall 3X improvement in the "value" provided [6]. Other paths also exist, for example competing with AF-I, but a discussion of those is beyond the scope of this article
Finally, it bears mentioning that:
For the consumer: Unfortunately, the Wireless Charging standards battle is not yet over.
For the technologists: Consumer is king and if they don't give their sign off, even the winning technology will lose and the standards conversation is irrelevant.
For the industry watchers: Major market movers such as Apple and Samsung can change the conversation very quickly
For the product companies: Check your use case, you may not need a standards-based solution.
References
https://www.wirelesspowerconsortium.com/blog/91/the-worlds-first-resonant-charger-that-is-qi-v11-compliant
https://www.wirelesspowerconsortium.com/technology/qi-wireless-charger-resonant-as-well-as-inductive.html
M. Schilling, "Strategic Management of Technological Innovation", 4th Edition, Available on Amazon.com
Edited by D.W. Jansen, "The New Economy And Beyond – Past, Present & Future", Available on Amazon
W.J. Abernathy, J.M. Utterback, " Patterns of Industrial Innovation", Technology Review, June/July, 41-47
E. den Hartigh, R. Ortt, G. van de Kaa, C. Stolwijk, "Technology Standard Battles And Networks During The Technology Life Cycle: The Battle Between HD DVD And Blu-Ray", Economics and Management of Innovation (EMI) Discussion Paper Series, 2009
R. Schneiderman, "Modern Standardization – Case Studies at the Crossroads of Technology, Economics, and Politics", Published by the Standards Information Network IEEE Press, 2015
http://www.theverge.com/2013/5/8/4312016/wireless-charging-coffee-cup-witricity-and-coffee-bean-join-power-matters-alliance
K. J. Negus, Al Petrick, "History of Wireless Local Area Networks (WLANs) in the Unlicensed Bands", George Mason University law School Conference, Information Economy Project, 2008. [Available online: www.iep.clemson.edu/wp-content/uploads/2009/08/WLAN_History_Paper.pdf]
https://www.wirelesspowerconsortium.com/blog/112/wireless-power-standards-force-efficiency-trade-offs
C. Shapiro, H. R. Varian, " Information Rules: A strategic guide to the Network Economy", Harvard Business School Press, 1999
L. M. B. Cabral, T. Kretschmer, "Standard battles and public policy", Chapter 10, Standards and Public Policy, 2007
http://energous.com/