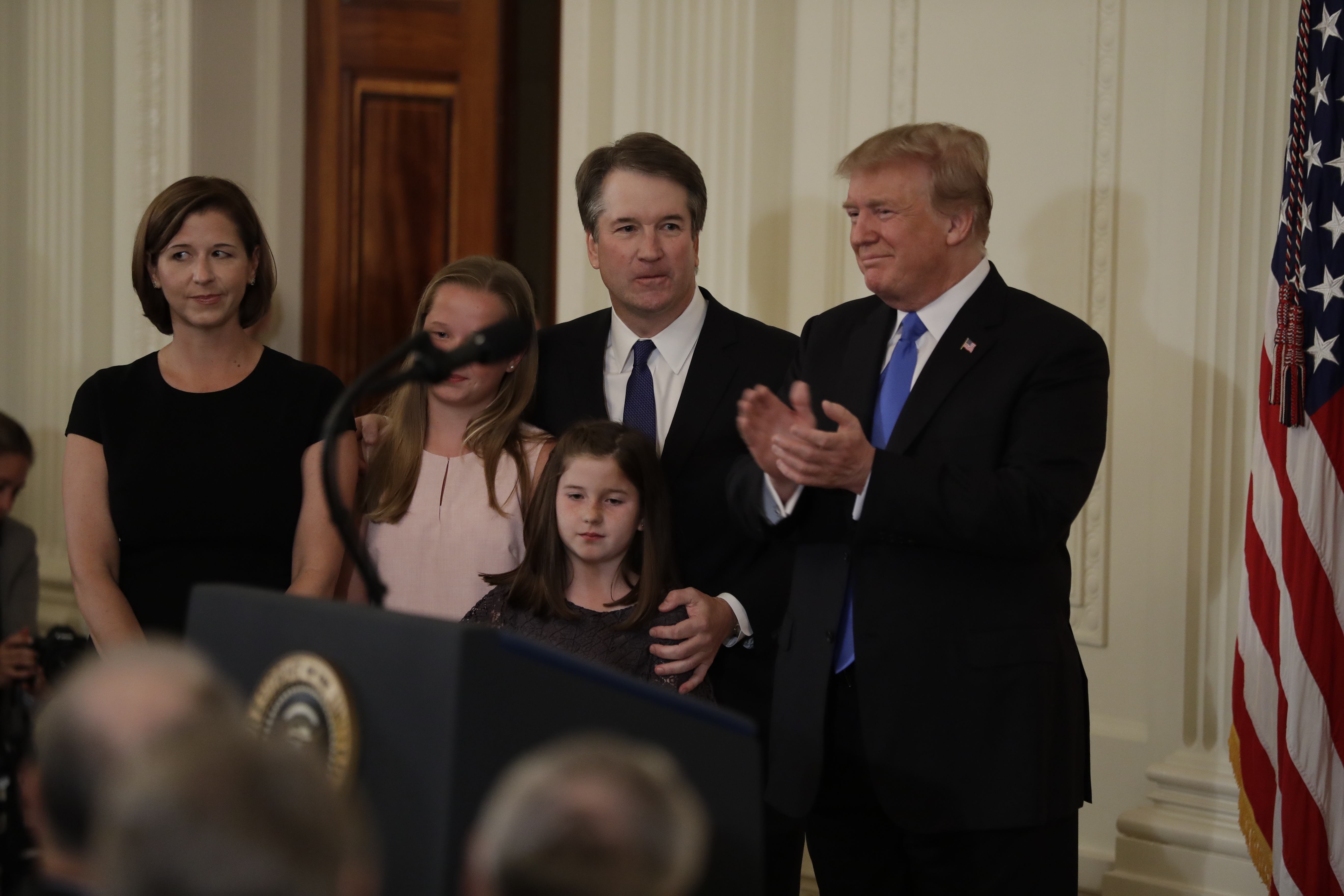 Brett Kavanaugh is no Neil Gorsuch — at least as a television draw for their first night on the national political stage.
The Nielsen company said that 25.6 million people watched President Donald Trump's prime-time announcement Monday that Kavanaugh is his nominee for a seat on the U.S. Supreme Court. That compares to 32.4 million who saw Trump's similar unveiling of Gorsuch, his first nominee, last year.
Television viewership is general is lower in the summer than in the winter, when the Gorsuch nomination was made.
Fox News Channel was the network of choice for most viewers of the announcement, with an audience of 6.6 million people. Sean Hannity hosted Fox's coverage of the event. ABC, with 5.25 million, led the four broadcast networks; ABC interrupted an episode of "The Bachelorette" for its coverage.
Nielsen said NBC had 4.9 million viewers, CBS had 3.3 million, MSNBC had 2.05 million, Fox broadcasting had 1.93 million and CNN had 1.59 million.
In prime-time last week, NBC won among total viewers for the first time since the Winter Olympics. The week with the Fourth of July is traditionally among the least-watched television weeks of the year. NBC was helped by its airing of the Macy's fireworks display from New York City.
NBC averaged 4.1 million viewers for the week, CBS had 4 million, ABC had 3.1 million, Fox had 1.6 million, ION Television had 1.4 million, Univision had 1.2 million, Telemundo had 1 million and the CW had 740,000.
Fox News Channel was the week's most popular cable network, averaging 1.97 million viewers in prime time. HGTV had 1.38 million, USA had 1.33 million, MSNBC had 1.31 million and History had 1.28 million.
ABC's "World News Tonight" topped the evening newscasts with an average of 7.7 million viewers. NBC's "Nightly News" was second with 7.3 million and the "CBS Evening News" had 5.4 million.
For the week of July 2-8, the top 10 shows, their networks and viewerships: "60 Minutes," CBS, 7.45 million; "Macy's July Fourth Fireworks" (Wednesday, 8 p.m.), NBC, 7.41 million; "Little Big Shots," NBC, 6.51 million; "Celebrity Family Feud," ABC, 6.34 million; "America's Got Talent," NBC, 6.29 million; "The Big Bang Theory," CBS, 5.89 million; "NCIS," CBS, 5.71 million; "Young Sheldon," CBS, 5.64 million; "The Bachelorette," ABC, 5.3 million; "Big Brother" (Sunday), CBS, 5.11 million.