This is an interesting 'chicken and egg' question and it came to mind when I first heard of Keysight's new 110 GHz oscilloscope last September. Having worked in the test and measurement industry most of my professional life, I fully appreciated the importance of this event. Test and measurement equipment, like oscilloscopes, have to be there ahead of the next generation of components, otherwise, there will be delays in the new component introduction.
A brief research project produced a trend curve showing the increase in the maximum available real-time bandwidth as a function of time.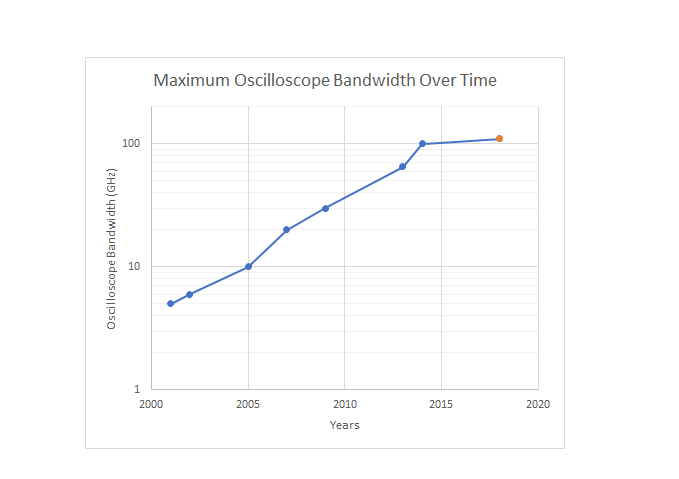 The graph shows the increase in the available maximum bandwidth over time. Predictably, bandwidth has increased to match the testing needs of the electronics industry. Scopes with bandwidths of 100 GHz or more are aimed at testing optical communications systems using quadrature data encoding and similar high-speed applications.
My uncle and mentor, who held several patents, used to like saying: "You can't build a steamboat until it is steamboat time." He meant that technological advancement depends on the availability of the supporting technology.
Behind this rising trend in a real-time oscilloscope bandwidth, is a story of engineering expertise stretching the use of the available technology. At the millennium, oscilloscope maximum bandwidths were below 5 GHz. The ICs used in oscilloscopes was primarily silicon. In the meantime, IBM has developed a new IC technology that promised much higher bandwidth. That technology, silicon-germanium (SiGe), was applied to oscilloscope designs beginning in 2001. The first oscilloscopes using SiGe had moderate bandwidth of 5 or 6 GHz. The technology evolved and oscilloscope bandwidth increase to 10 GHz. Needing to supply oscilloscopes with still greater bandwidth, Teledyne LeCroy did an end run around the SiGe technology. They developed an RF technique of spectral interleaving using multiple channels and combining the bandwidth contribution of those channels. The circuit architecture, that they called Digital Bandwidth Interleave (DBI), was capable of doubling and then tripling the bandwidth of their oscilloscopes. So, with a 10+ GHz channel bandwidth, two channels—one handling signals from DC to 10 GHz and the other handling signals from 10 GHz to 20 GHz—could then recombined into a continuous time domain signal again. The process is quite complicated and requires a good deal of signal processing to stitch the individual spectra together while maintaining good signal integrity. Other manufacturers soon developed their own methods in frequency domain multiplexing oscilloscope channels and the bandwidth frontier moved still higher to the 60 GHz limit.
The next IC process to enter the picture was the development of Indium Phosphide (InP) devices. InP offers bandwidths that could go into the 100s of GHz. Teledyne LeCroy used InP components combined with its DBI architecture to achieve 100 GHz bandwidths in their oscilloscope line.
This brings us back to Keysight's 110 GHz oscilloscope. It has developed InP ICs that achieve that 110 GHz bandwidth directly without the need for any frequency domain interleaving. That's what is impressive about their achievement.
As the need for faster instruments increase there will be more interesting developments. The frontier is now at 110 GHz. It will probably stay there for a while as 100+ GHz oscilloscopes have $1,000,000+ price tags. You have to have a $1,000,000 problem to justify a $1,000,000 test instrument. We will have to wait for that problem to appear.