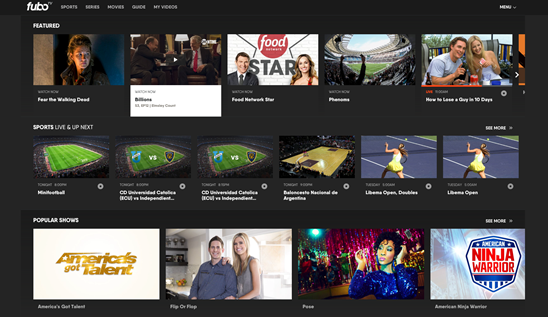 fuboTV has launched a new home page that now includes highlights from entertainment and news programming, as the virtual MVPD continues to shift away from its initial sports-only model.
fuboTV said the page, which previously only featured sports content, has been rolled out across its web platform to about 20 percent of users, and will become available to the rest of subscribers across mobile and OTT apps 'shortly.'
In addition to a holistic view of available programming, the new home page offers a 'featured' section with curated content, as well as easy access to DVR recordings.
fuboTV timed the launch to coincide with the World Cup, which kicks off June 14. The streaming service said users will also be able to watch Fox Sports World cup bonus feeds within the platform and noted all Fox World Cup programming will be available in 60FPS.
Launched in 2015 with a focus on streaming soccer games, fuboTV still offers up to 30,000 sports events per year, but has expanded its lineup to include general entertainment and news channels. This includes broadcast networks CBS, Fox, NBC, and the CW, along with channels like AMC, Bravo, Food Network, History and USA.
Coming up, fuboTV said it will further tailor the experience to each user, with personalization and recommendations coming to each user profile within a subscription package.