BCC Research (www.bccresearch.com) reveals in its new report, Gas Sensors and Gas Metering: Applications and Markets, the global market for gas flow meters, sensors, monitors, and secondary flow instrumentation is estimated to exceed $6.4 billion by 2019, registering a compound annual growth rate (CAGR) of 5.9% from 2014 to 2019. The gas flow sensors and monitors segment is growing at 6.7% CAGR for the projected period.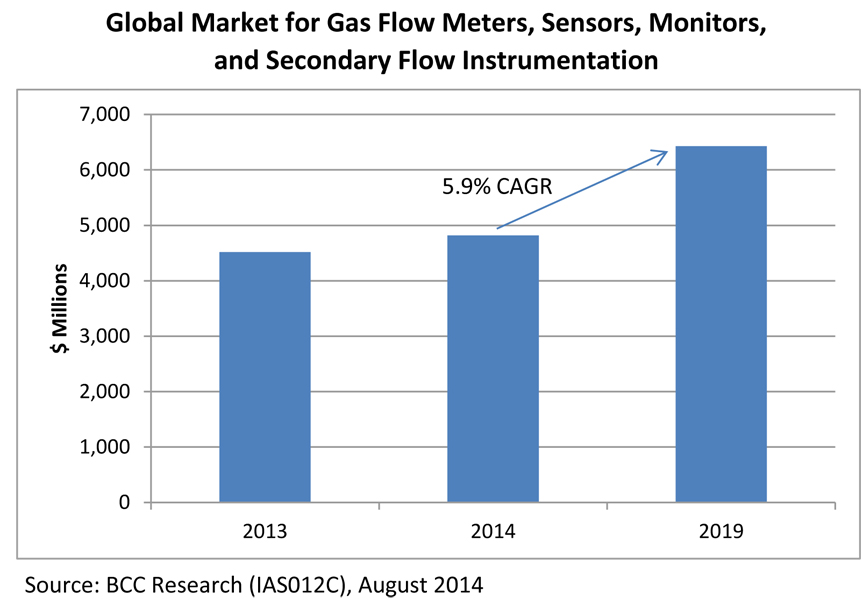 The market for gas flow sensors and monitors is expected to grow faster than the markets for flow meters or secondary instrumentation. Stack gas monitoring is expected to become the largest application segment of the market with 21.6% market share by 2019, while custody transfer applications fall into second place with 19.7% and flare gas monitoring takes over third place with 16.6%.
Market drivers include new legislation (especially in the U.S. and Europe) affecting major user industries of gas sensing equipment, such as the chemical and petrochemical industry. Other factors driving the market include innovative designs, lower prices, expanding applications areas, and increasing Southern European, South American, and Asian interest in environmental awareness and work safety.
"North America and Europe each accounted for over one-third of the global market for gas meters, sensors, monitors, and secondary instruments in 2013, while Asia accounted for less than a quarter of the market," says BCC Research's market analyst Dr. Edward Gobina. "By 2019, Europe is expected to be the leading market, with 36.1% of the global market."