The Multimedia over Coax Alliance (MoCA) announced at CES this morning that it had reached 400 Mbps net throughputs during its ongoing MoCA 2.0 field tests.
The 400 Mbps net throughputs (MAC rate) were reached in 90 percent of all coaxial cabling outlets or paths, while net throughputs were greater than 350 Mbps for 95 percent of the paths. MoCA said it has always emphasized MAC rates as PHY rates were often the result of tests performed in pristine lab environments and didn't reflect real world conditions.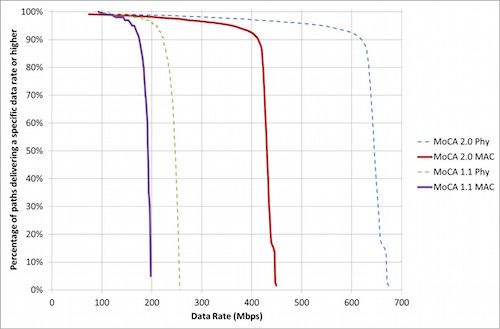 "Service providers require validation of a technology's characteristics and capabilities for them to seriously consider adoption and integration into their network and more importantly, customer's homes," said MoCA President Charles Cerino. "My extensive experience testing various technologies always comes down to; does it work in the field? Our rigorous examination of MoCA 2.0 in the lab and in the field proves that our technology standard is fast and reliable."
For its latest field tests, homeowner volunteers in several states received kits with a MoCA designed automated application test operating on a laptop and MoCA 2.0 certified devices from Broadcom and Entropic. The application created an operational MoCA 2.0 network and ran measurements between each pair of MoCA devices in the network at frequencies from 500 MHz to 1.6 GHz.
MoCA said that no special conditions were required to be a participant in the field tests. For example, homes weren't screened or chosen based on construction materials, age or condition of wiring, or type of pay TV service. The objective was to collect results from a range of real-world, coax-based installations.
The results reported today were based on 108 homes tested across the nation. The field tests are slated to be completed in March.