From cats and dogs to critters like hamsters, birds, and snakes, pets fill our lives with joy and entertainment. Properly caring for, and keeping them intellectually stimulated is also a lot of work. Human interaction is always best, but if you can't always be there to throw their ball for the hundredth time or try petting them before slipping away, these hacks can help keep your pet entertained and well-fed. Hacks like these, powered by Arduino and Raspberry Pi, can even give you clues as to what your animal friends are up to while you're out.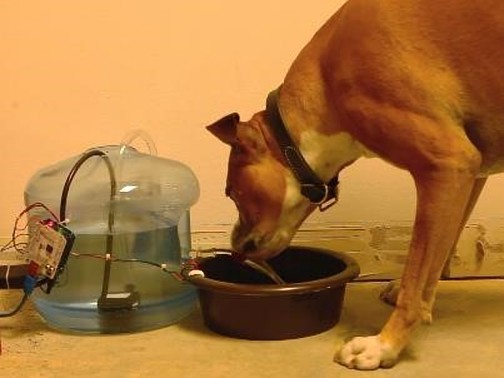 1. Tweeting Water Dish That Never Runs Dry
Whatever kind of pet you have, your little pal needs water to stay healthy. If you forget to fill up their water bowl several times a day, this "Pet Water Warden" can handle that task. It features a pair of sensors to indicate water levels and refills the bowl as needed with an aquarium-style pump inside a water reservoir.
This build uses an Arduino Uno dev board for control, and a WiFi shield gives this device the ability to send out tweets. If it attempts to fill the dish and the "full" sensor isn't activated in a reasonable amount of time, the device sends out an error tweet to let you know the reservoir has run dry. You can expand this concept to do all kinds of fun tasks like take photos of your dog's drinking habits, or monitor whether your pooch is getting enough water throughout the day.
2. Streaming Cat Feeder
While most dogs crave human attention, some cats can be more aloof and independent. This self-sufficient nature is great if you need to be gone for a day or two; but what if you want to give your feline friend a treat while you're gone? YouTuber "Mom Will Be Proud" uses his cat play/feeder device, to feed and play with his cat at a distance, using a custom-designed treat dispenser along with a servo-driven mouse/string toy above the cat's den.
Not only can this builder play with his cat from a distance, but viewers can watch his cat and toys in near real time and interact with them via the stream's chat function. This video explains how the project works and shows off a BeagleBone Black used for control, along with a webcam that streams video.
3. Automated Laser Toy
There is some debate about whether using lasers to entertain feline and canine friends is actually a good idea, but if you'd like to let them chase the red dot without wearing your wrist out, there are many fun solutions out there.
One such device, outlined here, uses a cheap laser cat toy and pair of hobby servos that allow it to pan and tilt. A variety of Erector Set-style parts fasten the two servos together, and an Arduino Uno provides control. If you have a 3D-printer, the "ChetahBeam" is a solid option that uses an Adafruit Pro Trinket for control instead of an Arduino.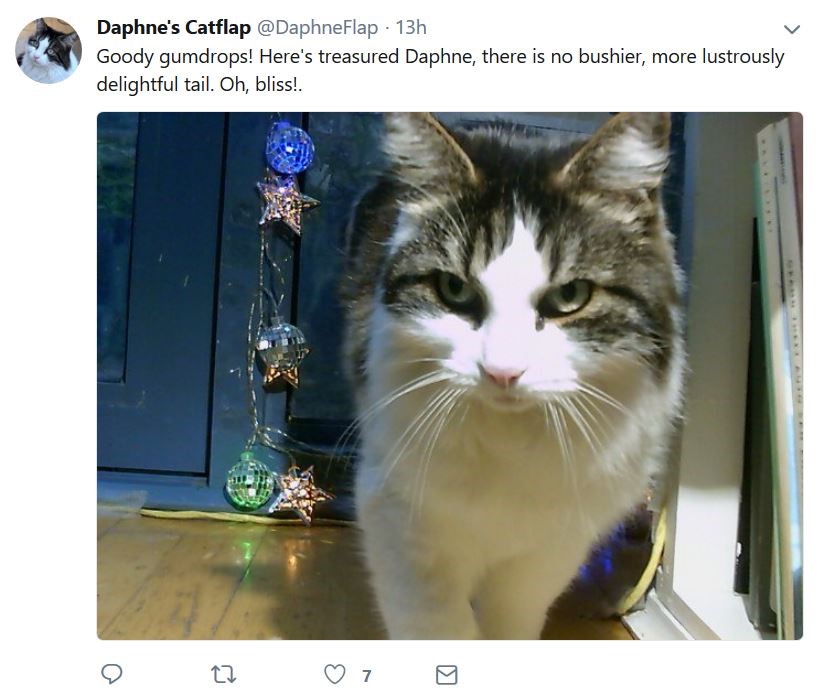 4. Tweeting Cat Flap
Unlike dogs, some cats come and go as they please, wandering through the neighborhood on unknown adventures. If you want to keep your cat safe, or just like to know a little about their comings and goings, this Tweeting cat flap may be just what you need.
In this setup, the builder taped a reed switch to the cat flap, so when Daphne makes her entrance or exit, the monitoring Raspberry Pi receives a signal. The Pi takes a picture with a webcam and then tweets out a picture of the cat, along with a phrase generated from a bank of words. The result is a Twitter stream you can see here. For more technical details, check out the project write-up.
5. Automated Tennis Ball Thrower
Dogs love to fetch, and their owners love throwing a ball for their pup to retrieve (at least the first five times). After throw number 50, however, your interest may wane, though your pooch would still appreciate many more tosses. To keep your furry friend entertained, why not build your own automatic ball launcher?
That's what hacker "nemgrea16" did with this device that launches miniature tennis balls out of a section of PVC pipe. The device features a 4 inch to 2 inch reducer on top for easy feeding and a 90 degree curve to properly orient the flying ball forward and into the air. Here's how it works:
Drop the ball into the launcher, where a small switch detects it.
A solenoid holds the ball in place for 1.5 seconds, allowing a pair of motors on the bottom to spin up.
When finally allowed to pass, the ball rolls down and out towards the spinning assembly, which flings it around 40 feet.
Unlike some of the hacks on this list, this launcher's control is elegantly simple, with relay timers controlling the ball-stop solenoid time as well as the amount of time that the motors spin.
6. Tweet-Controlled Hamster Feeder
Twitter seems to be the de facto internet control method for cat and dog devices, but what about the family rodent? In issue 44 of the MagPi, Ben Rogers came up with a way to feed his hamster with a Raspberry Pi.
When in use, the Raspberry Pi responds to all public tweets that include the term "#feedmyhamster." When the device detects a tweet, a motor rotates an Archimedes screw (sometimes called a "screw conveyor"). A transistor functioning like a switch operates the motor. With this kind of setup, anyone on Twitter can feed the hamster, though the builder can set limits to prevent overfeeding.
This kind of setup—or any of the concepts behind the hacks listed here—could be used to control all manner of devices. Whether you're hoping to interact with an actual pet, an appliance, or perhaps even a robotic animal of your own design, the possibilities with hacks like these are limitless.
Jeremy S. Cook and Zach Wendt are engineers who enjoy sharing innovative ways to create different projects. Jeremy writes for a variety of technical publications, while Zach works for Arrow Electronics, a major supplier of microcontroller products.