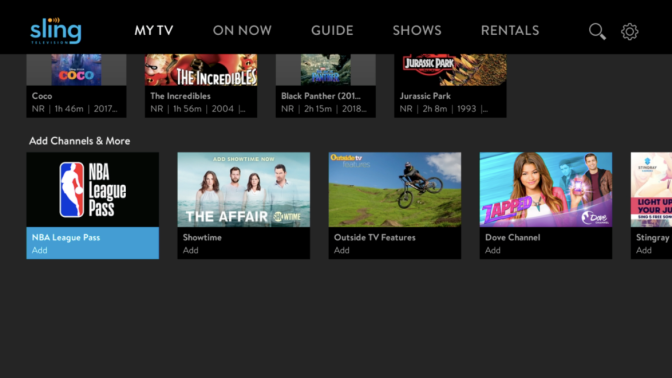 Sling TV announced Thursday that ex-subscribers can now purchase a handful of à la carte on-demand channels and access pay-per-view events and movies without a base subscription package.
Customers can purchase 8 separate channels, which initially include mainly on-demand channels, but also offer a premium and sports package option, on a month-to-month basis. At launch, the new offering will only be available to returning Sling customers on Roku devices, but will expand to additional Sling-supported devices "in the near future," the company said.
In conjunction with the announcement, Sling TV launched three new on-demand channels that are available for individual purchase: Dove Channel, Outside TV Features and Stingray karaoke.
Here's the lineup and monthly pricing for available à la carte channels:
Showtime: $10
CuriosityStream: $6
Stingray Karaoke: $7
Dove Channel: $5
Outside TV Features: $5
Up Faith & Family: $5
Pantaya: $6
NBA League Pass: $28.99
Sling TV said additional channels will start to be offered on an individual basis in the coming months. Existing customers can also choose to purchase these channels as an add-on to their base service.
In addition to the channels, customers can also access PPV events as a one-time purchase, or combine PPV events with any of Sling TV's base subscription packages. Users also are able to purchase movies, choosing from more than 5,000 films, without a base subscription package.
Returning customers can also access more than 100 hours of free TV shows and movies without restarting their subscriptions. At launch, free shows and movies include Wrecked, The Detour, Good Behavior, and Flip or Flop, among others.
"When we first launched Sling in 2015, we set out to create an entertainment experience that put our customers first, offering unprecedented flexibility and control – no annual contracts, no hidden fees and the ability to customize programming," said Warren Schlichting, president of Sling TV, in a statement. "The new Sling evolves the experience even further by providing access to great content without anchoring customers to a base subscription."
On Thursday Sling TV also announced that the price of its 30-channel base package, Sling Orange, which includes ESPN, HGTV and CNN, is increasing 25% (up $5 to $25 per month). The $40 per month price tag for the combined Sling Orange and Sling Blue remains the same.
"Our team works hard to negotiate fair programming deals, with the goal of keeping your price as low as possible," Schlicting wrote in a blog post about the price increase. "Programming fees, however, only go one direction, and that's up!"